I am the vine; you are the branches.
Whoever abides in me and I in him,
he it is that bears much fruit,
for apart from me you can do nothing. -- John 15:5 ESV
In trying to write a "Year in Review" post, I find myself pouring through a year's worth of photos, and the memories just come rushing at me. We've had a very full year. Our little Sienna logged over 30,000 miles in 2015, so you can imagine that I ran across many, many photos along these lines: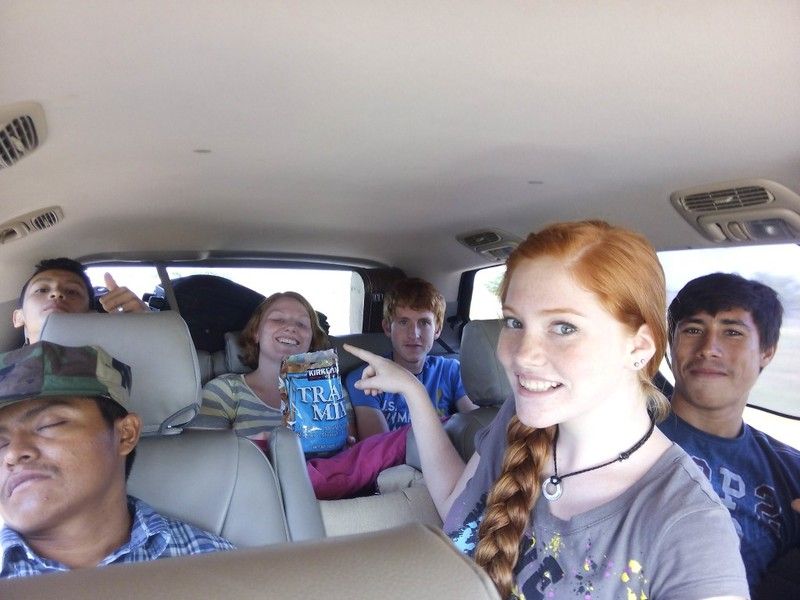 And there were lots of fun mission-team photos.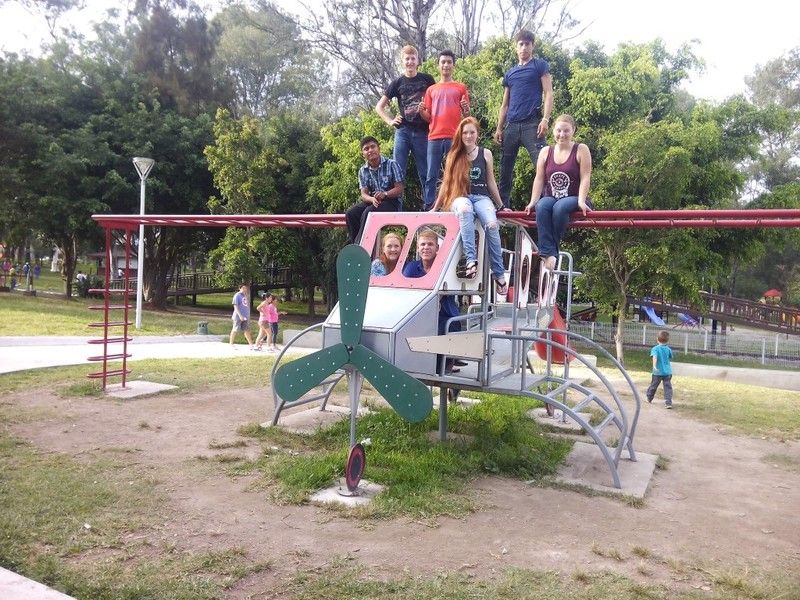 Choosing just a few photos for this letter was difficult, but we hope you enjoy this look back at 2015:
January:
We made a three-year commitment with churches in Patla, Puebla, and Celaya, Guanajuato, to teach the Sendas Biblicas course. Along with that came a commitment with the EFCA to translate the course into Spanish. Special thanks to our translation team (Sarah and Fabian), who are currently working on session 4, which we'll begin teaching this month. Kevin, our missions pastor from Oregon, went with us on this first Bible Pathways adventure.
February:
In addition to a trip to Central Mexico and a pastors' retreat in Alamos with a team from Washington State, we also hosted the largest wedding Las Glorias has ever seen. Sarah and Fabian were married February 28.
March:
We said goodbye to one of our short-term missionaries, Hailey, who was here for 6 months. We had two baptisms at the end of March -- Ramon, Rocio, Fernando, Jesus Piña, Ricardo, and Saul were all baptized. Doug and Braulio began a construction company/discipleship project here in Las Glorias.
April
: Pedro was nearly killed in a motorcycle accident. God spared his life and used the accident to "knock some sense" into him. Now, a year later, Pedro is fully integrated into the church, participating in missions, and excited about his newfound life in Christ. Please keep praying for him.
May
: Andrew launched out on his own to live, work and study in Tucson. We began community soccer programs for children in Las Flores, Las Culebras and Boca del Rio.
June:
Another trip to Central Mexico to teach Bible Pathways.
July
: Finished construction of the community garden here in Las Glorias. Danira Rocio told us that God had given her a dream of her having her operation this year and being healed.
August
: Hosted our first wedding at the Aposento Alto -- Julio and Lupita were married on August 30. Fabian received a work visa so he could travel to Lousiana.
September
: We completed our first year as "temporary residents" and received our 3-year residency cards, which included a miraculous 3-year permit for the car. Began fund-raising for Danira Rocio's operation.
October
: Said goodbye to Keala, who had spent a year down here with us. Said hello to Hillary who will be spending 6 months with us. Took another trip to Central Mexico and spent a day scouting out possible locations for a home church in Tarimoro, Guanajuato.
November
: Launched a new mission in La Pitahaya. Jeremias, Julio and Lupita are in front of this work.
December
: Doug and Rebecca traveled to Lousiana for the birth of Fabian and Sarah's baby, Jean Grace. God provided the rest of the funds necessary for Danira Rocio to have her operation. Miraculously, the operation was performed before Christmas and she was home for the holidays. We were able to have practically the whole family here for Christmas, including some dear friends from Tucson, and we began construction on the next phase of Joaquin's house/worship center.
And here we are in January of 2016. Last week, Danira Rocio went to the doctor for a check-up and the doctor says physically speaking, she's at 100%. Now she just has to buckle down and work on rehabilitation! Thank you so much to everyone who prayed and donated toward her operation. We ended up with enough surplus to pay for a therapist for several months who can help her get on the road to a complete recovery. Please pray for her, as she battles depression and frustration. Her road to healing isn't going to be without struggles, but we know that God has a beautiful plan for her life, and He's not going to leave it half done!!!
Teaching Bible Pathways in Jalisco...
...and in Patla...
...and Celaya...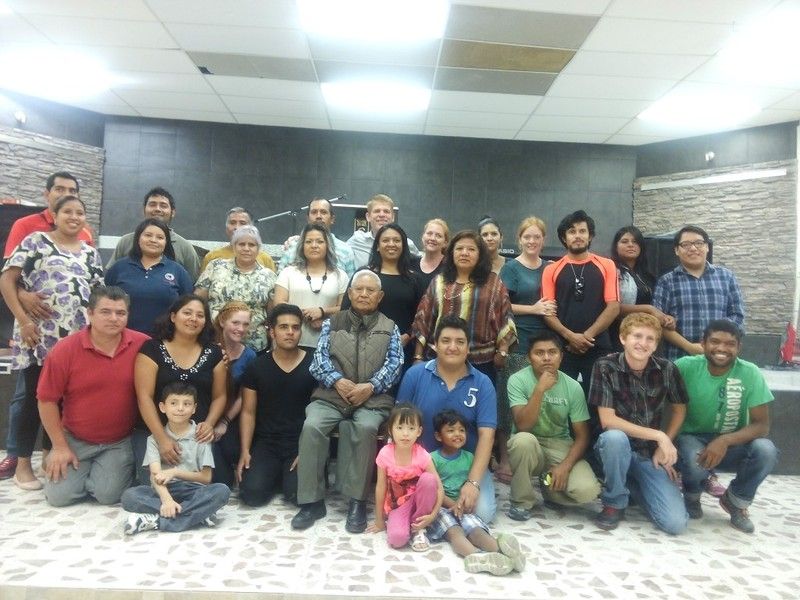 The January 2015 Mission team to Central Mexico
A time of new beginnings, second chances and beautiful fruit in many lives here in Mexico.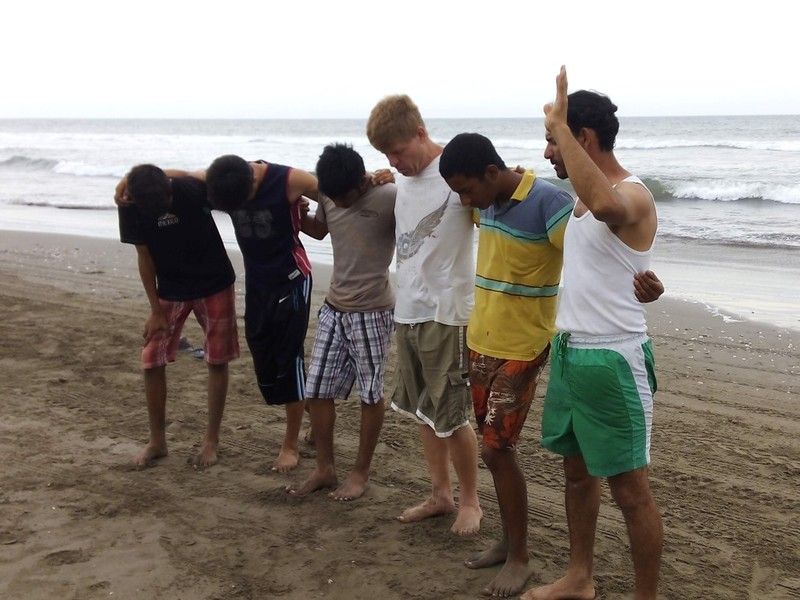 Rocio after her surgery in December.
We are so excited about what God is doing here in Sinaloa!!! The excitement continues as we look ahead to the next few months -- a trip to the States (hope to see you!), two mission teams from churches in Washington, continued construction on the house/worship center on Joaquin's property and teaching Session 4 of Bible Pathways here in Las Glorias. 2016 is looking good!
Thank you, everyone, for participating in our adventure here in Mexico. We couldn't do what we do here without all of you praying for us and supporting us the way you do! Happy New Year!!!
May God richly bless you in the coming year!!!
-- Doug and Rebecca and the gang