Las Glorias Centro de Convivio Nueva Esperanza
In English, one would call it "New Hope Fellowship Center".
Shortly after moving to Mexico, we began to see the need for a place for youth in our village to "go" and a lack of things for them to "do". The lack of such a place, paired with an over-abundance of "free-time", has made for a large group of youth who wander aimlessly around town causing trouble. As a family, we wanted to make our home a place where youth from the area could experience God's love and come together to be encouraged in a positive atmosphere. We opened our home and invited youth and adults to come and just "be". Our first problem reared its head almost immediately: our house just wasn't big enough!
"Wouldn't it be neat," we dreamed, "to have a big room where we could set up the pool table and the air hockey table at the same time?" We envisioned community movie nights, hosting youth events and retreats and being available to house mission teams from around the world.
By God's grace, and with the help of some neighbors, ministry partners and the local church, we've been able to do all of these things in the house that God has blessed us with. We have hosted several youth retreats during the past years.
We hold weekly "convivios" and frequent pizza parties.
Men from the village stop in daily to pass time after work or between jobs.
In January we hosted what we hope will be our first annual youth worship conference, "Desde el Interior", which translates "From the Inside Out".
Although the kids never seem to mind cramped quarters or shuttling chairs back and forth from one location to another, we see the great benefit that a community/youth center would be: one building closed off to the elements and the mosquitoes, bathrooms and showers, kitchen facilities, and housing all within walking distance of the most beautiful beach in the world (our opinion!).
Below is a sketch of the future New Hope Fellowship Center:
The building will be a 25 x 50 foot structure with 12 foot eaves – a conference center doubling as a gym or rec room – which will seat up to 80 people. Most buildings here are made of concrete, but even though the costs will be slightly higher, our desire is to construct it using steel and wood. This will reduce the amount of heat the walls retain and keep the building cooler. The small structure to the right is a bathroom, which will be added as funds become available.
The fellowship center is "Phase 1" of a larger vision for a facility offering a skate park, community pool, play equipment and picnic area. These other ideas would require the purchase of 4 additional lots totaling approximately $16,000. We feel the need to purchase these lots soon, before they are no longer available, but are trusting in God's timing. The facility will be available for church and community events – both the local church and visiting groups from other areas including groups from the States.
Total cost of phase 1: $9800
Amount needed to finish phase 1: $7300.
The foundation has already been laid. In the summer of 2008, a mission team from Restoration Life Church of Sacramento, California, came down and poured a 25 x 50 foot cement pad.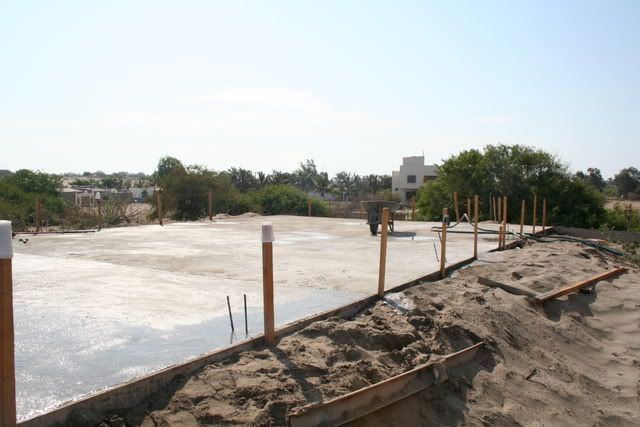 Since that time we've had the blessing of having a large above ground pool on the pad.
During the past 3 years, we've felt God leading us to complete our house and put the youth and fellowship center on hold. Now, this year, we have begun to move forward with the vision we were given years ago. Our desire is to put a roof on the structure this coming December and have it ready for use by the beginning of 2012 – possibly in time for the 2nd annual "Desde el Interior" youth conference!
God has already begun to stir hearts (ours included), and we can see Him working. A team from Oregon has pledged to raise $2,500 towards the cause. That is the exact amount needed to put the roof on the structure. This team will be coming in December to, Lord willing, finish the building by putting the roof on. With the $2,500 pledged, only $4,800 is lacking to finish the building. Please pray about helping complete this first step in achieving the goal God has placed on our hearts!
Philippians 1:6 -- Being confident of this very thing: that He who began a good work in you will be faithful to carry it out to completion until the day of Jesus Christ!