Psalm 121:1-2 I lift up my eyes to the hills. From where does my help come? My help comes from the LORD, who made heaven and earth.
After nearly two months of traveling the Pacific Coast and the southwestern US, we have returned to our home and ministry in Mexico. We had a wonderful time reconnecting with old friends, making new friends and visiting with family from Arizona to Washington and back. During our time in the States, God provided for us to be able to purchase a newer mini-van and a small trailer. The Chevy 15 passenger van has now been officially imported to Mexico and this week should receive its Mexican tags and registration. Pray that that process goes smoothly -- dealing with paperwork is usually a long, drawn-out process here and can often become stressful.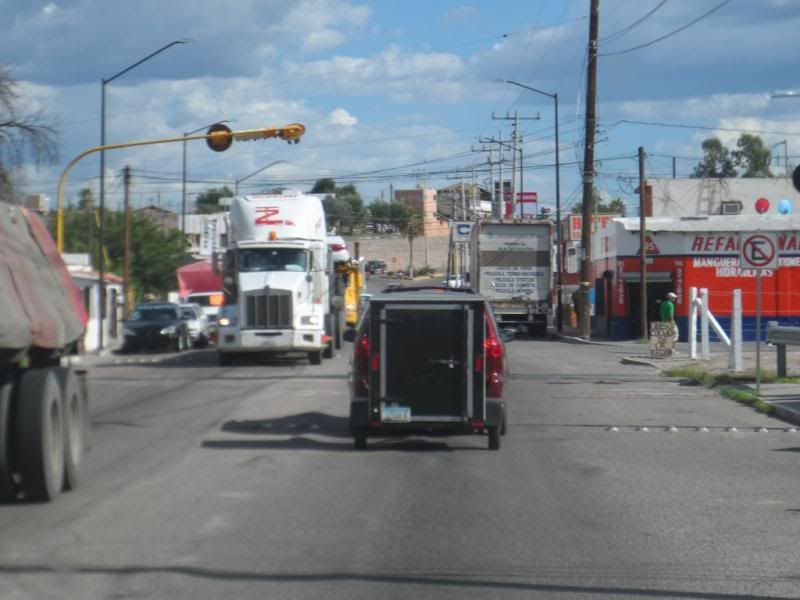 This photo of our new Toyota Sienna pulling our new cargo trailer was taken in the city of Santa Ana, Sonora, about 3 hours south of the Nogales, Arizona, border. About an hour before this picture was taken, we were at the same place in the city heading the opposite direction when Doug suddenly stopped on the train tracks for no apparent reason. I was following behind in the 15 passenger van and had no idea what was happening until 4 or 5 men, who were working at a small store on the corner, ran up to the van and grabbed the tongue of the trailer...which was on the ground. The pin holding the trailer to the ball hitch had popped out, but the safety chains had held. So when Doug went over the tracks, the trailer popped off the ball and the jack wedged into the rails -- which stopped the little Sienna cold. We praise God for the angels He had watching over the previous hours of travel on mountain roads with no shoulders. We are still marveling over His protection. How did the pin come out? No idea. We've been pulling trailers for over 20 years and can only remember it happening once before -- with really bad results. On this particular trip from Arizona to Sinaloa, it happened twice. All we can say is that God obviously isn't finished with our family yet! Thank you again for praying for us as we travel!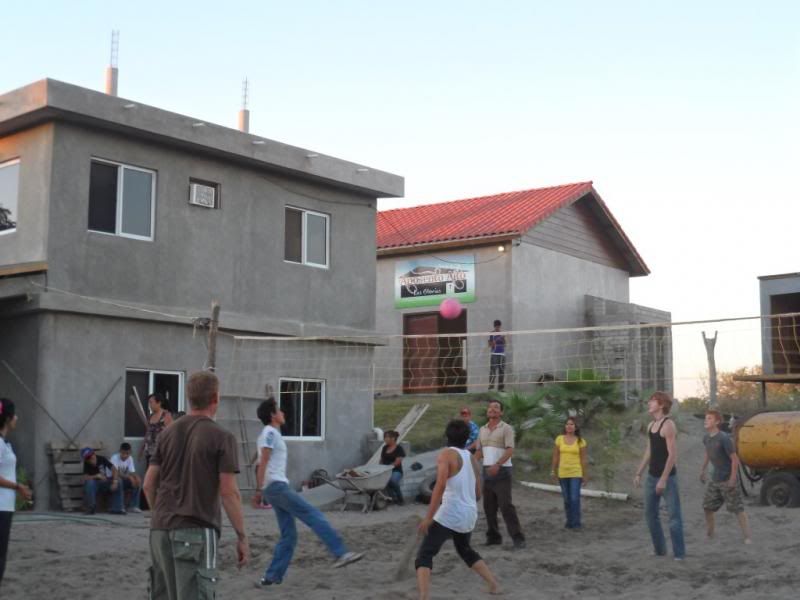 We had a great group of youth at our house last night. There were 25 kids here -- a van-load from Guasave and another from Alamito plus several who came from Boca on their bikes. It's so good to have the house full of teenagers! Keep these youth in your prayers. Pray that they would remain firm in their faith through trials and struggles. Also continue to pray for Joaquin and Luz as they teach adolescents and young adults in our village.
Fishing season is here! Although this particular piece of seafood wasn't caught in our part of the ocean, it was certainly tasty! Many of our friends here depend upon the ocean not only for their food, but for their income. Fishing is the main industry -- the only industry -- in our village. This year's season started out well, but the tides haven't been good for the past few weeks and very few shrimp are being caught. Pray for Julio, who is working hard at shrimping. His motor broke down last week and now he's trying to get it fixed. It's discouraging, since he had just fixed some problems which had been caused by sabotage, but Julio is keeping a good attitude and is trusting God in the situation! Pray for God's provision in his and Lupita's household.
We are looking ahead to several things in the coming months:
On October 19th, we are hosting a singles' conference led by the Vida Nueva Church and missionaries Daniel and Laurie Graff. Pray for the safe arrival of the Graff family and that many young people would be able to come to this exciting event!
On October 26th, we are hosting a children's ministry conference with a missionary from the States, Lacynda Biggers. Pray for safe travels for Lacy and the other missionaries traveling with her. Pray also for the children's ministry workers who will be attending.
In November, we are planning a children's Bible school in the village of Las Flores with Pastor Braulio. Pray that God would be preparing the hearts of the families in this village and of those who will be serving during the Bible school, too.
In February, we are planning a mission trip to Veracruz. Pray that God would go before us and give us direction and divine appointments. We are already seeing some exciting "coming together" of all of the loose ends. Pray also that each person who is supposed to travel with us will be able to.
Also keep our family in your prayers as we continue to teach and train our kids. Two families in our village, Braulio and Pily along with Joaquin and Luz, have opted to remove their kids from the government school and educate them at home. We will be helping these families as they get started. The amount of peer-pressure from family as well as neighbors is tremendous, so please lift them up in prayer.
Praise God for the new baseball league which started this weekend. (Photos will be coming soon!) Joaquin's baseball outreach has grown to the point that the young men who have been attending the weekly outreaches are now ready to play in a league -- complete with praise and worship and a Bible study after each game! Pray that the Word will be heard and multiply in the lives of these young baseball players and their families.