As some of you know, God has been using our oldest daughter, Sarah, to raise up a mission team of 10 young adults from all over the US and Mexico. The idea was born from a chat among some of the leaders, of which Sarah is one, of a forum called "
The Rebelution
". The forum's purpose is to encourage and challenge today's Christian youth to "
Do Hard Things
" in the name of Jesus and to step out of their comfort zones. One of these "hard things" is this mission trip to Sinaloa, Mexico, to help us finish construction on our house. They are scheduled to be here January 3 through 11, 2010.
We've seen God's hand on this project from the beginning in the way He has been preparing this team and causing all the details to come together. The date of their trip is quickly approaching, and at the request of the team leader we are inviting you, our supporters, to help raise the final amount of the construction funds necessary to meet their goal of $6200. With God's help, if we meet the goal, at the end of January we'll be able to move out of our garage and into our new home. Granted, there will be some missing details (like glass windows), but this will be a huge step forward in the ministry God has been building through us here in Mexico.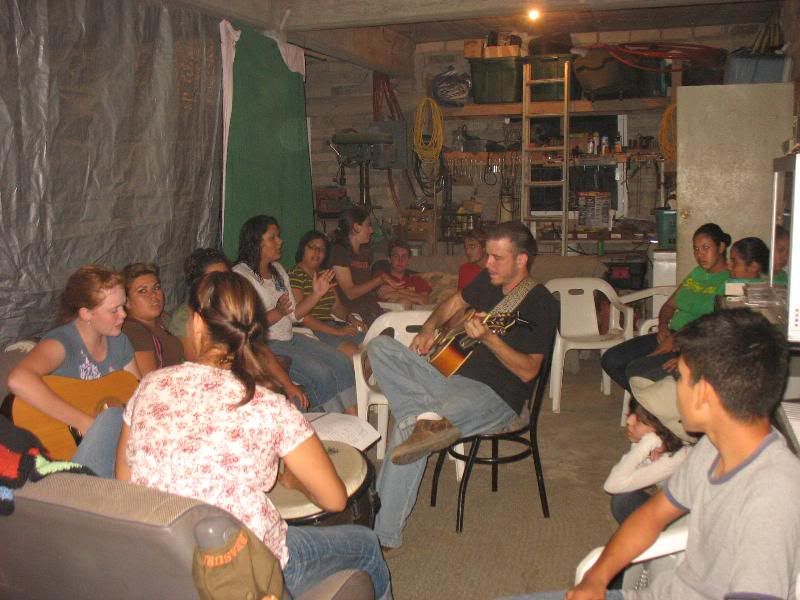 Our living room during a youth retreat last spring.



The kitchen crew served meals to 55 people that weekend -- three meals a day!
Time is of the essence. If you are able and God prompts you, we invite you to do hard things with these youth who are believing that with God, all things are possible! Whether you're able to contribute financially or not, we ask that you would be in prayer for this mission team and for our family.
If you would like to make a tax-deductible donation to this project, you can send your donation to:
New Hope EFC
PO Box 1615
Winston, Oregon 97496
Make checks payable to "New Hope Evangelical Free Church", with "Mexico Mission/Construction" in the memo line.
You can also make a contribution electronically by clicking on the "Make a Donation" button below, and put "Construction" in the memo. Sorry, we're not set up to send out a tax deductible receipt for donations that are sent electronically. We know that the One who calls us is faithful, and He will finish what He starts! (1 Thessalonians 5:24)
Thank you for continuing to lift our family and ministry up in prayer!
Embracing the Journey,
Doug and Rebecca