You are the light of the world.
A city set on a hill cannot be hidden.
-- Matthew 5:14
The format of our update letter is a little bit different this month. Normally our prayer requests and praise reports are at the end of the letter, but this time we're putting them first. Please feel free to print them out and post them where you will be reminded to pray for our family and our ministry during the next month. We greatly covet your prayers!!!
Prayers and Praises:
Praise God for a fruitful and refreshing visit to the States in March. We had a great visit with friends and family (although we didn't get to visit everyone we wanted to visit), and were able to touch bases with a couple of church families along the way. At the end of March, we said goodbye to another one of our kids as Seth set off on his way to Oregon. He is currently working at the Wildlife Safari in Winston, living with our pastor and praying about what God would have him do next.

Pray for God's wisdom in our kids' lives as they make decisions daily. Pray that they would continue to "run the race to win the prize".

Pray for the continued discipleship of men and women here in Las Glorias.

Praise God for the two mission teams we have hosted during the past couple of months. Photos are included below of some of the things we accomplished. We really enjoyed both teams and were extremely encouraged by their visits.

Praise God for the completion of a "palapa" on Joaquin's property (photos below). We have already been able to use it as a place for prayer and worship, and we pray that many more gatherings will be held there. This large, shaded area will also facilitate the building of Joaquin and Luz' house.

Pray for their house! We recently got word that the Aguilar family was accepted into a government program which will give them a 2-bedroom house for about a tenth of the actual cost of the house. Through generous donations of supporters in California, we have raised the total amount of money necessary. Now, we only have to wait for the materials to arrive. Pray that the materials will arrive in a timely manner, that the weather will cooperate (no hurricanes until after the roof is poured!), and that God will be glorified in every step of this process! Lord willing, we'll begin construction in July.

Pray for Doug, Jessee and Julio as they take a follow-up mission trip to places we visited in February further south in Mexico. They will be leaving May 14 and returning June 4.

Pray specifically for a work that they desire to do near the city of Puebla. A young Christian brother there is fighting cancer and desires to have a house for his wife and small children. We have gathered some money to start construction and are praying that God will provide to finish the project. (If you'd like to get involved in this project financially, please send us an email, and we can give you more specifics.) Pray that God would be glorified in this project. Also, pray for healing for this young man (his name is Esteban). We know that we have a big God! Pray that God would shine in his life and in his family.

On our trip south in February, God showed us the great need for workers in central Mexico. Pray with us as we look at supporting, training and networking with pastors and missionaries in areas where less than .5% of the population know Jesus. Again, let us know if you would like to give financially to this cause. We will be sending out more information as the plan develops.

Praise God for you, our supporters. Without your support and prayers, none of what we are able to do in Mexico would be possible.THANK YOU!!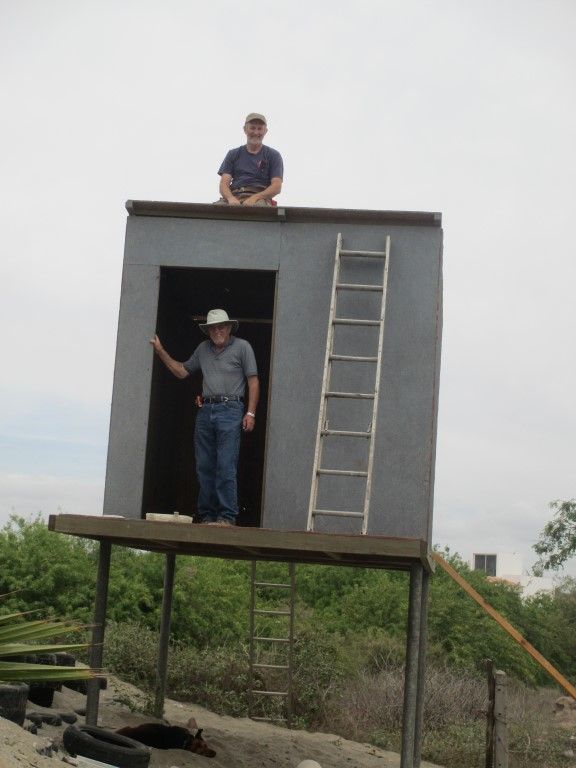 Mission team #1 was from Oregon. Two couples traveled down with us at the end of March. With their help, we we able to build and install two new doors on the bathrooms that we started last fall at the church building in the nearby village of Las Flores. Another project they worked on was transforming what used to be Andrew's workshop, pictured above, into a playhouse for the many children who come here.
Step one of this project was building an access ramp and a railing. Then we all pitched in and started painting.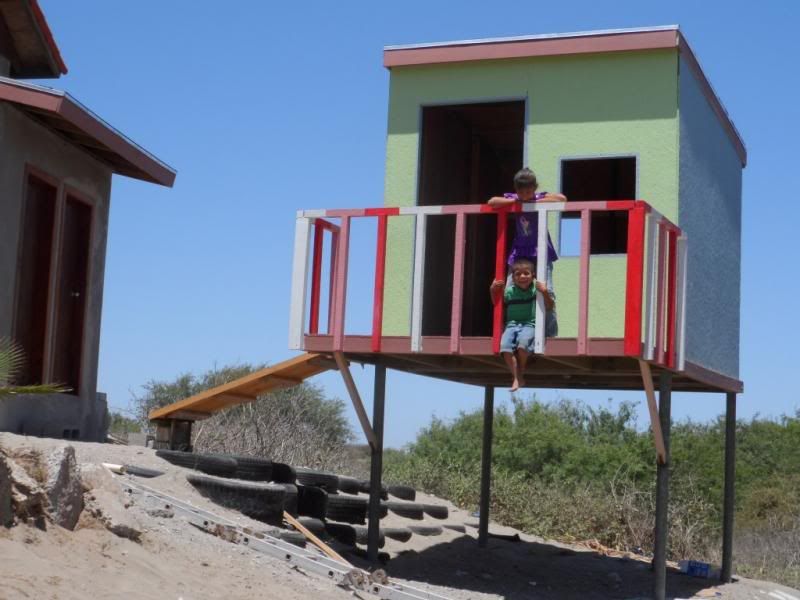 Here is the finished project. This photo was taken last week when we had a family with young children staying with us. What a blessing!!!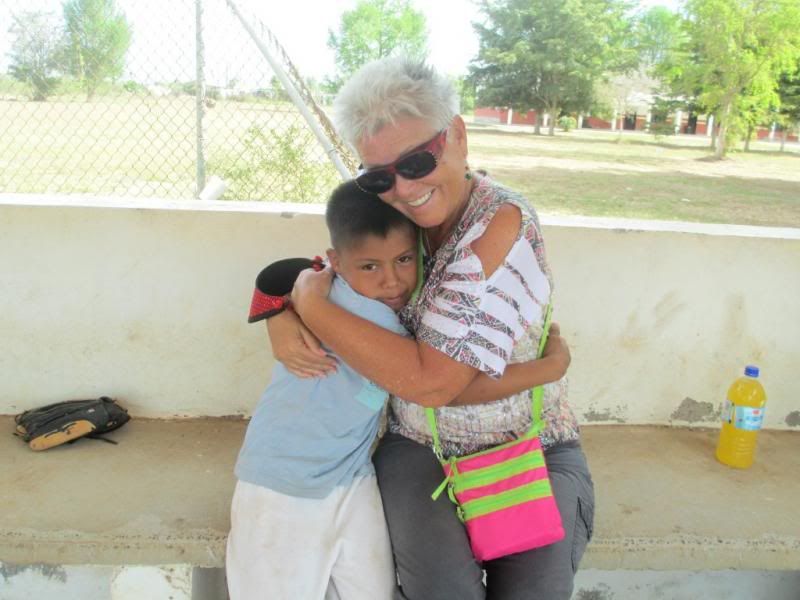 The Oregon team was a real encouragement to our Tuesday night group, and they made a special connection with the kids in our village. We were able to attend two little league baseball games with Coach Joaquin, one at home in Boca and one in the village of Amole. It really made the game special for the team to have a whole row of "grandparents" rooting for them. This picture was taken right after Ramon scored a run.
Before the team returned to Oregon, we were able to walk to the top of the hill on Joaquin's property to pray over the area. We were praying that God would supply the money and workers necessary to build a structure there very soon.
Mission team #2 came to us from California. This was the first time we had a mission team visit us during Semana Santa, so it was very different! One day we set up a canopy on the beach and gave away cups of cold water. During the 4 hours we were there, we were able to give away 500 cups with Bible verses taped on them. Several people stopped to ask questions, and we gave away several hundred Christian tracts as well. It was interesting how many people were skeptical of a cup of water "free" on the beach! Many times we had to insist, "Yes! It's free! Keep the cup."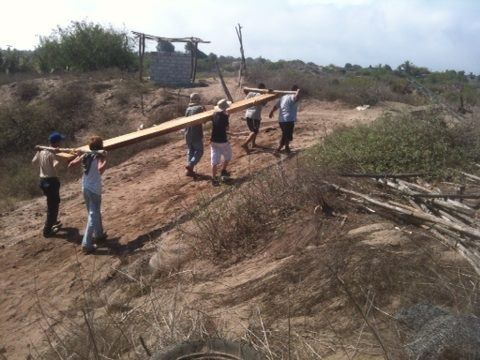 And God did, indeed, provide for building to begin on Joaquin's property. During the week that the team was here, the men were able to build a 20 by 20 foot structure. Simply getting the materials from the bottom of the hill, where the trailer was stuck in the sand, to the top was a real chore; that part took them 5 hours.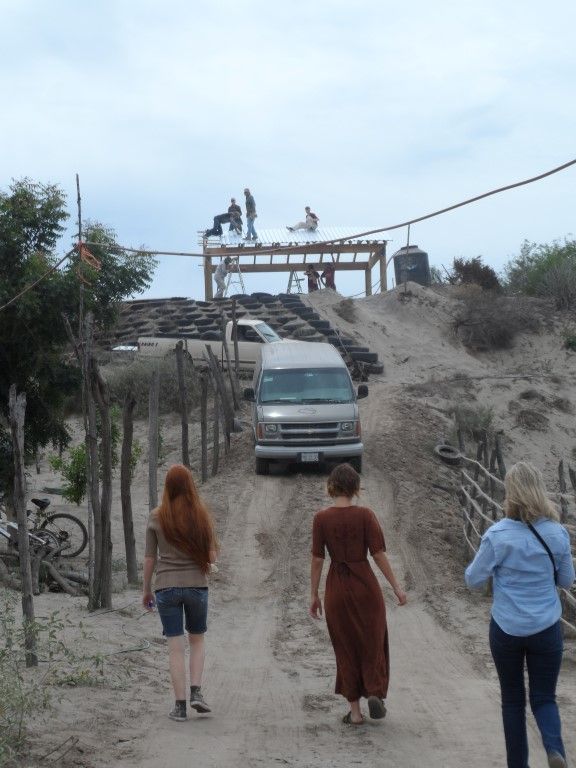 After a couple of days of watering and packing down the sand, they were able to drive the cars a little farther up the hill!
A couple of young men from Boca came to help with the roofing. It was a good team effort!!!
Easter Sunday, we rejoiced with our Christian family in the new prayer shelter on Joaquin's property. Joaquin and Luz shared their gratitude to God and proclaimed His faithfulness. They are excited to be one step closer to having their own home, too.