"And let us not grow weary of doing good, for in due season we will reap, if we do not give up. So then, as we have opportunity, let us do good to everyone, and especially to those who are of the household of faith."
Galatians 6:9
Twenty-three students complete Module 2 of Master's Bible School last week. We were encouraged, blessed, excited, challenged and exhausted by the end of the week. What an amazing time! Module 3 is already in the planning stages and the dates have been set for February 7 through 15, 2013. That's right around the corner! Let us know if you would like to get involved in this life-changing event!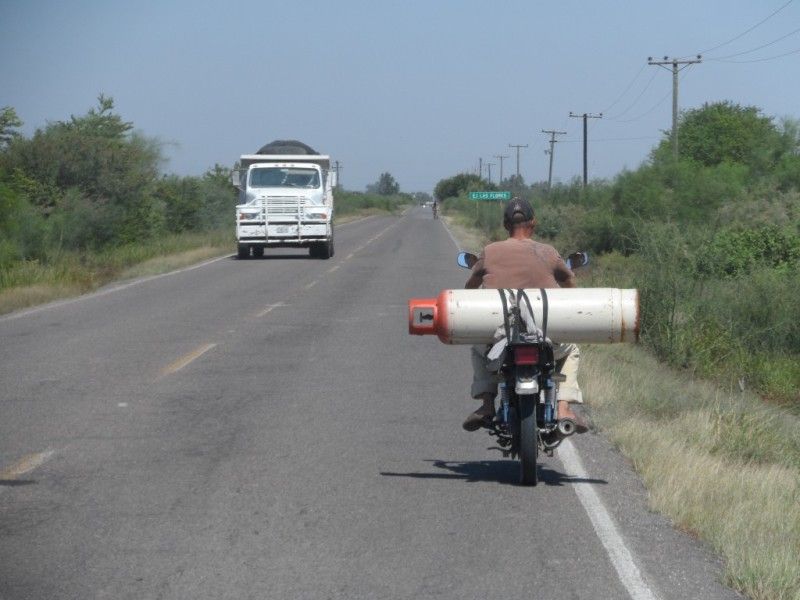 This is a pretty common sight in our area. What is it? It's a propane gas tank strapped onto the back of a motorbike. Almost every stove is fueled by propane here. Tanks are filled at the Gaspasa station, but the one closest to us is in Tamazula, nearly 10 miles away. Many people will simply trade an empty tank in for a full one, but that requires taking the tank to an exchange point. In either case, one must transport this tank of flammable gas on the open highway...one way or another.
Prayers and Praises:
Praise God for His amazing provision during Module 2 of MBS.
Praise God for all the students who were able to attend -- some only because God worked a miracle in their lives to provide for their families during their time here.
Continue to pray for the persecuted Church in Southern Mexico, in Africa and around the world. It's easy to forget about those who are suffering for their faith when we don't see the persecution first-hand.
Pray for us as we prepare for Module 3 -- for the students who will attend, for the teachers arriving from various places, for God's provision for the pastors and their families as well as for the school itself.
Pray for our kids: Sarah at Rancho Tres Cruces where she is studying, Caleb as he prepares to launch out in February, the rest as they continue to study at home and seek direction for their futures.
Praise God for the provision of a small pick-up! YAY!!! We're hoping that using the smaller vehicle will save gas and also save wear and tear on the van.