Ministry in Mexico during the past three months has been phenomenal. Over and again we've seen God's mighty hand at work in the lives of the people around us, as well as in our own lives. Our home fellowship group continues to grow, small weekly Bible studies are meeting three days a week and we continue to support the Vida Nueva congregations with Bible teaching, children's classes, and our family worship band on a weekly basis. We manage to stay pretty busy!
As well as our current commitments, we are also in the planning and preparation stages for our next large-scale event: Master's Bible School – Module 2. Module 1, which was held in the New Hope Conference Center in Las Glorias in February of this year, was a huge success and (we've been told) a real blessing to all who attended.
Rancho Tres Cruces is a training center based in Ensenada, Mexico, whose passion and goal is to train teachers to go into the world and teach the gospel to pastors who otherwise wouldn't be able to receive training – for either economic or logistic reasons. To this end, they have developed Master's Bible School, a month-long course divided into three sections, or modules. Forty-five pastors attended Module 1 in February, and we are expecting most of these pastors to attend Module 2.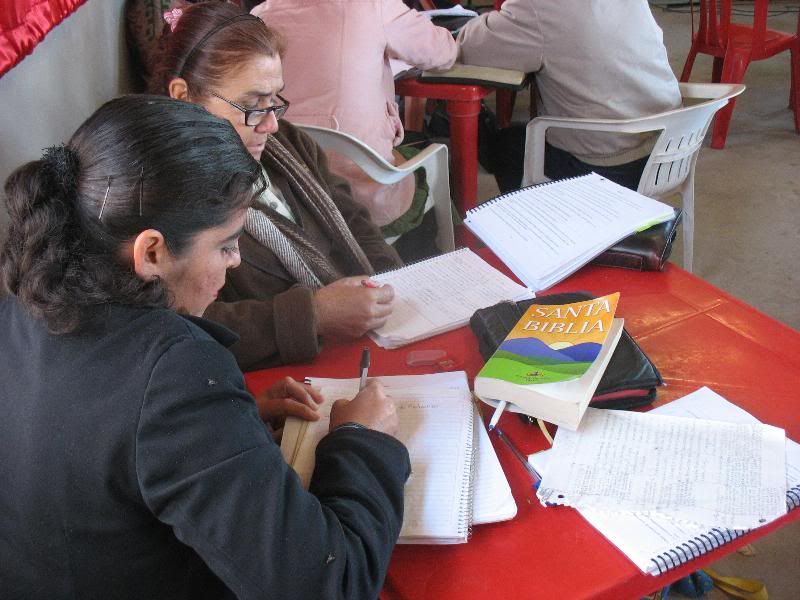 During the 10-day module, students live with us, taking meals together and sleeping in the missionary dormitories a block from our house. The ladies, and sometimes men too, rise early to make breakfast and stay up late cleaning up from supper – in addition to doing homework! It's a grueling course, but absolutely full of blessings!
In addition to full-time work at the church, most pastors in our area also work at least part-time to provide for their families. Taking ten days off work is a real sacrifice to most. To make Master's Bible School accessible to as many leaders as possible, the cost of the course is set at the amount of an average day's wage, which is about $10 ($150 pesos). This cost includes room and meals for ten days, as well as the materials needed for the class. Obviously $10 doesn't cover all the costs! To raise funds for Module 1, the Vida Nueva churches made and sold tamales, our kids made and sold bread, churches and families in the States got involved, and God multiplied the income so that every need was met! Please pray with us that God would continue to provide for this work of His.
Module 2 is scheduled for October 24 through November 2, 2012. Although it's still a bit over four months away, we know it's time to start planning and preparing. There is much to do in those four months! You can help us by praying for every aspect of this event: meals, lodging, transportation for the teachers coming to Las Glorias, printing the materials. Those pastors and leaders who also have full-time jobs will have to arrange days off, some will need to arrange for child care. We recognize that this school is a huge undertaking, but we believe that God is the one in charge of it and will work everything according to His plan. Pray with us during the next four months!
If you're interested in getting involved in a more tangible way, or would like to find out more about Master's Bible School or Rancho Tres Cruces, send us a note! FLOWinternational@fastmail.fm