You are the light of the world! A city that is set on a hill cannot be hidden. Neither do men light a candle, and put it under a bushel, but on a candlestick; and it gives light to all who are in the house. Let your light so shine before men that they may see your good works and glorify your Father who is in heaven. -- Matthew 5:14-16
We're still alive and well in sunny Sinaloa, Mexico! A huge thank you to everyone who has been praying for us during the past two months since our return from the States. We've managed to stay incredibly busy with evangelistic crusades, concerts, weekly Bible studies, church services and day-to-day life.
Here are a few highlights from April and May...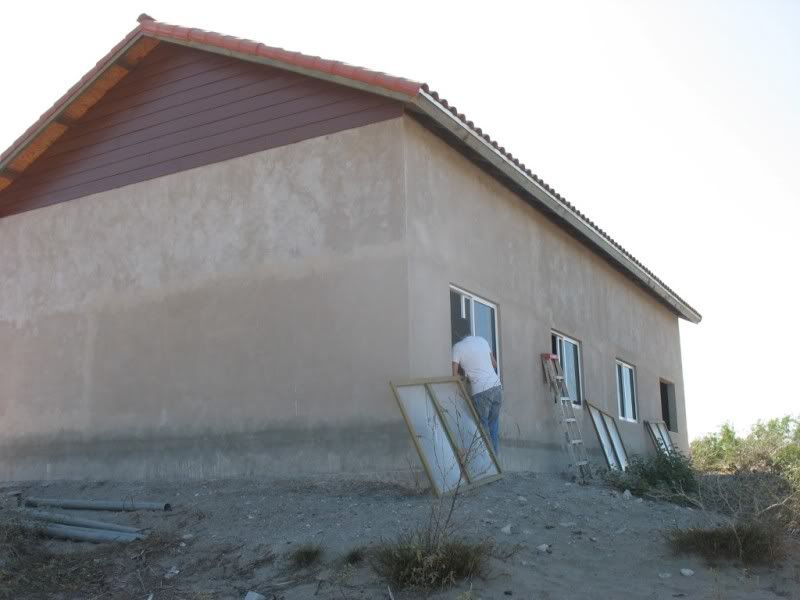 At the end of April, we received a donation which enabled us to purchase and install windows in the conference center. Praise God!!! With the summer coming on strong, the building was beginning to be a bit warm in the afternoons. As we had hoped, the tall ceiling and the wood-constructed roof helps keep the room cool in the evenings -- as soon as the hot air is blown out the windows! Thanks again to the Arizona and Oregon mission teams who came to build and to everyone who prayed and gave toward this project!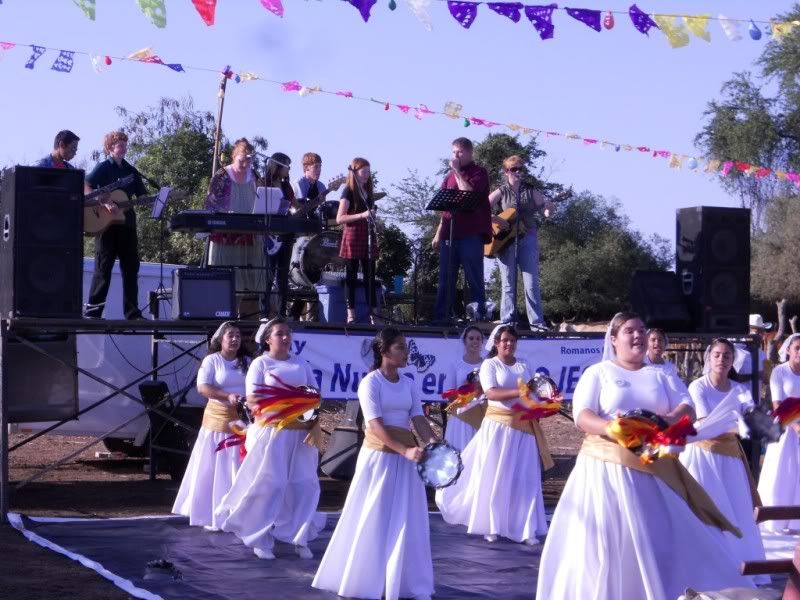 Vida Nueva church in Tamazula celebrated it's 5th anniversary this month. We celebrated with music, an evangelistic crusade, a group of praise and worship dancers from another village and of course the standard Mexican party meal:
barbacoa
and cake.
A missionary from Tennessee came down to give a training course to people interested in working with children. In this picture, three of the youth (Evie, Betsy and Marlene) give a presentation of the Bible truth "God Takes Care of Me". We had a fantastic time during the class and are looking forward to the next one, which is scheduled for next weekend.
We've finished construction on the downstairs kitchen, which is a huge blessing. In this photo, Alfredo is putting the finishing touches on the kitchen counter. You can see more pictures of the kitchen construction by
clicking over to Rebecca's blog.
The monthly men's fellowship for the Vida Nueva churches was held at our house in April. Nearly 40 men attended and had a great time of food, fellowship and teaching. You can see more photos at our
Online Scrapbook Blog
. It's so wonderful to be able to host events at our home. Many people don't feel comfortable attending a "church", but are very willing to come to a "party" at someone's house. We pray that our home will always be a place where people of all ages feel welcome. We also pray that our lives would be examples of Christ's love for all people!
Prayers and Praises:
Praise God for the windows in the conference center
Praise God for the seven men who have been attending the early-morning Bible study at our house. They are going through the book "The Stranger on the Road to Emmaus".
Pray that God would provide a place for the women's Bible study to meet. We are praying about several options. The main need is that the place be centrally located in relation to the ladies' homes, since many have small children and all are on foot or on bicycle.
Praise God for the young man we have staying with us for the next few months. Hunter is adapting well to life in Mexico and is a real blessing to have around. Pray for him as he continues to adjust to the summer weather here!
Praise God for the teacher training we were able to host, and pray that the second course would be as much of a blessing as the first!
Pray for protection for the people of Mexico. Yes, violence is increasing here and there is a general under-current of uncertainty among the people. Most people don't have much faith in the military or the government to keep them safe. Pray that our lives would not be governed by fear and that we would be able to speak peace into the lives of the people around us.
Pray for our friend Ramon's wife, Librada. She is failing physically. The doctors have sent her home to be with her family, which is good but also hard. Pray for peace in the situation, and pray that God would be glorified.
Pray for Sarah and Caleb as they prepare for a summer mission trip to Woodland, California. They will be spending 3 weeks helping with VBS and children's ministry at Woodland Bible Church.