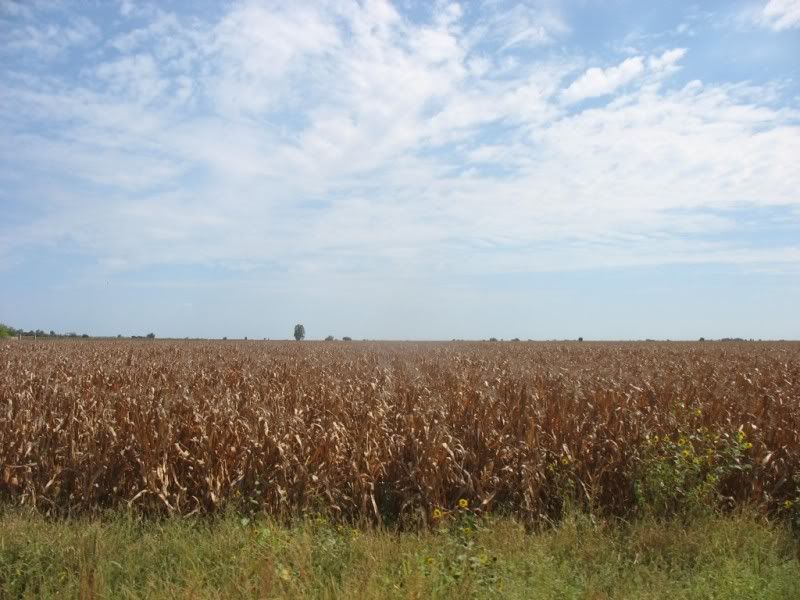 John 4:35 Do you not say, 'There are yet four months, then comes the harvest'? Look, I tell you, lift up your eyes, and see that the fields are white for harvest. Already the one who reaps is receiving wages and gathering fruit for eternal life, so that sower and reaper may rejoice together. For here the saying holds true, 'One sows and another reaps.' I sent you to reap that for which you did not labor. Others have labored, and you have entered into their labor."
The corn harvest in Sinaloa is nearly at an end. The summer heat has set in and the main topic of conversation at the corner store is now the weather, the heat and the need for rain.

As believers in Christ, we often compare the literal harvest of corn and wheat to the spiritual harvest of souls. It's a really beautiful comparison with many similarities. We feel very honored to be able to be coworkers with so many congregations here. We've seen much fruit -- baptisms, lives changed, addictions broken, marriages restored, people attending our weekly studies and youth groups -- because other pastors and missionaries have invested so much time and effort in the people here. It is a privilege to be part of God's plan in Mexico! Pray that God would continue to prepare the harvest and send workers. The fields are indeed ripe!
The ladies from our home fellowship meet weekly at Sister Lupita's house. We're currently reading through the book "Stranger on the Road to Emmaus". The men meet twice a week in the early morning at our house and are studying the same book. Pray for the brothers and sisters who have been very faithful every week. Also pray for their families, that they would be open to hearing the gospel of Christ and that it would impact their lives.



Andrew and his friend, Pecas, work together to fix one of Andrew's motorbikes. Doug's workshop has been very busy over the past few months with projects for our house, projects for the local churches, projects for neighbors and odd repairs for people who stop by. It's a blessing for us to be able to share the resources with which God has blessed us. The boys have become quite handy with power tools, too, and have been helping Doug a lot lately. Brother Joaquin has joined the "shop class" as well and is learning carpentry and fabrication as a way to support his family and ministry.
Sinaloa has some of the most wonderful and varied fruits and vegetables! In this photo, Jessee is climbing a ladder which is supported by Caleb, Joaquin and Julio. Their target: a guamuchil tree. We had never eaten a guamuchil fruit before and were quite excited to be able to try one. It was very yummy and worth the work. It was also worth the laughs watching Jessee climb the ladder -- of course, you know those guys didn't just hold the ladder still!
Pastors from all over the Guasave area came together in June for the first-ever pastors' retreat in El Fuerte, Sinaloa. We had a wonderful time of fellowship and a great time in the Word together. At the end of the weekend, a local man brought his "tour bus" to take those who wanted to see the sights. The high point of the afternoon was when the driver shared with the pastors what had been happening in his life the week before. God had been calling to him all week and that day, he answered and gave his life to the Lord. Pray for this new brother, Eleazar, and for his family, too.
In only a few weeks, we'll be heading north to Arizona, California and Oregon. The schedule for the churches we'll be visiting is posted at the end of this letter. As usual, we're going to be visiting many people and places in very little time. We want to have a chance to connect with as many of our family and support system as we can. Send us an email if you won't be able to connect with us on a Sunday and maybe we can get together during the week we're near you!
In September, we'll be saying goodbye to Sarah for a time. God has called her to study in San Antonio de las Minas, near Ensenada, at a school called Rancho Tres Cruces. This is a one-year Bible school with a missionary focus and is also the home of Master's Bible School. Please pray with us for Sarah, for God's provision, and for her time at school. We know that God has some amazing things planned for our oldest daughter!
Prayers and Praises:
Pray for the men and women attending the weekly Bible studies in Las Glorias.
Pray for the youth attending the weekly youth meetings in Las Glorias.
Pray for the VBS we'll be helping with this week. The church in Agua Blanca is hosting this event and has invited us to help. Pray that each child who comes would be touched by God's love and that every family would be impacted. Also pray against the enemy who will certainly try to interrupt the work!
Pray that God would bless the work of the men in our home fellowship and that He would provide for their daily needs.
Praise God for the pastors' retreat we and so many other pastors were able to attend. Pray that these servants would be refreshed and rejuvenated in their work.
Praise God for the opportunity that Sarah has to attend Rancho Tres Cruces in the fall. Pray that He would provide the funds necessary according to His timing and that we would keep trusting Him with the care of our children.
Pray for our family as we make another cross-country trip in August and September. This may be the last furlough we spend with all 6 kids, and we intend to savor every minute!
Also pray for Joaquin and his family who will be caring for our house while we're in the States. He and his wife, Luz, will also be taking on all the responsibilities for the Bible studies and weekly meetings, in addition to caring for their 3 small children. Pray that God would strengthen and provide for this young couple!
Here's our fall furlough schedule:
On your mark...get set...GO!
+/- August 3 -- Leaving Mexico
August 5 -- @ Saguaro Canyon EFC, Tucson AZ
August 12 -- @ Restoration Life Church, Sacramento CA
August 19 -- @ New Hope EFC, Winston OR
August 26 -- @ Woodland Bible Church, Woodland CA
September 2 -- @ Rancho Tres Cruces, Ensenada, Baja CA
September 9 -- @ Magnolia Presbyterian Church, Riverside CA
September 16 -- Either revisiting Tucson or heading home
Please keep us in your prayers during the next two months!!!