1 Peter 5:6-7 Humble yourselves, therefore, under the mighty hand of God so that at the proper time he may exalt you, casting all your anxieties on him, because he cares for you.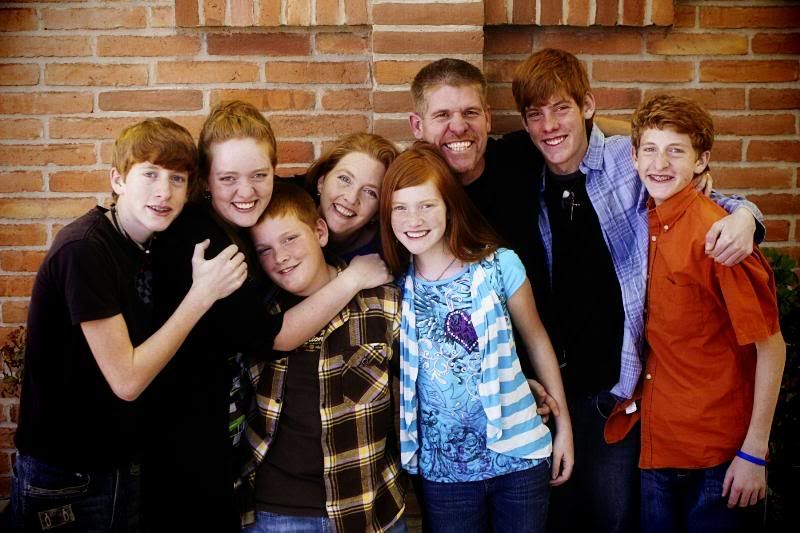 The Coult Family: (left to right)
Seth, Sarah, Andrew, Rebecca, Eve, Doug, Caleb and Jessee
We've been traveling around the U.S. for a couple of weeks and are seeing the signs of spring all over. Redbud trees are budding in Kansas, daffodils are in full bloom in Oklahoma and the wildflowers of Arizona are showing their glory.
During the past months we've seen God work in some amazing ways: the completion of the New Hope Conference Center in December, the Master's Bible School in January and explosive growth in our weekly Bible study in February, to name only a few.
Now we look forward to the next season of our ministry in Mexico. Spring in Sinaloa brings Kids' Day and Mother's Day and Holy Week. All of these are great opportunities to connect with our community and share God's love with the people around us. In addition to these events, we also are looking forward to several youth outreaches and a youth retreat this summer, as well as planning for the second term of Master's Bible School in October.
Andrew the clown has a heart-to-heart with a little friend during a Kids' Day party.
In April we will be beginning another session of parenting classes. As we teach, we will be putting the finishing touches on the parenting course we've written with hopes of printing it in book form in the next months. We have seen so much fruit from past classes and look forward with much excitement to the next session. Pray that God would bring the couples who need to attend the class and that we would have wisdom as we teach.
May will bring an opportunity for training in children's ministry. A missionary from Tennessee is making plans to come and share with the leaders in Mexico and better equip them for working with children. We're very excited about this opportunity and believe that it will be a great addition to our work with parents.
Marshmallow sheep -- everyone loves edible object lessons!
Public schools will dismiss in June giving the children in our area a lot of free time. Our desire is to host several vacation Bible schools in local villages during the summer break and to begin weekly children's Bible classes in the new conference center.
There are many ways in which you can get involved in what God is doing in Mexico. Contact us for more information about mission trip opportunities or to simply be added to our monthly email update list @ FLOWinternational@fastmail.fm
Prayers and Praises:
Please keep our family in your prayers as we continue to live and serve the Body in Sinaloa, Mexico.

Pray for the Church in Mexico. We have seen tremendous growth over the past year and are looking forward to more in the year to come. There is a baptism already planned for April and we are anxious to see what else God has in store for us!
Pray that God would provide windows for the conference center. The rainy season begins in June, and we would like to have the building weatherproof by that time.
Praise God for the missionaries who will be traveling to Mexico this spring to train teachers.

Praise God for the huge blessing of Master's Bible School. Pray that He would provide for the second term which will begin in October.