Happy New Year from the Coult Family in Las Glorias, Sinaloa, Mexico!
We end 2011 and begin 2012 with a huge shout of praise!
God thunders wondrously with his voice;
He does great things that we cannot comprehend.

Often we don't understand why things happen the way they do. It is very good to know that we don't really have to understand everything. I suppose that's why they call it faith!
Mission teams from Arizona and Oregon converged upon Las Glorias on December 16. Their main purpose: to put a roof on the New Hope Conference Center behind our house. After about 10 days of pretty intense work, the mission was accomplished. In addition to the construction project, though, they were also able to connect in some very tangible ways to the body of believers here in Mexico and experience a little bit of Mexican culture at the same time. Photos will be posted on our blog soon, so check there in a couple of days. We'll post notes on Facebook when new blog articles are added.
Here is a photo of part of the construction crew: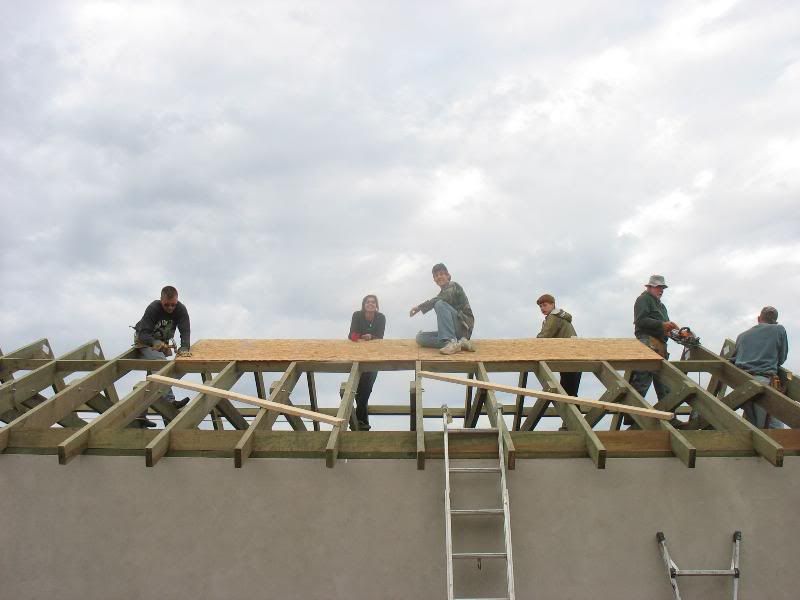 On Friday before Christmas, the sub-roofing was finished, and we were able use the building to host a youth event. Several youth put together a drama entitled "Light Bulb".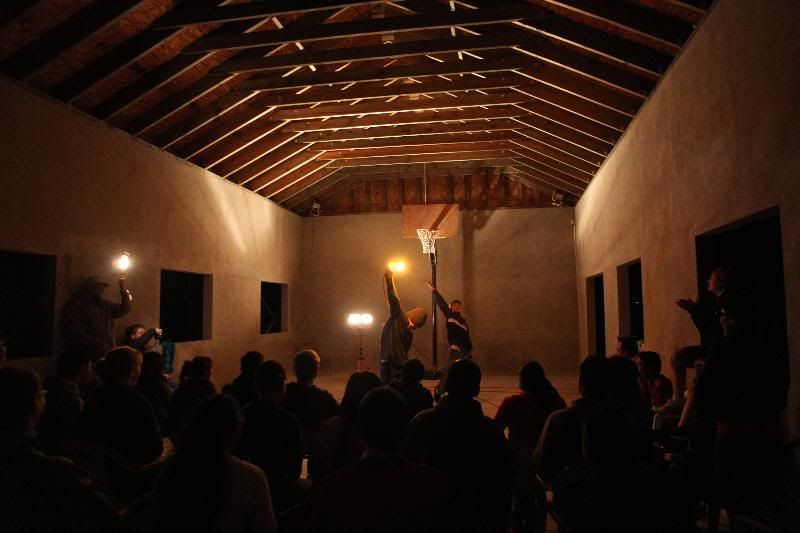 We said goodbye to the last of the American team on Wednesday, and on Thursday Doug and Joaquin put the last screws in the tile roofing.
The structure is now finished. As funds are available, we'll continue working on details such as windows and electricity, but the building is now fully functional and ready for the next planned event: Master's Bible School, which is scheduled for January 29 through February 9.
Almost 40 pastors and leaders, some from as far away as Mexico City, have signed up for this 10-day event. The course will include inductive Bible study methods, Biblical principles and identifying false teachings. The leaders we've talked to are very excited about this opportunity for training. We are only asking for a nominal contribution from the students, since we realize that many are making a huge financial sacrifice by leaving their jobs and families for 10 days. We are praying that God will supply every financial need that arises – for the students, the teachers (coming from Oregon and Ensenada, Mexico) and for us, as well. Please join us in praying for this adventure!!!
IMPORTANT NOTE:
In regards to the Bible school, several serious needs have arisen in the past couple of days. These issues are serious enough that, if not resolved very soon, the school might need to be altered or postponed. We have no doubt that God desires for us to hold this conference, so we most definitely see the need for focused prayer. If you're interested in more details, please send us a note, and we'll share more specific needs. Please pray that God would be glorified through this conference and in the lives of the pastors and leaders who attend it!
Prayers and Praises:
Pray for the Bible school we'll be hosting in February. Pray specifically for financial provision and that those who are supposed to attend would be able to. Because it was God who began this work, we trust that He will complete it, but we are experiencing some significant spiritual attacks in this area.
Praise God for the Oregon team and the Arizona team who sacrificed their Christmas vacation to work their tails off in Mexico!
Praise God for the lives which were impacted by the American missionaries who came.
Praise God for His protection over every person during the mission trip.
Pray for each person whose life was touched during those 10 days. God was speaking to several team members in some very powerful ways. Pray that they would stand firm in the Word!