Just wanted to let everyone know --
The wood arrived!!!
Thank you for your notes of encouragement and for your prayers. We would have written sooner, but our internet has been down. We're learning to accept this as a fact of life: internet is not dependable.
Isaiah 55:8-9

For my thoughts are not your thoughts, neither are your ways my ways, declares the LORD. For as the heavens are higher than the earth, so are my ways higher than your ways and my thoughts than your thoughts.
What a great month of faith-building this has been!!!
The truckload of wood arrived on Saturday and our crew of workers made short work of unloading and stacking it. Along with the lumber, they brought doors for the center, which the owner of the lumber yard donated. Wow!
Evie playing "Queen of the Mountain" inside the conference center.
The next step is to prepare the wood by planing it and treating it for termites.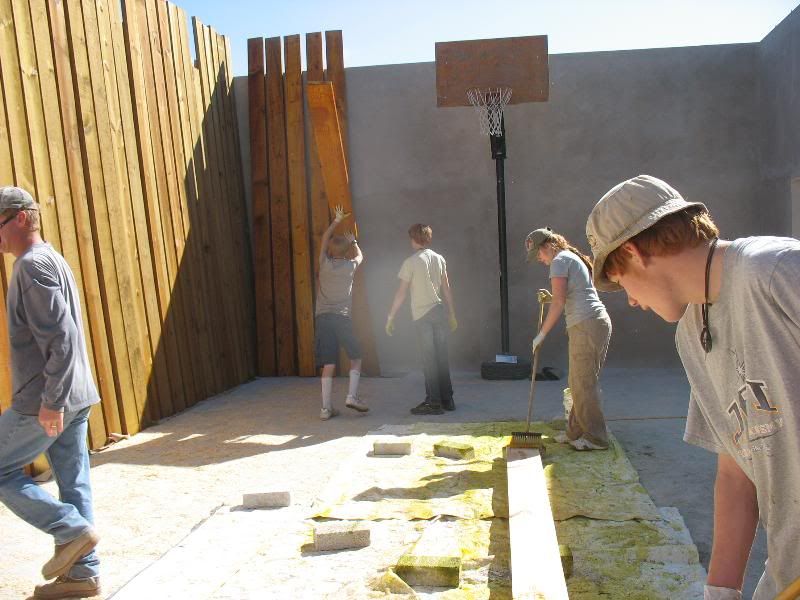 After the boards are planed and stained, we set them on end to dry -- they are still pretty "green", which makes them a little heavy. We're hoping that they'll be more dry by the time the men need to lift them 20 feet in the air!
Today, Thursday, we're all working busily, preparing for mission teams which will be arriving tomorrow. Please keep these teams in your prayers over the next day as they travel and during the next 2 weeks as they work and minister here. We have several outreaches planned including a Christmas party at the migrant camp, a time in the local prison and a dinner for couples in the church. Pray specifically for physical safety as the men work on the roof, for wisdom and insight as the mission team interacts with each other and with the Mexican people, for the families of the Vida Nueva church, and for the families in the migrant camp.
We hope to post pictures on our blog throughout the weeks, but we'll see how the internet works!
Blessings to you and your family as you prepare to spend time together this holiday season! We pray that relationships are strengthened, that memories are made and that God is glorified in your homes!