I can do all things through Christ who strengthens me.
-- Philippians 4:13

Sometimes, we bite off more than we can chew. That's saying that many times we agree to do a project or a job without truly considering exactly how much work or time or resources the job will require. Halfway into the project, we realize that the job is too big, the load too heavy, the pressure too intense.

Master's Bible School, which starts here tomorrow, has been nothing like that!!! From the moment we even began to consider this project, we knew that it was nothing we could ever accomplish on our own. At the time we began to plan the school, we didn't even have a roof on the conference center. But we also knew that the One who had given us the idea, the dream, was more than capable of completing it.

God has provided for every need as it has arisen. Sometimes things haven't turned out exactly as we had planned or even as we had wanted them to happen, but we believe that everything is coming together just as it should. There were some uncertain moments when our faith was tested, but God was faithful. The conference center now has electricity, thanks to another missionary here; tables and chairs are set up for the school, thanks to a brother in Christ from a local village. God has provided for food, books and transportation for the students and also for the teacher who has arrived from Ensenada. The stage is set, and we're waiting expectantly to see how everything will work out!



Join us in praying

that everyone arrives who has signed up and that nothing would hinder the students from attending the school.



Also pray

for the ladies who will be working in the kitchen (and also attending the school). Pray that God would multiply their time so that everything comes together smoothly!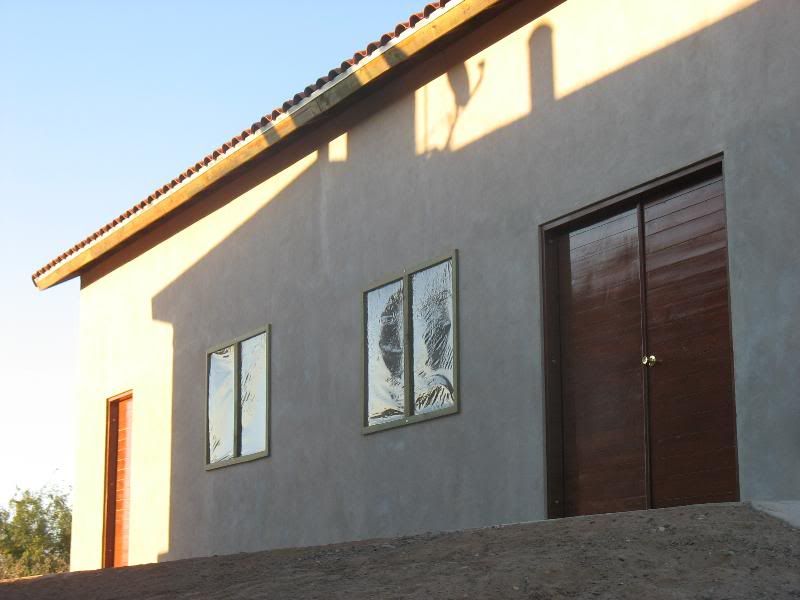 The New Hope Fellowship Center -- front view.



We have some wonderful praises:

Since the building of the center behind our house, our home fellowship has grown from 20 people (including children) to almost 50. We've had to move the Bible study into the conference center, because we can no longer fit everyone in the house. Awesome!!! We are hoping that our whole village will come fellowship with us! Wouldn't that be wonderful?! Pray that God continues to draw people to Himself and that we wouldn't get in the way of what He wants to do in Las Glorias.





Another praise:

Two weeks ago, we held a baptism at the river in Tamazula. Seven people were baptized including Esteban, Julio, Lupita, Andrew and Evie. We're looking forward to seeing what God will do in the lives of these brothers and sisters (including our children!) during the next years!!!



A special "Thank you!" to everyone who has been supporting the Master's Bible School and also supporting our ministry here in Mexico through prayer and finances! We are so blessed! We could not possibly do the work we do here without your support, and we thank you so much. You are all in our prayers daily!