I will give thanks to you, O Lord,
among the peoples;
I will sing praises to you among the nations.
For your steadfast love is great to the heavens,
your faithfulness to the clouds.
Be exalted, O God, above the heavens!
Let your glory be over all the earth!
Psalm 57: 9-11
Algo Nuevo:

Para nuestros hermanos que querrían leer esta carta en español, haz clic aquí.


Something New:

For those who would like to read this letter in Spanish, click above.
Pictured here is a small business in Guasave. This is a very common sight in our part of Mexico. Many times the front room of a house is converted into a storefront. Without having to pay rent for a store or hire employees, the entrepreneur can make enough profit to provide for his family and purchase more inventory. This is especially common in families with small children or ailing grandparents who need to be taken care of.
It is good to have our family back together again! Sarah arrived home from the U.S. two weeks ago and hasn't stopped working since! The day that she arrived, we were invited to share music at an evangelistic crusade in Guasave. What a blessing that was! We had a fantastic time and were immensely blessed to be part of the crusade.
Sarah and Caleb led worship at the church service in Tecomate last week. Since the property doesn't have electricity, the sound system is powered by a car battery and a converter.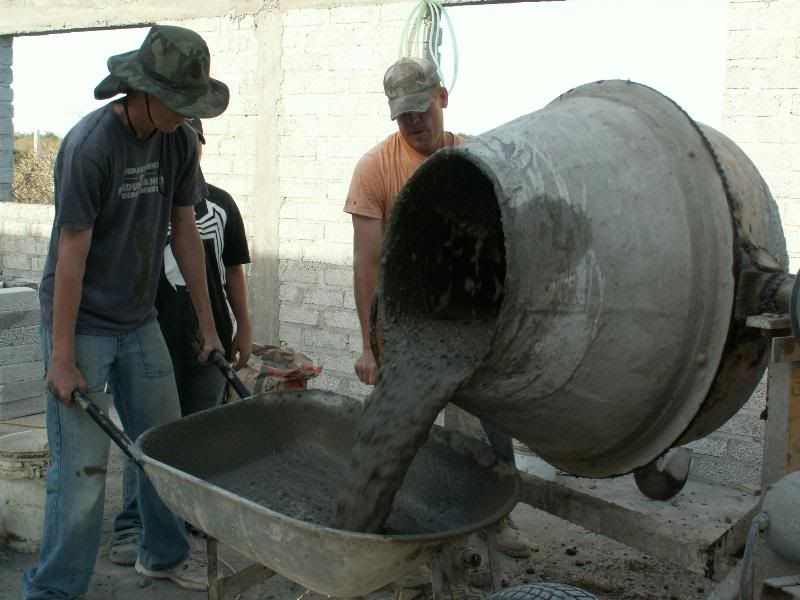 Construction continues on the conference center behind our house. The walls are nearly finished – only lacking the final touches on the stucco. In this photo, Doug fills the wheelbarrow for Caleb while the men prepare to pour a pillar.
All five of our men, plus Alfredo and Julio have been working practically non-stop for the past month to get the building ready for the roof. God has been faithful in protecting them all and in providing for every need during the project. As you may have read in a prayer request sent out earlier today, we have just learned that the lumber needed for the roof has not arrived at the lumber yard yet. Please pray that whatever is hindering the arrival of the trees would be removed and that the boards would be ready in time for their use in mid-December. We serve a really big God! Since He is the one who put it on our heart to build the center, we have to trust that He has this situation under control! So, also pray that we wouldn't worry, but rather that we would trust and have peace!
Here is the building as it stands today.
To see more pictures of the Nueva Esperanza conference center,
click here.
We have begun inviting area pastors and leaders to an event we will be hosting at the center in January and February of 2012. The Master's Bible School, a training program designed to equip leaders and pastors, will be a 30-day event. The first 10-day session will be held the first week of February. We are so excited to be able to be part of this! It's a bit overwhelming, but we can see that it is God's work. The response from area leaders has been very encouraging. We are pretty certain that we won't have any problem filling the 40 spaces we have available for students. Pray for the teachers who will be traveling from Ensenada, Mexico, and Oregon, USA, and also for the students who will be coming from various parts of Mexico.
Lest you think that all we've been doing for the past month is work…
Caleb gets the wood oven ready for a pizza party.
At our home fellowship meeting last week, we fired up the brick oven and baked pizzas. We celebrated a couple of birthdays and enjoyed some time in the Word together. Continue to lift up the new believers in Las Glorias. We have such a wonderful group, and we pray that God would continue to grow it – larger and closer to God!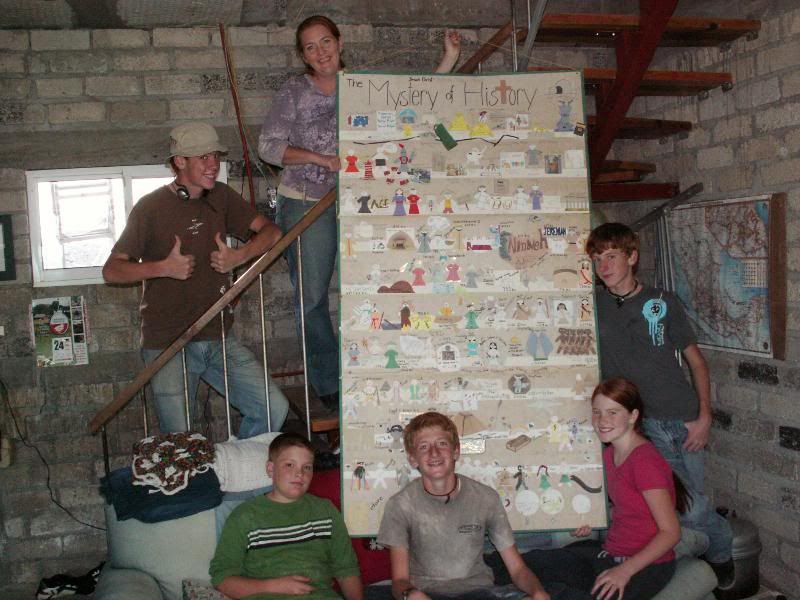 We are still homeschooling. Here are Rebecca and the kids displaying their newly-completed timeline. This timeline hangs on our dining room wall and is a great conversation starter! You can read more about the Mystery of History at Rebecca's Blog. Just click here.
Prayers and Praises:
Praise God for His provision – both in the construction of the conference center and also in our day-to-day life.
Pray for the teachers and the students who will be attending the Master's Bible School in Las Glorias in 2012.
Praise God for the families who have been attending our weekly Bible study at our house. Pray specifically for Esteban, Julio, Alfredo, Pedro, Xavier, and Jorge as the heads of their families – that they would seek to honor God with their lives.
Pray for the leaders of the Vida Nueva churches we are working with: Jeff and Renea, Ernesto and Brisa, Misael and Eugenia, Felipe and Yadira -- that God would strengthen their families and provide for their ministry.

Pray for the two mission teams that will be converging on our house in December. A team from Oregon will be arriving December 16 in the morning and a team from Arizona will be arriving later that same day. Their goals during their time here include putting a roof on the conference center and throwing a Christmas party for children at a local migrant camp.
Pray that the wood for the roof is here and ready by December 15.
Praise God that Sarah is home safe and sound! It is good to have our family together again.
Pray for wisdom and perseverance as we continue to educate our children at home. We have three highschoolers and two junior high students this year. Wow.