Psalm 92:1-3

It is good to give thanks to the LORD,




to sing praises to your name, O Most High;




to declare your steadfast love in the morning, and your faithfulness by night,




to the music of the lute and the harp, to the melody of the lyre.
Our family had an opportunity to lead the worship at a youth conference in August.
It is an answer to prayer to have our whole family singing and playing instruments together. We're praying that by December, at the next youth conference, we'll truly have everyone: adding Andrew on bass guitar and Sarah on guitar. At this event in the village of Los Angeles del Triunfo, we were able to introduce a couple of new songs recently translated by Caleb. The youth were very excited about the songs -- so much so that all our copies were given away practically before we had time to get off the stage.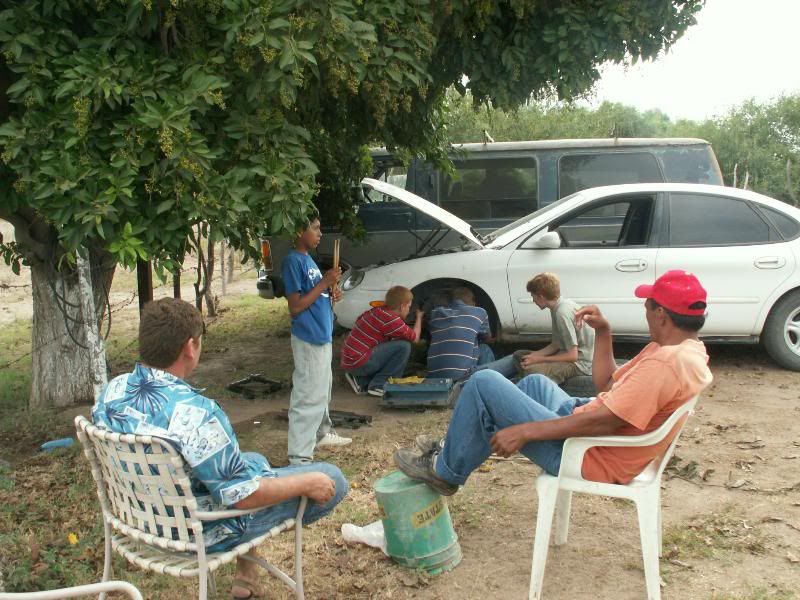 Doug and Andrew once again are called into action as "shade tree mechanics". Pastor Misael's car had a serious suspension issue: a bolt fell out, which caused the car to become un-steerable. Praise God that this happened while entering the highway and not while traveling at highway speeds! Thank you, Lord, for Your protection!
We do a lot of traveling here in Sinaloa and the country roads we generally travel, although beautiful and scenic, are not paved and barely maintained. The roads wreak havoc on cars, so it seems like the guys spend a lot of time under the vehicles doing repairs and maintenance. Praise God that they have the tools and know-how to keep all the church's vehicles on the road!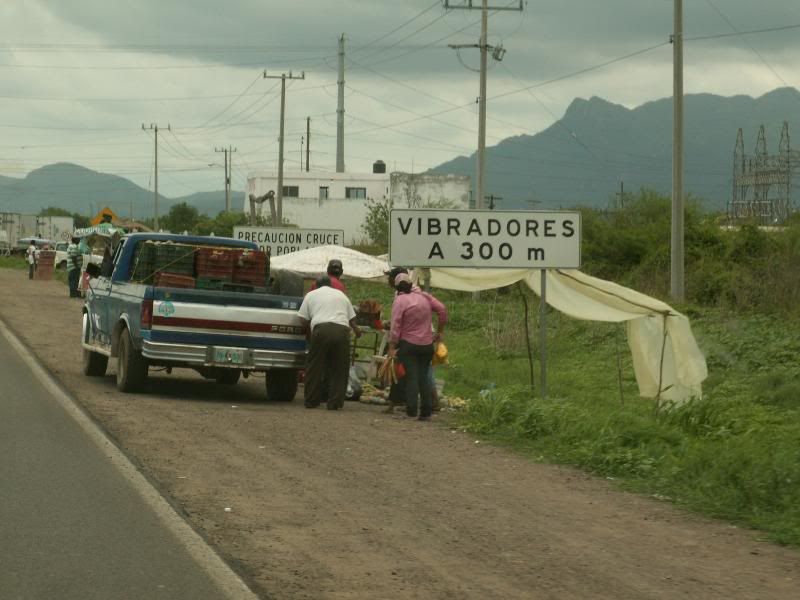 "Vibradores" = Speed bumps
Wherever traffic slows for speed bumps on the highway, vendors gather to sell their goods. Men wave packets of freshly made tortillas or bread, baggies of dried shrimp
or mango prepared with chile and lime.
The time has come for our semi-annual exodus from Mexico. This will be a short trip, only one month, but we will be covering many miles as we travel up to see Sarah in Oregon. Every Sunday, we'll be in a different city, visiting a different church. Refer to the list of churches and dates below to see when we'll be in your town. Like I said, it will be a quick trip, but we're looking forward to seeing many of you as we travel northward.
You can track our progress across the country on
Facebook
and also on our
Ministry Blog
.

Fall Furlough Schedule 2011

Thursday 9/1 Leave Las Glorias +/- 4am; Arrive Tucson +/- 4pm
Sunday 9/4 @ Magnolia Presbyterian Church, Riverside, CA
Tuesday 9/6 Arrive Chico, CA
Sunday 9/11 @ Woodland Bible Church, Woodland, CA
Monday 9/12 Leave Chico, CA
Sunday 9/18 @ New Hope EFC, Winston, OR
Sunday 9/25 @ Restoration Life Church, Sacramento, CA
Sunday 10/2 @ Saguaro Canyon EFC, Tucson AZ
Tuesday 10/4 Leave Arizona and head home
Wednesday 10/5 Arrive home
Please pray for us as we travel: that God would anoint our hands, feet and words and that He would supply all our needs! Also continue to pray for the ministry and family that we're leaving behind: Iglesia Vida Nueva: Tamazula, Alamito and Tecomate; our home fellowship group; Joaquin and his family (staying in our house)