Philippians 2:1-2

So if there is any encouragement in Christ, any comfort from love, any participation in the Spirit, any affection and sympathy, complete my joy by being of the same mind, having the same love, being in full accord and of one mind.
Our mission trip to the state of Nayarit, Mexico, was exciting, challenging, amazing, exhausting, humbling, and inspiring – all at once!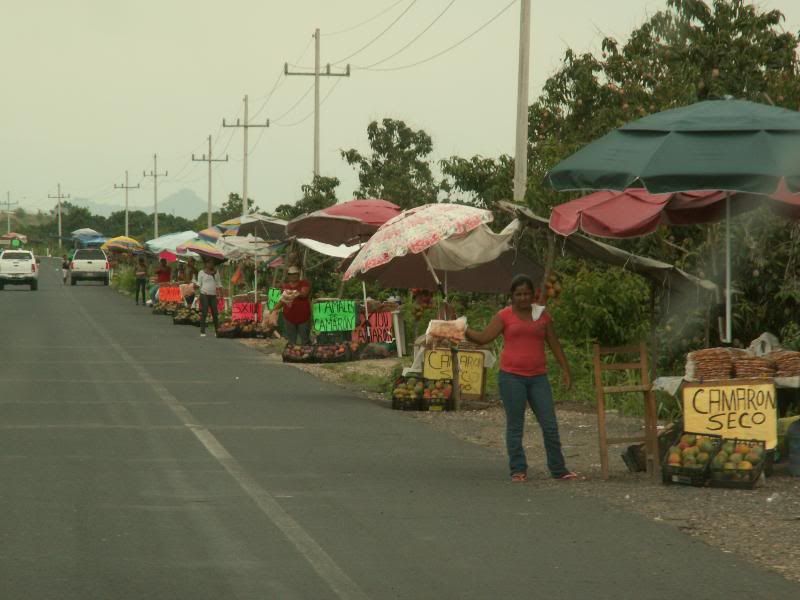 Entering Nayarit, vendors line the highway. They are all selling the same thing: fresh mangoes and dried shrimp.
Arriving in the village of Quimichis on Tuesday evening after a 12 hour drive, we weren't certain of where our team would sleep that night. Within only an hour of our arrival, we were offered three different houses. Wow! What a reception! God had everything already worked out. One of our prayer requests was that God would keep our team close together for the sake of unity and safety. It ended up that half of our team stayed in the house of Pastor Felipe's daughter and son-in-law and the other half stayed in the house right next door. God is good!!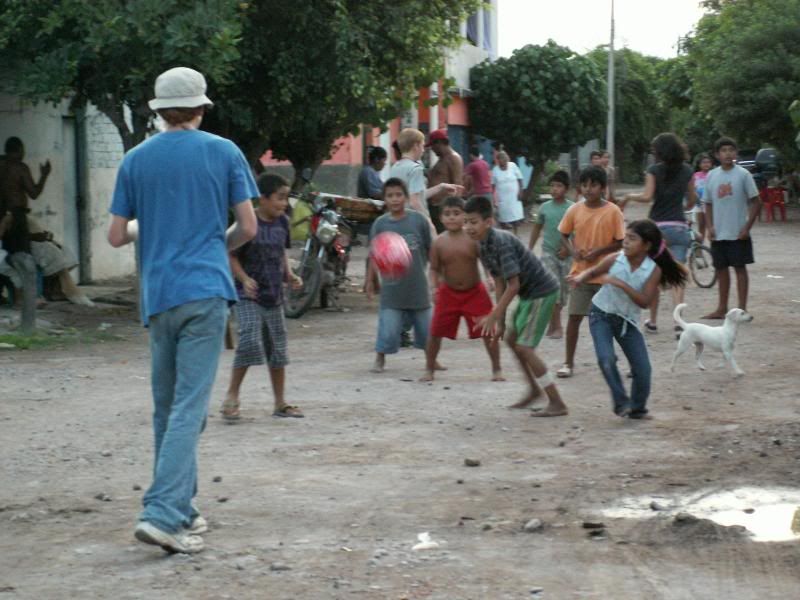 While the grown-ups worked out the housing arrangements, the kids pulled out a soccer ball and taught all the neighborhood kids a new game: dodgeball. They caught on quickly and soon more than 40 children were running around in the street.
The response we saw to the music, the dramas, the teaching, the kids' program and even just the times of "hanging out" was amazing. God has called a man named Narciso, from the State of Veracruz, and his family to pastor the Church in Quimichis. After the first night of the crusade Pastor Narciso was astonished as well. "We've had other groups – professional musicians, evangelists – but the people here never respond. For 40 people to stand up and ask for prayer is something historic here in Quimichis," said Pastor Narciso.
Drama teams presented dramas each of the three nights.
We held the event at the main intersection of the village – only a block from where we were staying. God gave us favor with the local authorities and the neighbors, too (another prayer answered). The whole community turned out each of the three nights.
Doug and Misael with Pastor Narciso and his wife in front of "our house"
Abraham, the son-in-law of Pastor Felipe, shows off the bananas he grows in his backyard. Some of these bananas were over a foot long!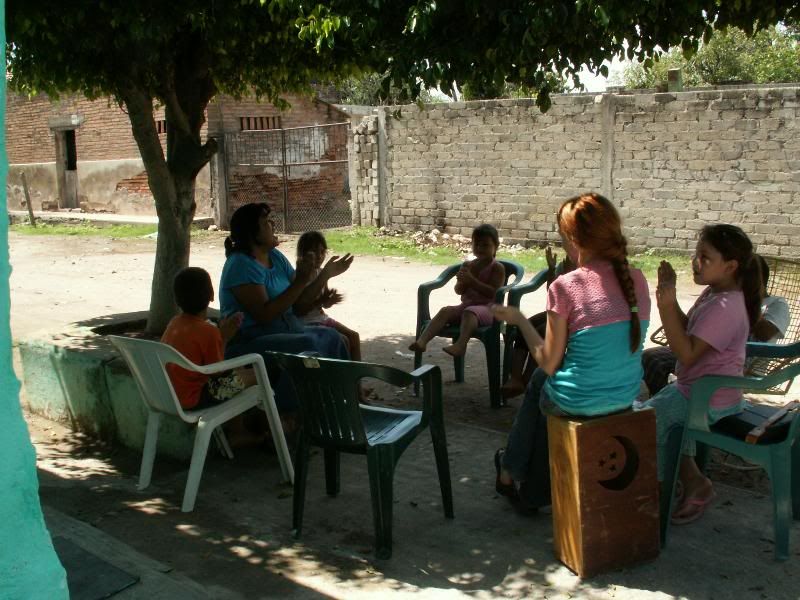 Children and adults alike stopped by to sit in the shade and talk. When we realized that we had nearly 10 children visiting, Sister Eugenia and Evie did an impromptu kids' class.
We saw God's hand move in incredible ways in saving, healing, protecting, and providing not only in our own lives but also in the lives of the people of Quimichis. Heavy rain was forecasted for all 3 days of the crusades, but we only experienced a short drizzle on the first day we were there. During our visit many people asked for prayer. We had reports of people healed from inability to speak, diabetes, cancer, twisted knees just to name a few. Many people prayed to receive Christ. We give all the credit and glory to our great and mighty God!!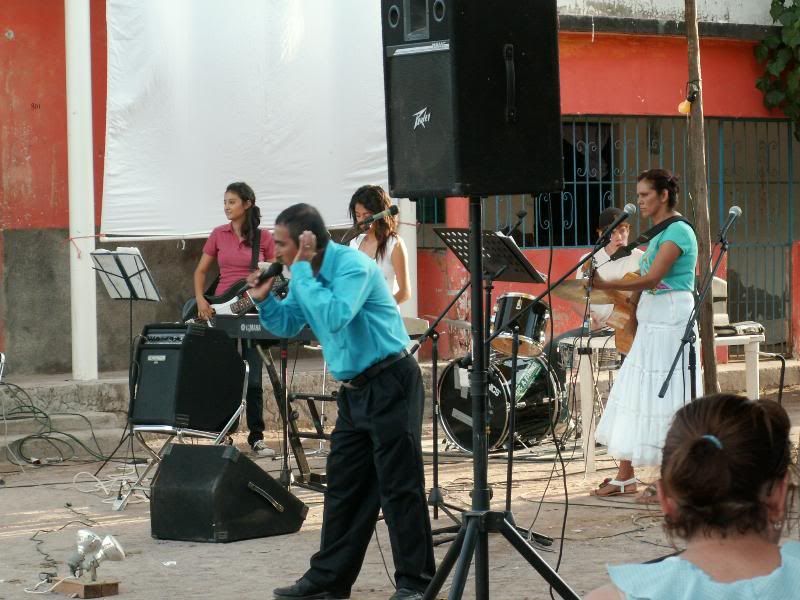 Pastor Felipe and his family led part of the music during the outreaches. He sings ranchero ballads which all the people seemed to know – even small children sitting behind me were singing along.

We were told that the village of Quimichis is not generally very open to outsiders. However, we found everyone we met to be warm and friendly, ready to both talk and listen to what we had to say.
Pastor Misael shares from the Bible with a man who lived down the street. His wife suffered a stroke 12 years ago and she has been unable to talk since that time. On Thursday, Sister Eugenia prayed with the woman; on Friday the woman attended the outreach with her husband – clapping and singing and speaking clearly!
Seth and Caleb spent some time talking with the men next door. Fishing season begins soon, and these men were passing their time making and repairing fishing nets.

During our morning devotions, some neighbors joined us to listen to the Word and to pray with us. A couple of ladies even walked all the way across town just to be there for our devotion time each morning.

Now, a week later, we are back at home in Sinaloa. The laundry is mostly caught up and people are getting healthy from the various colds and ailments which have been cropping up the past week. Parenting classes continue on Wednesday and Thursday. Weekly Bible study continues on Tuesdays – and we even had some more neighbors attend last week! Two little boys from the school in Mochis, Juanito and Andrés, have come to spend a month with us. Youth group meets today in Guasave. Doug will be teaching at the church in Tamazula on Sunday. We keep a very busy schedule, and we seem to find any number of ways to fill what little free time we have.
Our trip to Quimichis, however, impacted all of our lives. We saw God work in some wonderful and miraculous ways. Our team pulled together and worked in unity and accomplished some amazing and mighty things. The local Church in Quimichis is encouraged because of the new people attending the weekly meetings. And we made some friendships which will last an eternity!!!
Thank you so much for your prayers for us over the past month! We believe that the trip would not have been as wonderfully successful had we not had so many people praying for us and for the people of the village.
Prayers and Praises:
Praise God for His provision in every way which allowed us to participate in this mission trip to Nayarit.
Praise God for the families of Misael, Felipe and Ernesto (the pastors of the Vida Nueva churches); Pray for these Pastors and their families for provision, protection, and spiritual strength.
Praise God for the new families attending our weekly Bible study.

Pray for God's protection for the new believers in Quimichis and for Pastor Narciso and his family.
Pray for wisdom for the Vida Nueva Church leaders as we pray about our next step concerning the church in Quimichis.
Pray for God's provision of a van for the Vida Nueva Church in Tamazula to use in the church plant in El Serrano.
Pray for full-time workers (a married couple?) for the church plant in El Serrano.
Pray for God's provision as we continue to raise the funds for the Las Glorias Youth Center.
Pray for wisdom and God's provision as we plan a short furlough to the States in September.