Psalm 71:1-3


In you, O LORD, do I take refuge;
let me never be put to shame!


In your righteousness deliver me and rescue me;




incline your ear to me, and save me!




Be to me a rock of refuge, to which I may continually come;


you have given the command to save me,
for you are my rock and my fortress.

We've been able to relate well to this passage recently. We were reminded that Jesus is our firm foundation a couple of weeks ago when a series of about 15 medium-sized earthquakes shook Sinaloa. People in our village were very afraid that a tsunami would come or that their houses would collapse on them. Neither of those things happened, Praise God, but it was definitely a wake-up call and a reminder that we shouldn't put our trust in our treasures on earth. The tremors seem to have stopped for now – another praise!
In the news we hear rumors of wars and violence, natural disasters, political conflict and economic crises. It is natural and normal to be afraid, but we need to keep our fears in perspective. Jesus said, in Luke 12,
"I tell you, my friends, do not fear those who kill the body, and after that have nothing more that they can do. But I will warn you whom to fear: fear him who, after he has killed, has authority to cast into hell. Yes, I tell you, fear him!"
That should help us keep our fears in perspective!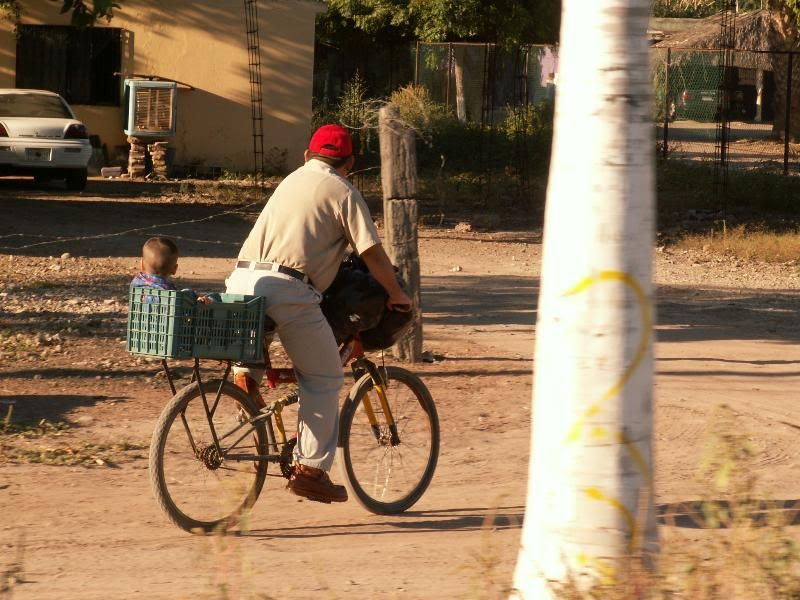 Culture shot: the cargo basket/child transport seat.

So, life does go on! The past month has been a very busy one. Arriving home from our fall furlough at the beginning of October, we restarted our parenting classes in Tamazula and began volunteering once a week at the deaf school in Los Mochis. What a wonderful experience that has been! Doug has been teaching baseball to about 50 kids each week and Rebecca has about 15 in her cooking classes. It's been challenging and rewarding! I know that if the school wasn't so far away, we'd spend a lot more time there. Pray for the school: they are sorely understaffed and in need of a couple of teachers. They have a dozen children on a waiting list, but can't accept them until they have more staff. Knowledge of sign would be helpful, but is definitely not necessary! Send us an email if you are interested in finding out more.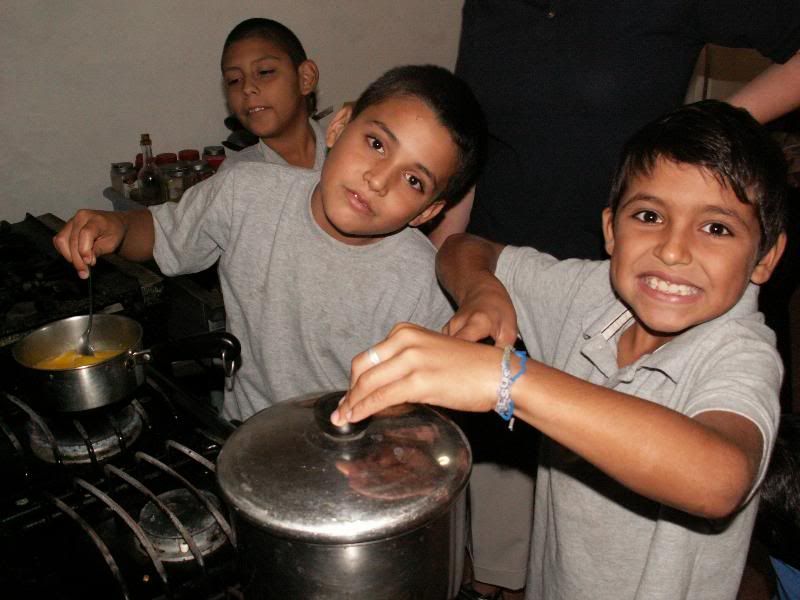 Here are Juanito, Manuel and Ricardo. They are three of the boys from Rebecca's Friday cooking class. Last week they made popcorn on the stovetop. The look on the deaf kids' faces when they felt the popcorn exploding against the pan lid was priceless!

We are working our way through the book of Luke in our weekly Bible study with Esteban's family. One of Esteban's brothers-in-law has been staying with Lupita, so his family has been coming to the Monday night get-togethers, too. It's been great to have more extended family attending!
Doug, Andrew and our friend Julio pass some time talking during Julio's lunch break. Julio is one of several men who stop by a few times a week "just because".

Our house continues to be a place for folks to "hang out". The pool table sitting in the middle of the shop has been quite an attraction. There's not a lot in the way of entertainment in our village, so the table is quite the novelty. The swimming pool has survived another Mexican summer and we pray that it lasts for a few more! It also has been an attraction to kids and adults alike. In addition, many folks from the village stop in daily to grab a glass of water, to water their horses or cows, or just to sit and chat a bit. Pray that we would use every opportunity to share about the God who loves us and to "let our lights shine"!
During the weekly parenting class in Tamazula, Sarah and Caleb and the rest of the kids lead a kids' class. Thanks to a gift from the children of a church in Arizona, we were able to purchase supplies and print out a curriculum for this class. The kids are learning about the armor of God from the book of Ephesians. Pray that the children would be attentive, that the truths they are learning would stick with them and that they'd be able to apply them to their lives. Pray for the parents, too! The material we are covering in the parenting classes is sometimes hard to grasp. Our culture, American and Mexican alike, has moved so far from Biblical norms in parenting that some of the concepts are almost foreign!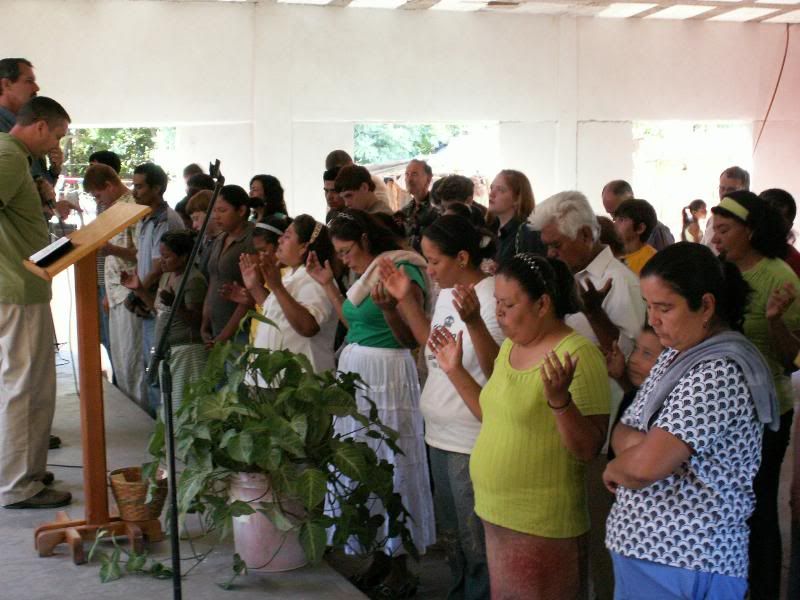 At the church in Tamazula, a visiting missionary from Washington shared and then offered an alter call. Practically the whole congregation came forward to pray!

A mission team from Washington State came down at the beginning of October to work with the Vida Nueva church of Guasave. We were invited to help with translation and transportation during their time in Mexico. Activities were planned at all three of the Vida Nueva churches: Guasave, Tamazula and Alamito. It had been a while since we had a team down here and it was good to get "back in the swing" of mission teams. You can read more about their time in Mexico at our Family blog.
After a time of prayer and seeking God's will for the direction of our family's ministry, we have decided to partner with the Vida Nueva church here in Mexico. They have three unique, vibrant churches in three different cities and they have asked us to assist them in some specific areas. First of all, we will continue holding weekly classes on Biblical parenting, Biblical marriage, and Biblical handling of finances. Second, we will be participating in and helping to coordinate evangelical outreaches in Sinaloa and, as God permits, in other parts of Mexico. The third area we will continue to work in is that of coordinating the visiting American mission teams with the Church in Mexico. Lastly, we have been asked to assist in the training of music ministry workers.
The exciting thing about this partnership is how well it fits the passions that God has been growing in us for our ministry here in Mexico. I (Doug) have also been invited to preach periodically in each of the Vida Nueva congregations. God is so good to first put desires in our hearts and then fulfill them as we partner with Him! Please pray for us as we embark on this new adventure.
Prayers and Praises:
Praise God for His protection and provision during our trip to the States.
Praise God that we have been able to get internet hooked up at the house again. We are so dependant on modern conveniences!
Praise God for the deaf school in Los Mochis and pray that He would raise up workers there!
Praise God for the Church in Tamazula. Pray that the Biblical parenting principles we are sharing would be grasped and that lives would be impacted in a positive way.
Pray for us as we coordinate and plan for winter and spring mission teams from the States.
Praise God for our renewed, deeper relationship with Jeff and Renea Petit (our missionary neighbors) and their family.
Pray for Sarah as she is making plans for her next year – possibly spending some time studying in the States.
Pray for wisdom and guidance as we plan outreaches and worship events.
Pray for the migrant workers of Campo 300 and the other camps in the area. We have been transporting those who want to attend church services in Tamazula. We pray that soon there will be so many who want to go that we'll have to borrow a bus to transport them!