For we do not have a high priest who is unable to sympathize with our weaknesses, but one who in every respect has been tempted as we are, yet without sin. Let us then with confidence draw near to the throne of grace, that we may receive mercy and find grace to help in time of need. --
Hebrews 4:15-16
August in Sinaloa is generally a series of hot, sultry days followed by hot, windy days. The monotony is occasionally interrupted by torrential downpours and gale-force winds. This year hasn't been much different. The rain has been significantly less, which is good news for those of us who dislike mosquitoes and bad news for area farmers, but the storm season has arrived and we're now getting our share of evening thunderstorms…and mosquitoes, too. We praise God over and over again for the new roof we have over our second story – which doesn't leak – and for windows and doors to shut out the critters! We are so blessed!
In addition to a roof over our head and screens on our windows, God continues to remind us of His care for us in the day-to-day, mundane things. This past week, for instance, when our van broke down, the circumstances of the incident made us sure that God was in control of every detail. The official diagnosis was a blown rod and a hole in the engine block. The bottom line: we needed a new engine.
You can read about the
night we broke down by clicking here
. It's a very encouraging story which you really should read if you haven't yet! We're now friends with the man who towed us home. His family came over for dinner after church on Sunday and spent the day with us. Pray that our family would be an encouragement to them as they have been to us.
Last Monday Doug, Esteban and the mechanic, Nathaniel, headed up into the mountains to search for a new motor – and found one! They brought it down to Palos Verdes (about 5 miles from our home) and proceeded to put the van back together. By Thursday morning, we were driving our van into Guasave to re-charge the air-conditioning and run errands. The job took 3 days – which is amazingly fast and almost unheard of down here!
Nathaniel's shop is under an awning in front of his house. He doesn't have a lot of fancy tools, but he knows what he's doing, and he's talented. As a family, we chuckled together about how long it would have taken to repair the van if Doug hadn't been hanging around all the time, helping when he could, entertaining guests who stopped by, and generally hurrying things along.
So, we're back on the road. We did incur some bills from this, but we're grateful that car repairs are so much cheaper here than they are in the States. The mechanic has no idea why such a new motor would blow the way it did, but we're glad it did it here and not in Arizona or California. The total bill came to just over $1000. We're trusting God to provide what we need for the rest of the month.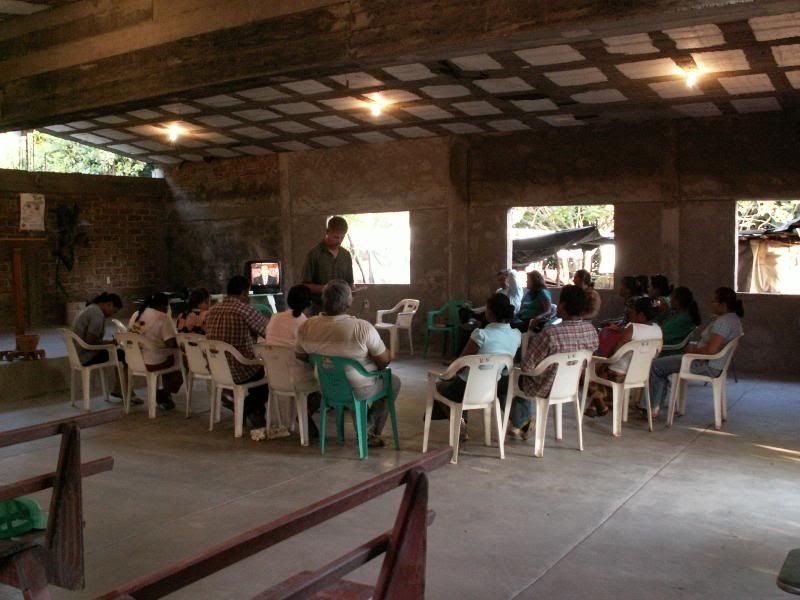 Our parenting classes continue in Tamazula. We're so excited about this group! They are motivated and eager to learn what the Bible has to say about parenting, and we're having a great time leading the classes. You can
read more about the parenting classes at our family blog
.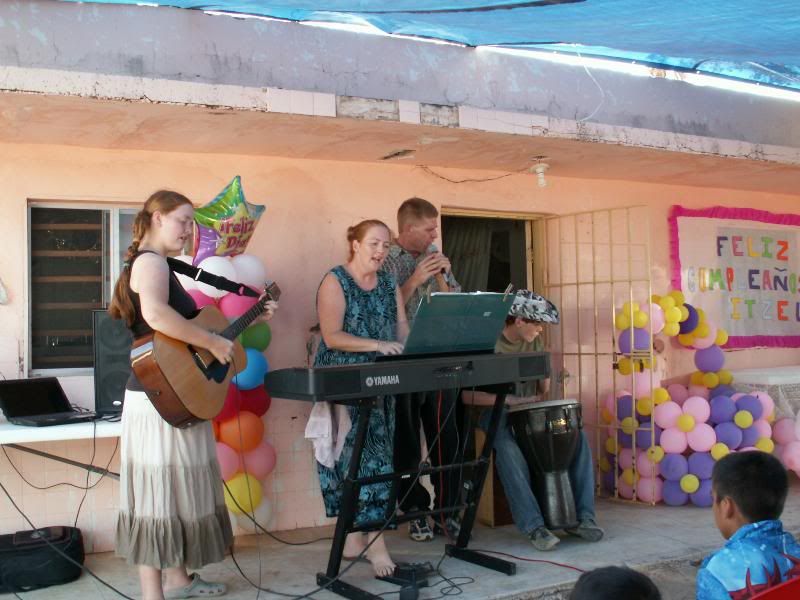 For the past few months, we've been traveling to various churches to help with music on Sundays and during the week, too. This photo was taken at a church service in La Reforma, another fishing village about an hour up the coast.
No, church services here don't usually include balloons. After the worship service, one of the sister's granddaughters had a birthday party…
…where we dressed up as clowns. We shared the drama "Jesus Is the Key to Eternal Life". It was a lot of fun and a great way to share a Christian message with a lot of children and adults who may never attend a Christian church service. Of course, our clowny kids did the usual clowny things with silly string and confetti, but the focus of the party was Jesus. Several parents commented afterward that it was good to see clowns who didn't use "
groserias
" (we call them "bathroom jokes"). We were glad that we could encourage the church body in La Reforma – through the clown act and also through the worship and praise music. You can
see more pictures of the clown drama
over at our family blog.
Here's a fun picture which I thought was a great example of cultural differences. Most people in our area use propane to cook. When the tank is empty, you take it to the gas station to fill it up. In the States, I can't remember ever seeing a tractor driving down the highway with a propane tank balanced on the ball hitch…especially with no hazard lights. We've seen these tanks strapped onto the back of motorcycles, hanging out the trunk of a small car and even tied onto the luggage rack of a bicycle (I really want to get a picture of that!). If you don't have a car, what else can you do?
I'm sure glad he has that "international caution symbol" on the back of his tractor!!!
We've finalized dates for our fall furlough. Our plan is to leave Mexico for the States at the end of August. Our tentative itinerary is as follows:
September 1-7: camping in Arizona
September 8-11: In Southern California/Riverside
September 11-13: Sacramento/Woodland area – Restoration Life Church and Woodland Bible Church
September 14-17: Southern California/Riverside
September 17-23: Tucson – Saguaro Canyon EFC
September 23: Head for home.
This will be a short trip, as we don't like to be gone long during storm season. If you'd like to get together with us while we're in your area, send us an email! We look forward to seeing many of you this visit!!!
Prayers and Praises:
Praise God that we're back on the road and that He provided a new/used motor for our van. Pray that He would provide the resources necessary to cover the debt.
Praise God for the new opportunities He is opening up here in Las Glorias. Pray that He would grant us wisdom and insight as we teach and share.
Praise God for the children attending the parenting class children's program -- pray that the teachers (Sarah and the rest of our kids) would not become frustrated, discouraged or overly tired as they work with these kids!

Pray for Sarah and our family as we investigate options for college.
Pray for Andres and Juanito -- the two little boys who are staying with us until the end of August. They are a real blessing, but have a pretty tough background.

Pray that God would protect our home and ministry here while we are in the States. Pray for Chuy, who will be watching over our house and animals.

Praise God that He is in control in every circumstance -- whether it appears that way to us or not at the time!
Pray that God would provide more baseball equipment. We will begin training again at the end of September. (If you have any to donate, please let us know!)
Pray for us as we travel that God would keep His hand over us and that He would give us opportunities to share our lives with other people.