Hello, everyone! We're going to pretend that this letter went out last week like it was supposed to so we can still call it the "November Update". Our family got hit by a nasty cold-type thing, so not much computering has been getting done. Thankfully, all are feeling better (especially Mom, who spent the better part of two days in bed.) so we're getting back into the swing of things.
Give thanks to the Lord, for He is good;
His love endures forever!
Psalms 136:1
November in the Pacific Northwest: bonfires, pumpkins and hot chocolate.
November in Sinaloa, Mexico: fish frys, a walk in the park, and a super-sweet, prize-worthy watermelon.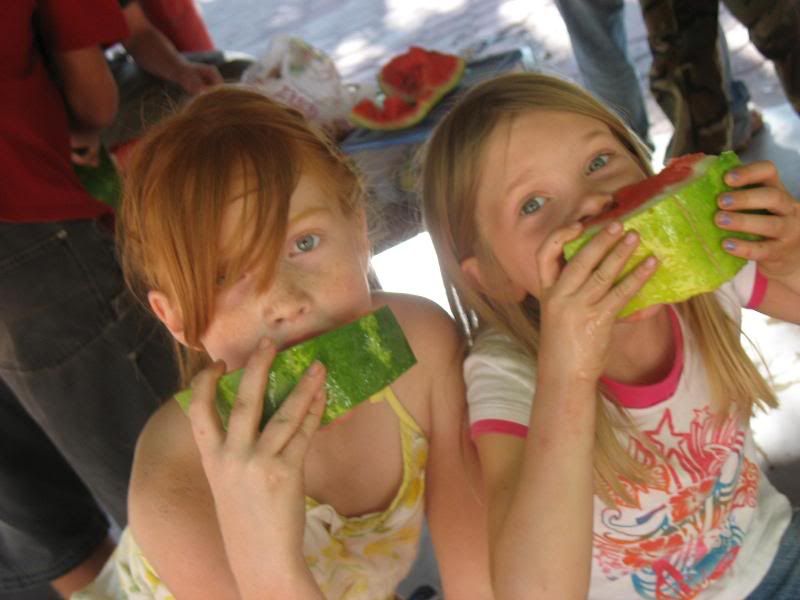 Evie and Bella enjoy the first watermelon from our garden
We've been so blessed this past month and continue to give thanks to our Creator, even though the actual holiday is over. Below are some photos with links to some recent posts at our various blogs, so you can read about the awesome things God has been/is doing in Las Glorias and Boca del Rio.
Now we look forward to all the things God has in store for us in the next months! At the front of our mind is the construction project planned for January 2010. God has laid on the hearts of a few youth from all across the country the desire to come down and help finish our home. You can read more about their plans and how you can get involved by clicking here.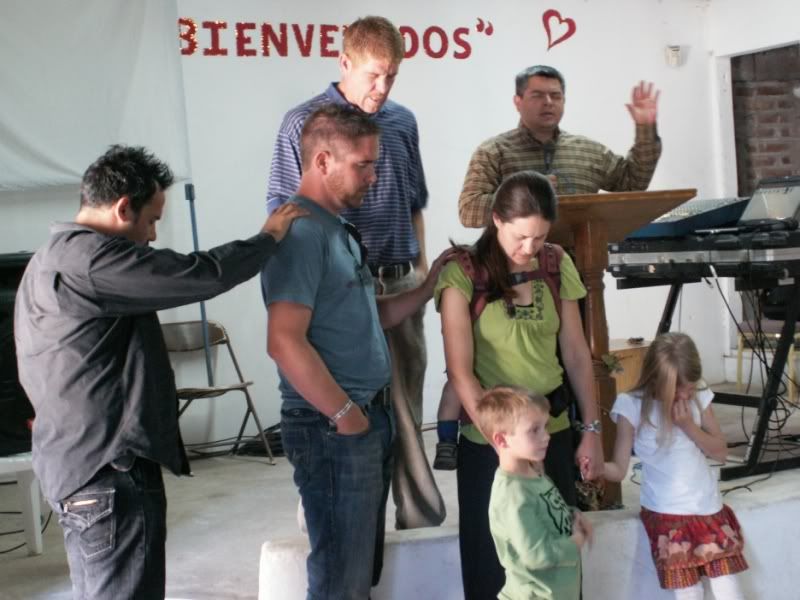 It's early in the "Short-Term Mission Team Season", but we've already been able to host a couple of families for a few weeks last month. Short-term mission teams are such a blessing to us in so many ways! We were able to include these families in our day-to-day life and introduce them to our ministry here in Sinaloa. So much of our ministry here is just "life" (in Spanish, of course), but hosting short-term teams helps us to remember what being a missionary feels like as we see our ministry through their eyes!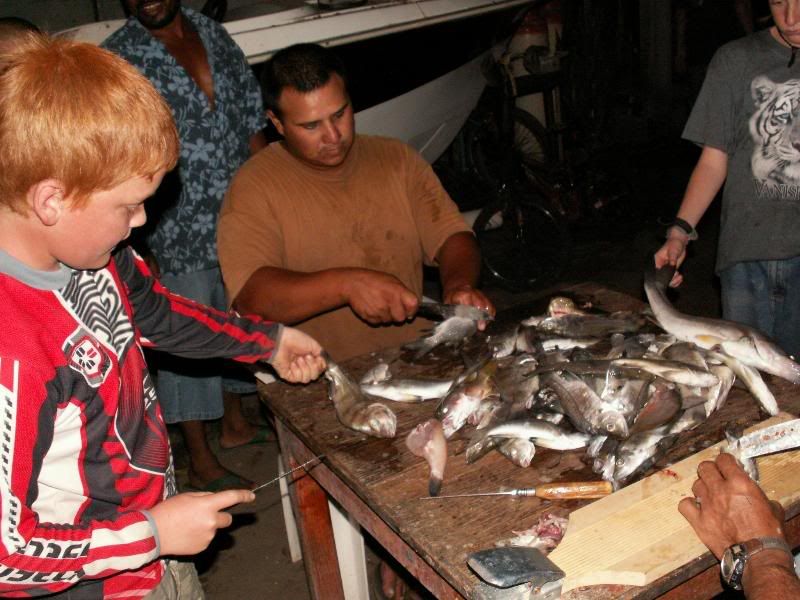 We continue to lead a couple of weekly Bible studies in the village. Many times our fellowships include a meal. There's just something special about "breaking bread" together. Around here, we mostly break fish! We started this study group a little over a year ago with only two couples, and now the group has grown to include all of their immediate family members. Some weeks we have as many as 11 adults and 9 kids. God is doing a work in this family and we are excited to see what He has planned for their future!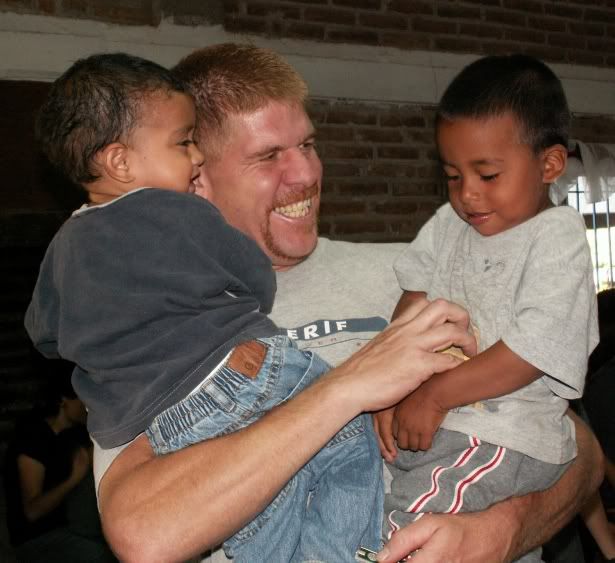 We've begun our second session of parenting classes using the book "To Train up a Child". The class is, so far, a huge success with about 12 people attending. Some of the concepts of Biblical parenting taught in the book are almost completely foreign to the parents here. Pray that we would be able to explain the priciples well and that God would work in these families -- through, and sometimes in spite of, us! Also pray that God would strengthen our family as we are reminded to put these foundational principles into practice!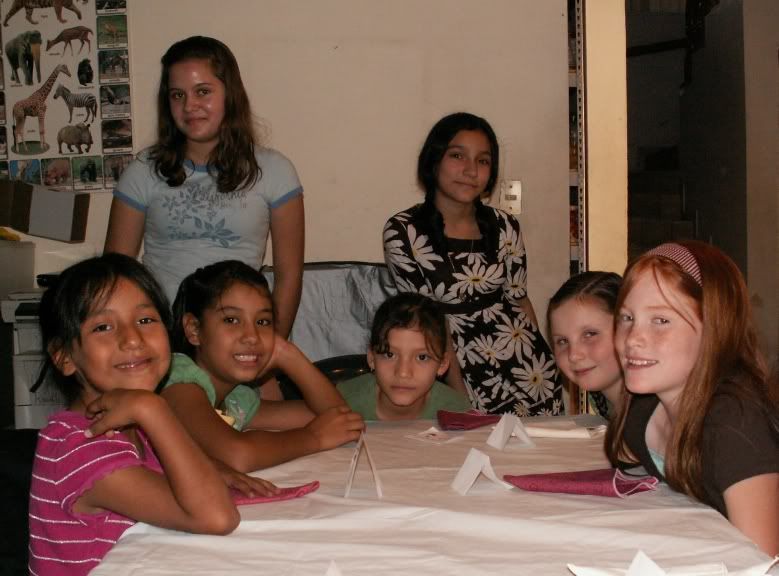 Sarah continues her work at the deaf school in Los Mochis. We were so blessed to be able to go visit over Thanksgiving weekend. A mission team has come down from Oregon/Washingto/Idaho to do some construction on the school's new facility. Their hearts' desire is to be able to move into the new building before Christmas. That's a big goal, but we serve a big God, so we know it's possible! You can read Sarah's latest updates by clicking over to her blog.
Baseball season has begun and this year Team Boca has a professional baseball player as a coach! Brother Juaquin and Brother Doug have teamed up to start a training camp for the boys of the area. You can read more about it by clicking here. They've been averaging 60 kids per week in attendance. Keep these young men and their coaches in your prayers! In addition to teaching the boys baseball, Doug and Juaquin desire to teach personal discipline, accountability and responsibility. [We're also gathering used baseball equipment, so send us a note if you have some old mitts lying around which you'd like to donate!]
Feel free to print out or post this update letter. You can also post our prayers and praises on your fridge or workstation so you can pray for us!
Prayers and Praises
Praise God for the mission teams which have already come down this season. Pray that God would strengthen these families!


Pray that God would raise up the funds necessary to finish our home. It's been awesome to see Him move over the past months as the youth team has come together. Pray that God would accomplish what He has planned in this team!


Pray for the teams and families planning to come down in December and January. Pray that God's will would be done in and through their lives.


Praise God for Coach Juaquin and Coach Doug! Pray for the youth of our community -- that God would show Himself real to them through the lives of these men.


Praise God for the parents in our parenting class. Pray that they would begin to put the principles they are learning into practice. Pray against any attack the enemy might launch against it.


Praise God for the couples in our weekly Bible study. Pray for unity in their families and pray specifically for Pedro and the struggles he and his family are going through right now.


Pray for Sarah as she finishes up the month at the deaf school. Pray also that God would bless the construction at the school so that they could move in before Christmas.
Doug and Rebecca and the gang