1 Corinthians 15:3-4
For I delivered to you as of first importance what I also received: that Christ died for our sins in accordance with the Scriptures, that he was buried, that he was raised on the third day in accordance with the Scriptures
That's the gospel. As Paul said, it's "of first importance" in the life of a Christian. That's why we're here -- sharing the gospel with the people of Boca del Rio and Las Glorias, Sinaloa.
Pastor Nachito, from a church in Guasave, shares the gospel message
during a volleyball outreach last month.
After a trip to the States, it generally takes a month or so for us to get life and ministry moving again once we return. The relaxed pace of life here does take some time to readjust to. This trip, however, was a little different. Perhaps because of the timing of our trip or perhaps because we did a better job of putting others in charge in our absence, we had to hustle to catch up when we got home!
We arrived here only a week before a mission team was due, right in the middle of a construction project at our house, with visitors living in our home and everyone in the village expecting us to pick up where we left off -- right away!!! Youth outreaches, migrant camp outreaches, children's ministry, Bible studies and projects at the church. By the time we had caught our breath, March was over, April was gone, and suddenly it's May! Poof!
Rather than try to catch you up on all the awesome things God has been doing down here this Spring, we want to invite you to click over to
Sarah's
,
Rebecca
's or
our family'
s blog to read their posts and see all the pictures they've been posting. Little by little, we're getting caught up and if you check back every few days, you'll get some idea of our Sinaloa Spring.
We do want to share a few highlights, however! Two things we're praising God about right now are our house and our van. We've been living in a construction zone for the past 3 years. As God provided, we have worked on our home -- expanding and adjusting with the goal of "someday" having bedrooms upstairs and a large meeting room and shop downstairs.
In January, a fantastic team of youth came down on a short-term mission trip and finished the second story of our house. You can read about their trip at
Sarah's blog.
Since then, God has provided for us to stucco the interior of the upstairs, build a permanent staircase, and even install windows! Here is a picture of our house as it stands today. You can see the kids waving in the windows.
We give glory to God for building our house!
He is, after all, the One who provided it!
Second on our list of praises is our van. Our old white van was finally retired when we were in Tucson in March. It had been
tired
for a couple of years, and it was becoming obvious that the 80+ hour trips every six months were tiring it more and more. Our home church in Oregon became aware of our need and rallied prayer support. A supporting church in Tucson also learned of our need and rallied the financial support necessary to purchase the new Coult Mover.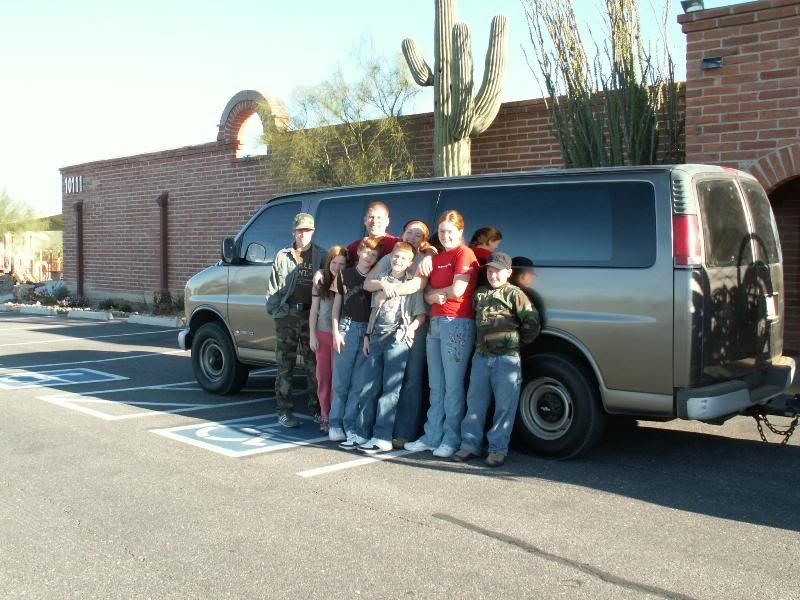 Thank you, Lord!!! And thank you to all of you who have been praying for these needs and supporting us financially! We are indeed blessed!!! The van is holding up well, and we expect it to work for us for years to come! It is such a blessing to have bedrooms with doors and windows and to be able to invite people over for fellowships and Bible studies.
In ministry news, the church which we planted at a nearby migrant camp continued to grow in our absence. The church was originally planted when a short-term mission team came down from Tucson at Christmas. The people at the camp were hungry to hear more about God's love, so we began visiting weekly. The American family who took care of our house for us, along with Braulio and Pily, Joaquin and Luz, Brother Ramon and Brother Tito, continued traveling to the camp weekly to share a time of worship and Bible study.
Through a gift from a church in the States, we were able to provide Bibles to every adult in the camp who wanted one. By the time they left Guasave, at the end of March, every person in the group had memorized the order of the books of the Old and New Testaments and was working to memorize scripture, too. Please pray for these families. They have returned home to the state of Oaxaca, where persecution of Christians is often intense. We look forward to September, when they will return. We'll be at the camp, ready for them!!!
Evie with two of the girls from the camp sporting new hair clips and nail polish
-- Evie's ministry to the girls there.
Semana santa
passed fairly quietly. In years past, we have seen upward of 100,000 people on the beach during the day. This year, there were fewer, but it was still a crowd! A team of missionaries from Southern California traveled down to share the gospel. On the weekend, the team shared a dramatization of the crucifixion of Christ on the beach. During the week, they shared their lives through various outreaches including English classes. The kids of the village are still singing, (to the tune of "La Cucaracha")
"Do you speak English? Do you speak English? Yes, but just a little bit."
Some of the men on the team came over to the house to help us with construction projects. Thanks to all their help, we were able to get the staircase done! Without it, we weren't able to invite people over to the house; the old staircase had become unusable and we were going up and down via an extension ladder.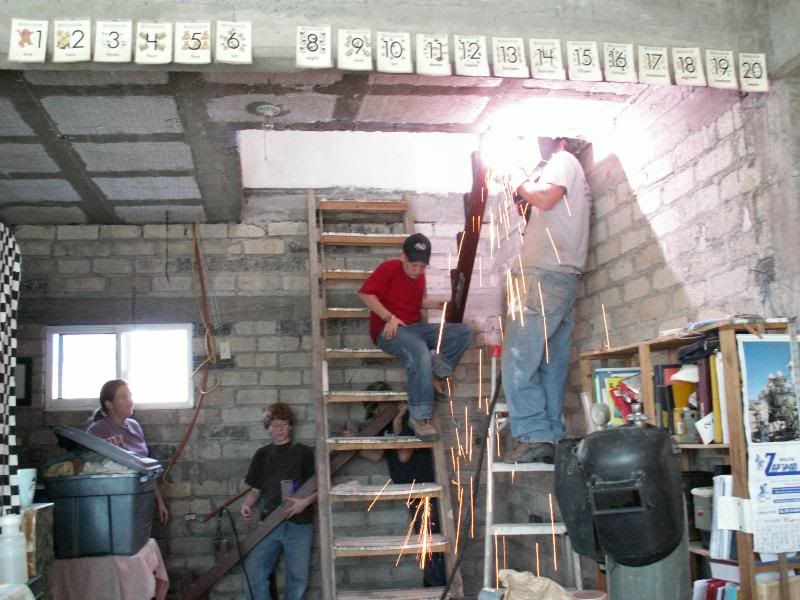 We still want to share about Dia del Niño (Kids' Day), the agape dinner we had at our house, the women's luncheon, the city-wide prayer meetings and Mother's Day, but you'll just have to check out our blogs to read about those!
For now, we want you to know that God is indeed at work here in Las Glorias, Sinaloa. We see His hand every day in our lives and in the lives of those around us. The economy is suffering here, as we know that it is in the States, but the Church is encouraged because many are coming to hear the Word. God is touching people's hearts.
Prayers and Praises:
Pray that God would continue to provide for His Church around the world
Pray that God would raise up workers for our church's children's ministry and that He would strengthen and encourage the workers we already have
Praise God for the 30 women who attended the Mother's Day Picnic at our house. It was a great time of fellowship and sharing. About a third of the ladies were non-believers, so it was a neat outreach as well.
Praise God for all the construction we've been able to do on the house and for our new van. (Wahoo!!!)

Pray for the new believers in Oaxaca (from the migrant camp). Christians in Oaxaca sometimes suffer intense persecution for their faith. Pray that God would bring them back safely in the fall.
Praise God for Luz Irenia who has stepped into the leadership position with the youth group. The youth group is growing, and we're excited to see what God will do in and through them!

Pray for the missionaries sent from Boca del Rio to Uganda, Africa. Tom and Naomi will be there next month, Dennie is there now, and two more young ladies, Annette and Ana, hope to be leaving in the coming months. Pray that God would meet every need and that He would be glorified!
Pray for the leadership of Calvary Chapel Boca del Rio. The men have been working hard to finish projects around the church grounds before the heat sets in. Also pray for them as they continue visiting the homes of people in the village. This outreach has been having quite an impact!
Pray for the School of Ministry which recommenced in January. The students are passionately seeking God's will for their lives and are making a difference in the community.

Praise God for a fantastic Kids' Day celebration! We had nearly 100 children attend and were able to give small gifts to each child. More importantly, though, we had a special time of prayer for the children individually -- it was a truly beautiful thing!!! Keep these children in your prayers: that God would touch each one and call him or her by name!
Pray for a family in our village whose father is in jail in the US. His wife believes that God is going to do a work in his life while he is there. We pray that the man's heart would be open to the gospel.