For God alone, O my soul, wait in silence,
for my hope is from him.
He only is my rock and my salvation, my fortress;
I shall not be shaken.
On God rests my salvation and my glory;
my mighty rock, my refuge is God.
Trust in him at all times, O people;
pour out your heart before him;
God is a refuge for us.
-- Psalm 62:5-8 (ESV)

This month has been another month of a lot of traveling! At the beginning of November, we were in Central Mexico on a mission trip and on November 30, Doug and I headed north to Louisiana to be with Sarah and Fabian for the birth of their daughter, Jean Grace...(Which happened last night! Photos will be sent out soon. Mom, Dad and Baby are all doing great!)
It seems that there are just a lot of things going on right now in our lives. Here are some photos from our past month. There's an important update from Doug after the photos, and don't forget to read our prayers and praises at the end of this letter. You can even print them out, and post them on your bathroom mirror so you can pray for us every day, if you'd like! Thank you for praying for our family and our ministry in Mexico!!!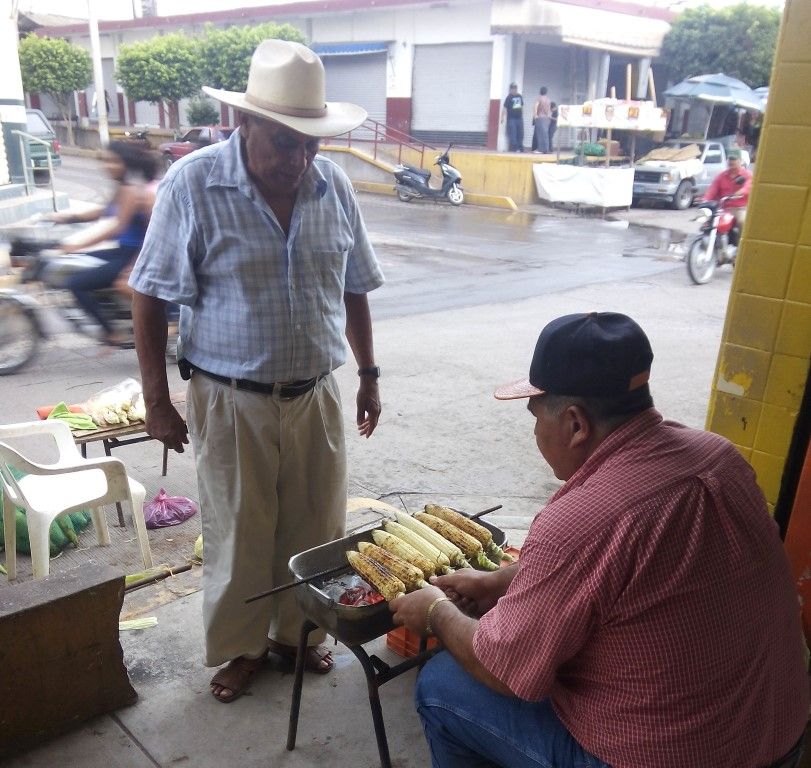 On the street in Tecuala, Nayarit, a man sells freshly roasted ears of corn to passersby. It was a cold and rainy day when we were there with Pastor Narciso and his wife Maria, so hot corn on the cob sounded really good!!!
Many of you have been following Danira Rocio's story on Facebook. You can
read it here.
Thanks to donations from all over the US and Mexico, too, it looks like she's going to get her operation and might even be home for Christmas! She will be admitted to the hospital today, December 9, and will hopefully go into surgery tomorrow or Friday. Pray for her!!!
The Winter 2015 Mission Team from Las Glorias/Boca del Rio: Jeremias, Jessee, Kevin, Eva, Fernando, Hillary, Rebecca and Doug. We left home on October 28, visited 5 different churches in 5 different Mexican states, and returned home on November 20.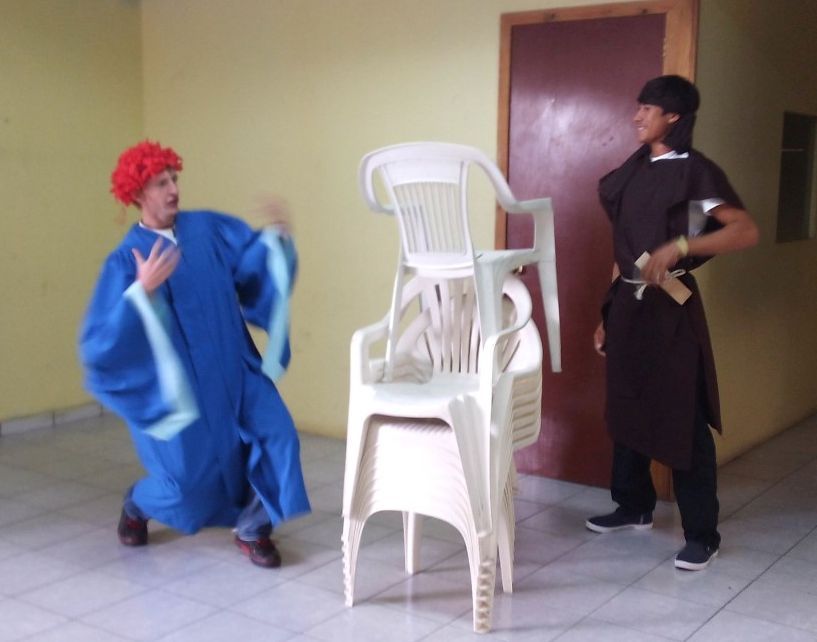 Jessee, playing the role convincingly as King Nebuchadnezzar, commends Fernando for the beautiful statue he built in the King's honor. As you can imagine, the kids in the various kids' classes enjoyed themselves completely. We had a fantastic team of young adults on this trip and they really worked well together to bring the gospel to every town and city we visited.
The Bible Pathways class in Patla finished the third workshop and are really learning the concepts. More that half the group were youth, and it was very encouraging to see these young people standing up (some of them for the first time) in front of the class teaching the Bible in a clear, direct way.
Our Celaya Bible Pathways group completed the second workshop and are very motivated! It's been wonderful being able to come back to teach the same groups in both Patla and Celaya; we feel like we're building relationships as we train leaders.
We made an impromptu day trip to a city called Coyutla to meet and encourage the Body of Christ there. We traveled for about 3 hours in the back of a stock truck to get there. This is the missionary life we always dreamed about!
One joy of doing mission trips with youth is all the fun, youthful activities we do with them. We found a zip-line at a park near the town of Tarimoro and most of the team zipped across the canyon. This is Jeremias, who was obviously enjoying himself immensely!!!
We've mentioned Tarimoro a few times during the past months. Tarimoro is a town located in the southern part of the state of Guanajuato, Mexcio, nestled into the rolling hills and canyons of that area. The population of Tarimoro is approximately 35,000, and 99.9% of them do not know Christ as Savior. This town, and many others like it in Central Mexico, are in an area known as the Circle of Silence, so called because of the lack of the Gospel being proclaimed there. We have been praying specifically for this region of Mexico for quite some time and are now beginning to pray toward and make preparations for relocating ourselves to this "unreached" area.
While we were doing pastor training last month in Celaya, Guanajuato, we had the opportunity to once again visit Tarimoro. We are thrilled by the way God has put people into our path according to His timing. During the past year that we have been praying specifically for Tarimoro and the possibility of starting a mission in that area, Ricardo and Cristina have been able to visit the town several times and have built friendships with several people there. Even though this area of Mexico is extremely resistant to the Gospel, it appears that God has opened a door to begin working there and has provided a house to live in. The owner of this house, although not a believer, is very open to a Christian mission in his hometown and even in his home. The house is in need of some work, but we see it as provision from God. All four of us, Ricardo and Cristina as well as Rebecca and I, sensed God moving as we were presented this house that seems to be the perfect house in the perfect location for launching our first mission in this area.
It has been two years since we began praying about moving ourselves further south and a year since we started praying specifically for Tarimoro with the intention of sending Ricardo and his family there to live. Ricardo is a native of Celaya, Guanajuato, which is about 40 minutes north of Tarimoro, and has been living there with extended family for the past few years as they have been working and praying about God's will for their family and ministry. When we visited them in November, Rebecca and I both sensed that God might be calling us to move to Tarimoro to help their family get settled into this difficult mission field. Pray for us in this decision!
Because we currently travel to Central Mexico for pastoral training every 4 months, moving to the area makes good sense. Braulio and Joaquin, together with the other brothers, are very capable of continuing the work that has been established in Las Glorias, Boca del Rio, La Pitahaya and Las Flores. This will be a stretching and growing time for all of us, but we believe that it is time for this growth!
Prayers and Praises:
Praise God that we are able to be with Fabian and Sarah in Louisiana for the birth of their baby. (Photos in the next update letter!)
Praise God for the funds that have been raised for Danira Rocio to purchase the titanium plate to repair her skull and that this surgery is going to be done before Christmas!!! Pray that God will direct the surgeon and that all other costs would be covered.
Praise God for a successful mission trip south and for the continued Bible training taking place in Patla and Celaya. Pray that God would continue to give us the strength and resources to finish the 4-year training.
Praise God for the house that is being provided for the mission in Tarimoro, Guanajuato.
Pray for Rebecca and I as we consider relocating our family to Central Mexico for a season. Praise God for the new church-plant in La Pitahaya.
Praise God for the 3 mission teams coming in the next 3 months to help finish Joaquin's house and build a meeting area, among other outreaches and projects. Pray for these teams as they prepare – physically and spiritually – for their time here in Mexico.
Pray for Fabian and Sarah during the next months. Pray that God would give them wisdom and direction and peace in their decisions. They both earnestly desire to return to their mission in the mountains of Sonora, but also desire to wait on God's timing.