Romans 1:16 -- For I am not ashamed of the gospel of Christ, for it is the power of God for salvation to everyone who believes, to the Jew first and also to the Greek. For in it the righteousness of God is revealed from faith for faith, as it is written, "The righteous shall live by faith."
Dear Brothers and Sisters in Christ,
We are wrapping things up here in Sinaloa and preparing for a two-month-long furlough in the States (see schedule below). We are looking forward to seeing as many of you as we can during our time in Arizona, California, Oregon and Washington!
Yesterday we finished construction on the bathrooms at the small church that Braulio pastors in Las Flores. We praise God for the funding and the generosity of His people in helping financially with this project. This week we are hosting a four-day VBS in that same village. The low-ceiling building that the Church meets in is only about 15'x15' (that's feet, not meters). We are expecting 60 to 80 children to attend the VBS. Because of the small building, most of the activities will be held outside. Here is where we need your help! Today it is raining, and the only way into Las Flores is a five mile drive on a dirt road, making it nearly impossible to enter while it's raining. We want to bless this church in Las Flores and the children that live there, and we want to share the gospel and God's love with them. Would you pray with us that God would hold the rain back until Sunday afternoon? Pray that He will give us wisdom on how to proceed. Thank you! I've included a couple of pictures.
-the Coult's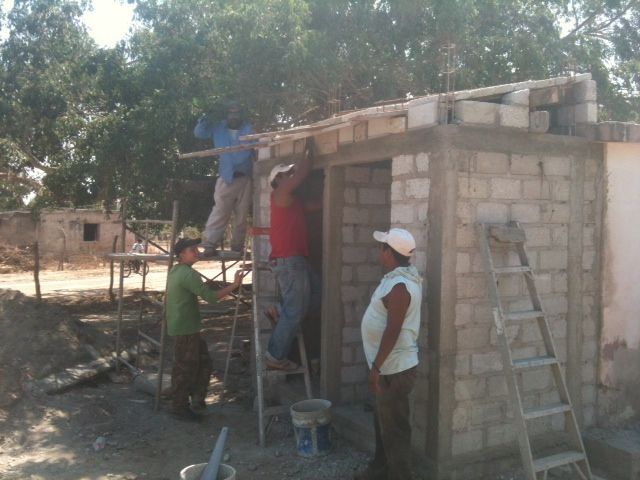 These are the bathrooms. Keep in mind "finished" is a relative term!
Here are some of the ladies from the congregation here in Las Glorias preparing for the VBS. This is a huge milestone! We have 8 men and women (not including our family) participating in the school. Praise God for growth!
These are the kids from our weekly fellowship meeting -- our kids have taken charge of the "children's ministry"!
Pastor Braulio's oldest daughter, Madai.
Our Furlough Schedule:
July 22 -- 3am leave MX to AZ
July 27 – In Sacramento
July 28 -- @ Restoration Life Church, Sacramento
Aug 1 -- Leave CA for Oregon
Aug 4 – @ New Hope EFC in Winston OR
Aug 9 -- Leave OR for Washington, 9th -14th Family Camp
Aug 18 – @ Harper EFC (a.m.) @ Irondale EFC (p.m.)
Aug 19 -- Leave WA for Oregon
Aug 24 – In Woodland CA
Aug 25 – @ Woodland Bible Church, Woodland CA
Sept 8 – @ Magnolia Presbyterian Church, Riverside CA
Sept 15 – @ Saguaro Canyon EFC, Tucson
Sept 19 (+/-) – Home!