And Jesus went throughout all the cities and villages, teaching in their synagogues and proclaiming the gospel of the kingdom and healing every disease and every affliction. When he saw the crowds, he had compassion for them, because they were harassed and helpless, like sheep without a shepherd. Then he said to his disciples, "The harvest is plentiful, but the laborers are few; therefore pray earnestly to the Lord of the harvest to send out laborers into his harvest." -- Matthew 9:35-38
Villagers gather corn that was dropped by the harvesting machines. This custom, called "pepenar" (gleaning, in English), is very important in our area. Many families will live on gleaned corn, or on money earned from selling the corn, until the fishing season starts.
Gleaners can sell their corn in town for about $.30 per kilo.
Happy Summer from the Coult family in sunny Sinaloa, Mexico. The corn harvest is drawing to a close here, which means summer is in full swing. The days are heating up, the general pace of life is slowing down and the mosquitoes are beginning to congregate. Even with the challenges of summer here, we are extremely privileged and blessed to be serving in Mexico. How quickly our time here has passed!
Even though Sarah and Caleb have moved to the States, the six of us who are left still make quite a team! The boys and I have been working on various construction projects this year. At the nearby mission house, we were able to install a much-needed cistern and water system. Those of you who have visited us know that water is always an issue in Mexico. We've also recently finished putting a new roof on the Petit's (our neighbors) house and gave the church building in Alamito a bit of a facelift, with new plywood and windows. At our house, we just put a roof on the veranda in front of the house and (I hope) got the house ready for the rainy season.
Our home fellowship group is going strong! Sometimes we have a lot more kids than adults, but we all have a great time singing and studying God's word together. We have been having the Bible study on the porch, so the kids can use the Upper Room (containment!).
As I write this, Julio and Alfredo are breaking ground for bathrooms beside the youth center. Something we have been praying for, as we shine our lights here in Las Glorias, is that God would use us to bless the people. Things have been tough, economy-wise, in our village. I prayed that God would give us the ability to help several of the men in our fellowship feed their families this year. At the same time, I prayed that we could continue to disciple and train these men. God has been so faithful in providing the work and the funds necessary to do the projects! Fishing season will start in another month, and God has provided exactly what was needed! Pray with us as we look for long-term projects and business opportunities to help these Christian men provide for their families in a healthy work environment.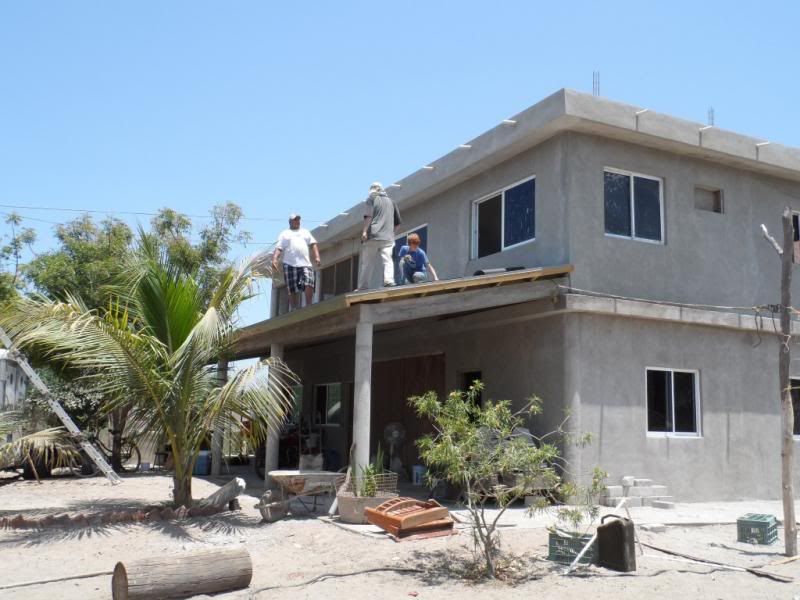 Alfredo, Jessee and Doug finished putting 3-tab roofing on the veranda.
Looks sharp and the porch is now drip-proof!
Some of the kids from our home fellowship playing in Julio's boat.
Thank you to everyone who continues to give to Mexico Missions. Thank you for continuing to pray for our family and the ministry and families here. Thank you for your encouragement and for your investment in God's mission and in our lives here in Mexico!!!
Prayers and Praises:
Pray for our two oldest kids: Sarah in Oregon and Caleb in California. Both are working and praying about God's direction for their future. Pray that they would continue to seek His will for their lives and that He would continue to provide for every need, according to His riches in glory.

Praise God for raising up men like Julio and Alfredo to make long-lasting differences in this community. They are growing in Him, and it's exciting to watch. Pray that God would continue to grow these men into valiant warriors of God for their families and for Mexico!

Pray for Joaquin and Luz as they begin to break ground on their new house!

Pray for the new couples who have begun to visit our Tuesday meetings. Specifically pray for family struggles, abuse issues, and addictions which are tearing families apart.

Praise God for His continued provision in our lives, in Joaquin's family and in the families in our fellowship. We have a really big God!

Praise God for the youth who continue to attend our Friday night youth events.

Pray for our VBS which is scheduled for the middle of July in a village called Las Flores/Las Culebras where our friend, Braulio, is pastor. Our prayer is that we'll be able to draw in several of the members of our Bible study to help with the VBS.