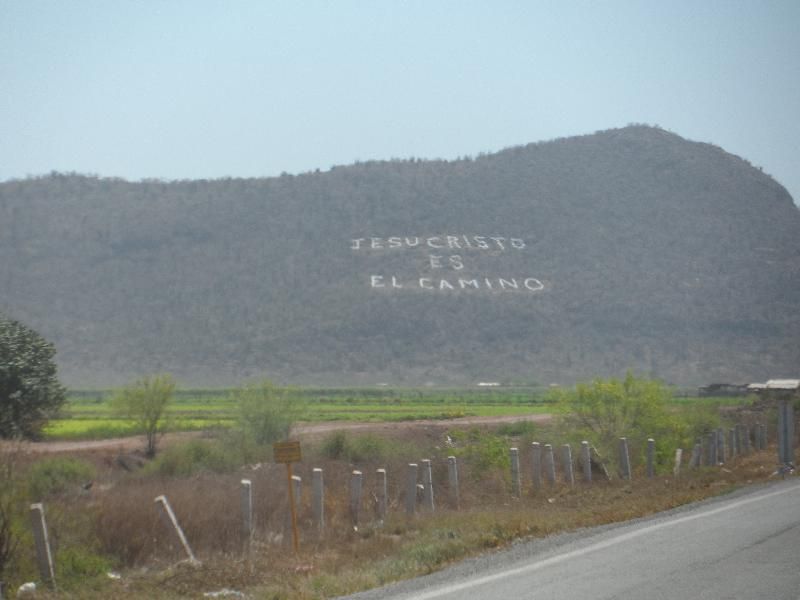 "Jesus Christ is the Way"
Every time we drive past this hill outside of Los Mochis, Sinaloa, I'm reminded of a passage of scripture in Luke. Jesus' disciples were praising Him (loudly!) in the streets, and some of the Pharisees told Jesus that He should rebuke them. His response?
Luke 19:40 "I tell you, if these were silent,
the very stones would cry out."
We had a great trip to the States in March, but it's good to be back in Mexico! Our co-workers, Joaquin and Luz, did a fantastic job of "holding down the fort" in our absence, and we arrived home to an even larger weekly Bible study group than we had when we left. Our other weekly meetings for men, women and youth, continue to grow as well, and we are very excited!
One of our goals as we began to minister here in Mexico seven years ago was that God would raise up national leaders from the village. Our desire was to be able to come alongside of these leaders in a supportive way, instead of being the ones leading the ministry. It is truly wonderful to see the work that God is doing in this group of believers!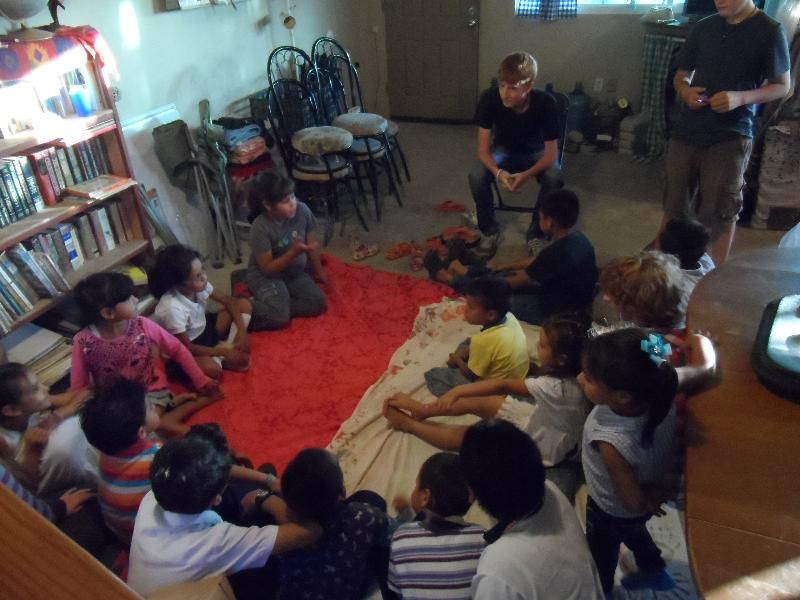 On Tuesday, 18 children attended our weekly Bible study! While we prefer to have all of the children in the study with us, we understand that this is difficult sometimes, so our kids have stepped up to lead a "Children's Church" class twice a month. Their plan is to use some of the oral Bible principles they learned during Master's Bible School to teach the children and then have the children share the lessons with the adults the following week. We're excited to see where God will lead this group!
Prayers and Praises:
Pray for Rebecca as she travels this week to Kansas. Her father recently underwent a triple-bypass, and is now on the road to recovery. Pray that his strength would return quickly and that God would be glorified through this trial! Also, pray for the rest of the family while Mom is out of the house for a couple of weeks.
Pray for Doug as he begins a course of study to receive his credentials and later ordination into the EFCA.
Pray for our kids, Jessee, Seth, Andrew and Evie, as they begin a children's program during our Tuesday night fellowship.
Pray for wisdom as we pastor the flock here in Las Glorias. Because of the witchcraft, superstition and other religions around us, we frequently have to deal with false teachers and false teachings. Recently, we had to deal with a difficult situation in the Body here, and we pray that God helps us to respond rightly to any other situations which arise.
Pray for Joaquin and Luz as they investigate home schooling as an option for their children. This will be a huge undertaking for them! Pray for wisdom and perseverance!