Psalm 63:1 O God, you are my God; earnestly I seek you; my soul thirsts for you; my flesh faints for you, as in a dry and weary land where there is no water.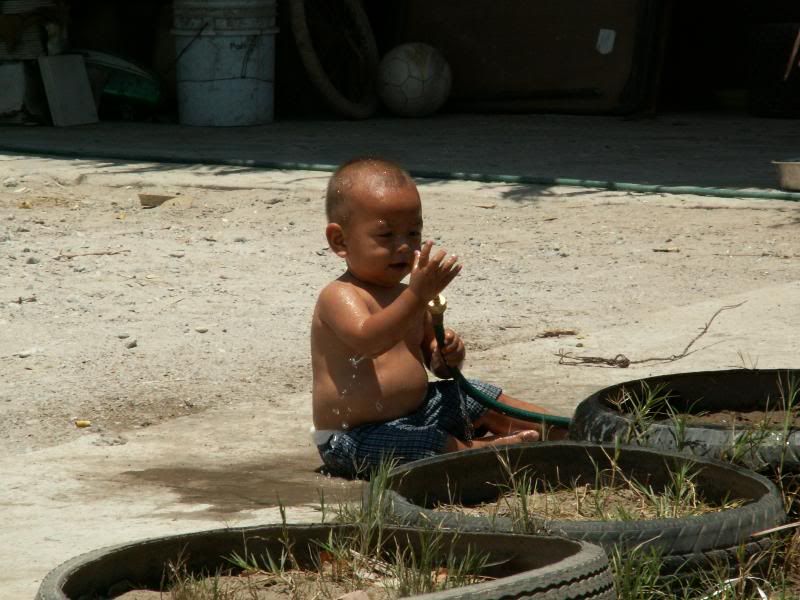 Summer has settled in here in sunny Sinaloa. Daytime temps have crept toward 100 degrees, humidity is in the 80s and not a cloud in the sky. We praise God daily for the ocean breeze which blows most of the time in Las Glorias. Only a half-mile away, in the village of La Pitahya, the sand dunes block the airflow and the afternoon heat swelters past the 100 degree mark. Add to that the fact that La Pitahya has no electricity and no water lines and you can imagine that the summer there can become fairly depressing. Every time I sit down with a glass of ice water to relax in front of the fan, God reminds me to pray for the families of La Pitahya and other small villages – for their physical needs as well as spiritual.
Sarah and Rebecca have been working to update our blogs with lots of pictures, so be sure to click over to see what we've been up to lately. The blog pages are designed so that you can comment on the various articles. We love to read the comments, so don't be shy!
Click these links to visit our blogs.
In family news, we are all physically well. There have been no major abrasions or contusions for a couple of weeks – except Andrew, who keeps getting bonked on the head from time to time – and we seem to have passed the first summer "gripa" (cold) which practically everyone in the village had. Our friend Julio, who has been doing some cement work here, slipped off the scaffold last week, but God protected him and he received nothing more than a small cut on his leg. God is, always, faithful to protect us and care for us and to give us strength to endure physical trials, too.

Andrew looks on while Alfredo puts the finishing touches on our outdoor kitchen.
The home "construction zone" has calmed down and we're preparing for the rainy season. Julio has just finished putting stucco on the eaves upstairs, so the metal is no longer exposed to the weather. We still praise God every day for providing this home. Not a day goes by that we don't have people stopping in to visit, and we are blessed to be able to share what God has blessed us with. As I write this letter, boys from Boca are downstairs playing pool and one of the local workers, who stopped in for a glass of cold water, is relaxing in the shade of our front porch talking with Seth. Thank you, again, to every one of you who gave and prayed and worked toward the completion of our home!
In ministry news, we have stepped down from leadership at Calvary Chapel Boca del Rio. Realizing that time is short and the years pass quickly, we believe that the time we spend working together as a family is of extreme value right now in the lives of our children. This is one of our main motivations causing us to make this change. Our original purpose in coming to Mexico was not to work with an existing church, nor to begin a church of our own, but rather to learn the culture and language and then minister as a family in whatever way God led. The past 3 years of working with CC Boca has been a great time of learning for our family, but God has made it clear to us that it's time to make a change. Doug's time at the Calvary Chapel School of Ministry was invaluable, and it has been wonderful working alongside the brothers and sisters there. We count them as family.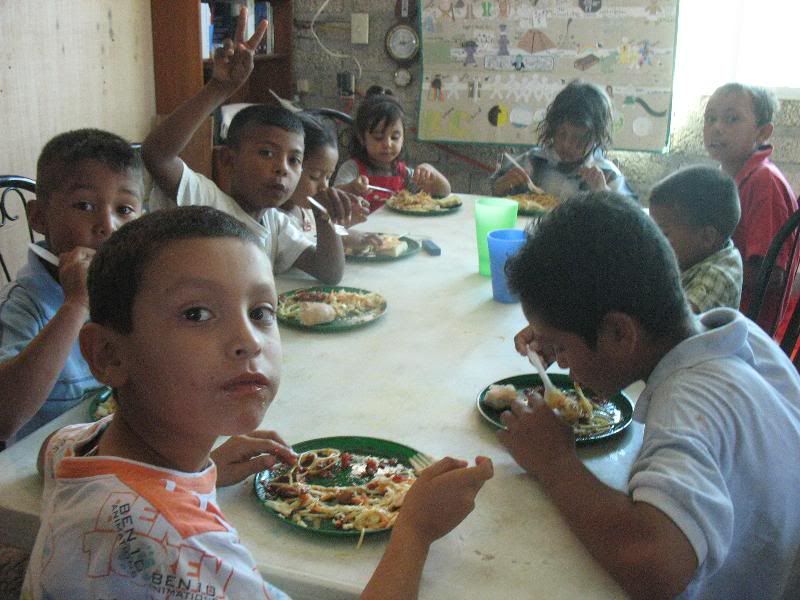 Kids from Boca enjoy "American Spaghetti" during a communion Sunday dinner at our house.
Leaving the children's ministry is definitely a hard thing, but a good foundation has been laid. The teachers of the Saturday classes are gifted and dedicated, and the kids are excited and motivated. We leave them in good hands! We continue to pray for God's blessings on the children of Boca del Rio and also for endurance and wisdom for their teachers.
We see stepping down from leadership at CC Boca as a very positive thing – a move forward for everyone. The national leaders at the church are strong in their faith, talented, and very capable of leading the Body in Boca. This move will also enable us to spend more time ministering and serving in our village of Las Glorias, as well as freeing us to help in other villages and communities as needed. We've been able to fill-in several times during the past month for a church whose worship leader was having surgery. Although the church members said that they were blessed by our music, we believe that we received the greater blessing! It was wonderful to sing and worship as a family there!
Our home-fellowship group in Las Glorias continues to grow both spiritually and numerically. What was, at its beginning, one couple and the wife's mom, now includes most of the mom's immediate family and some cousins who pop in from time to time. We praise God for this ministry He's given us. We are living in a culture where family relationships are highly valued, but most families are very dysfunctional. Our hope and prayer is that, as a strong family unit, we can shine the light of Jesus Christ into our community and into the lives of the people around us. Our home group is just one more opportunity to shine.
We know that God has many plans for our crew in the future and we are looking forward expectantly to all He has for us in the years to come!
Fall furlough plans are underway. We're praying about a trip to Tucson and Southern California at the end of August or first part of September. It will be a brief visit, since we don't like to leave the house unoccupied for long during hurricane season. We'll send out a travel schedule as soon as we finalize dates.
Prayers and Praises:
• Pray for the leaders of CC Boca as they go through this time of transition.
• Pray for the children of Boca del Rio – that God would pour His blessings on them and they would know that He loves them!
• Pray for the people of La Pitahya, Boca del Rio, Carricitos and other villages where poverty is extreme and a sense of hopelessness is pervasive. Pray that God would show Himself powerful in these villages.
• Praise God for the members of our home fellowship group. Pray that they continue to grow in their faith.
• Praise God for His protection over our household. Praise Him that Julio was not seriously injured in his fall.
• Praise God for the opportunity that we have to move forward in our ministry as a family. Pray that He would continue to grow us in unity and allow us to "shine our lights" in our community.
• Pray for Sarah as she makes plans for the next school year. She desires to go where God leads, so pray that His guidance would be clear!
• Pray for our family as we enter the hot season. God allowed us a reprieve this year, as the heat didn't roll in until June, but there are still 3 months of heat to come. Praise God that there haven't been many mosquitoes yet this season!!!