Hello to our friends and family around the globe! The month of March finds us back in Mexico recuperating from our winter furlough. We've been home long enough to catch up on laundry, restart school and come down with yet another round of nasty colds. Pray for our family as we battle these pesky germs! A special "Thank You!" to those of you who were praying for our family last week. Some sisters from the church in Boca came over the same day as we posted a
prayer request
, and our household began to feel better within 24 hours. God is greater than our colds, right??!!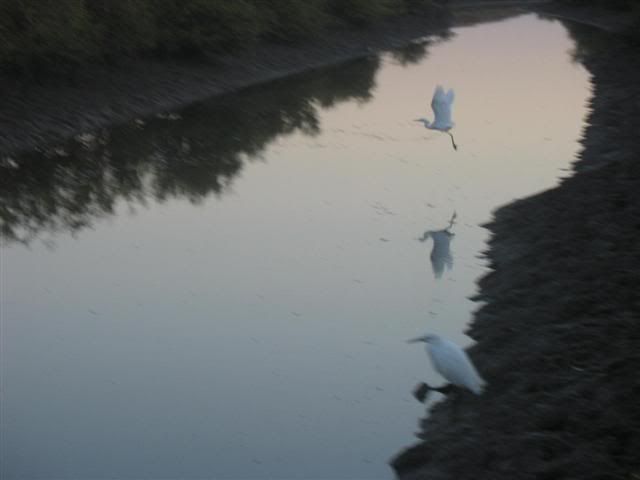 Psalm 103:2-5 Bless the Lord, O my soul, and forget not all his benefits, Who forgives all your iniquities, who heals all your diseases, who redeems your life from destruction, who crowns you with loving-kindness and tender mercies, who satisfies your mouth with good things, so that your youth is renewed like the eagle's.
The ladies' Bible study group in Boca studied this passage last week. To read a more in-depth discussion of those verses, you can click here.
We've been so blessed over the past two months! So blessed, in fact, that it's been hard to find time to sit down and write an update letter. There's so much to share! Allow us to hit the highlights here, but please click over to our blogs to read more about what's going on here in Mexico.
Our furlough was wonderful. Of course, we didn't get to visit everyone, but we made a valiant effort! You can read the
Nutshell Version of our furlough here
. If you're really wanting to get the details, the
long, drawn-out version of our furlough is here.
Sarah's latest update
gives a good feel of what we did during February and the first part of March.
Youth group continues! We are averaging 15 to 20 youth every Saturday night for a time of teaching and games. Last week we took 2o youth to a Christian concert in Guasave. Still only a handful are committed to living a life set apart for Jesus, but
we are praying for each one of the youth in Boca
by name. We know that God deeply desires to have a real relationship with them.
Pray that we could communicate that desire
to these young men and women. To read more about our weekly youth meetings,
click here
.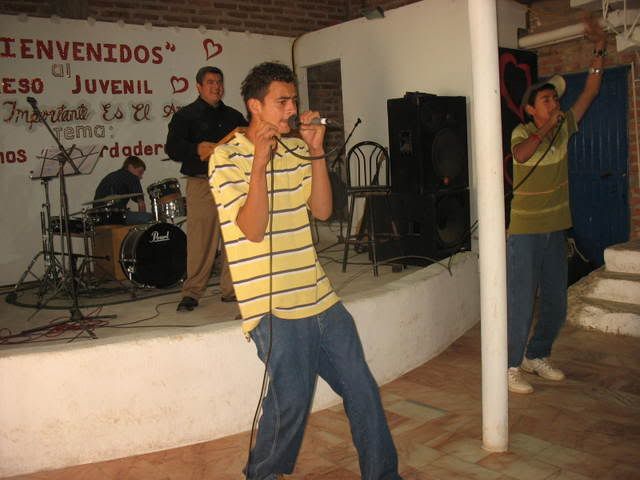 Construction resumes on the house.
We were blessed
during out time in the States to receive enough resources to put a permanent roof on the upstairs. The boys are so excited! During hurricane season last year, we nearly lost the temporary wooden roof. We quickly discovered why everyone builds with concrete here!
Doug hired a brother from the church to come help last week. They pulled the old roof off on Monday and by Thursday they were ready to pour cement. Wow! If you've never seen a Mexican team pour a cement roof, you should really do so. You will never again look at a concrete structure in the same way! To read more about our new addition -- and the process of adding --
click here
.
We've shared before about the corrosiveness of the salt air here. During the past 3 years, we've sanded and painted the roof of our van 3 times. It wasn't enough. Somewhere around Bakersfield, California, we discovered that the patches and preventative measures we'd done on the roof had failed. For the rest of the trip home, we patched the holes in our van roof with duct tape to keep the rain out and prayed that God would provide a way to repair it...and that the weight on the roof-rack wouldn't collapse the roof.
God answered our prayers
!
When we arrived home, Doug went to talk to the guy in Boca who builds fiberglass boats. For around $500 US Doug and Nano were able to completely strip and rebuild the roof out of fiberglass. Nano says that now the rest of the van may rust away, but we'll still have a roof!
Before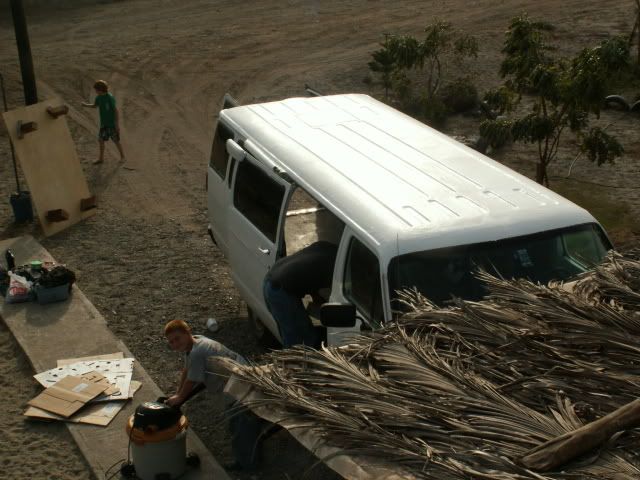 After
School continues for the kids, although we are getting geared up for Semana Santa (Holy Week) and pascua (passover). You can find articles about past years' Holy Week celebrations by clicking HERE. We take the week off of classes and call it Spring Break. Pray for our family as we continue to educate our kids at home. It is an area of constant prayer for us -- simply because it's not easy, and it's so important!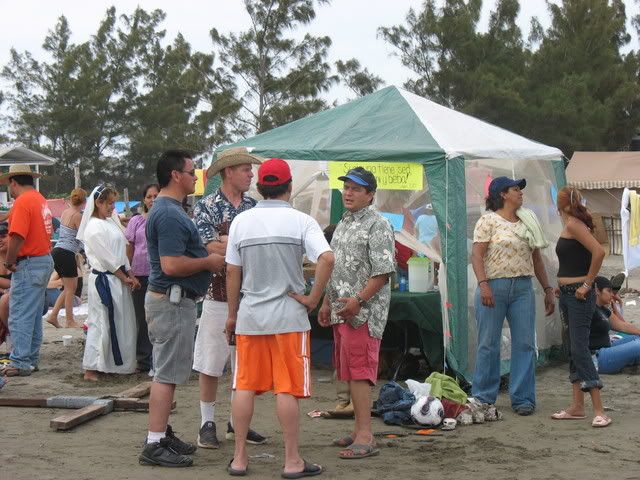 Semana santa 2007

We are praying about outreaches for this holiday season
. We have hit a snag with the planned movie event. The church's projector died a few months ago (burned out bulb), so we've been borrowing a projector from ADAPT ministries. While we were in the States, the bulb on that projector burned out, too. Unfortunately, it died during a youth event, so the church (specifically the youth group) is responsible to repair the probem. It turns out that it may be cheaper to replace the projector than to replace the bulb. Bulbs for these things run upwards of $300US. Ouch! So, if anyone knows of a church or organization who is upgrading their system and wants to donate (or sell for cheap) a used video projector (or two),
please let us
know!
Anything less than 5 years old would be considered "state-of-the-art" here.
Please pray
for our village during the week prior to Resurrection Sunday. During that week vacationers will descend upon the village until it nearly bursts at the seams. We expect
approximately 300,000 people
to visit Las Glorias and Boca del Rio during the course of the week. We discovered last year that many of the people celebrating "
semana santa
" have absolutely no idea what they are really celebrating. It is simply another excuse to drink, party and get together with friends.
Pray that the body
of believers in Boca del Rio would be able to shine the light of Jesus during this week -- and every day, too! We will be having special prayer times and church services during the week along with some special outreaches.
Pray for God's guidance in this ministry
.
On Tuesday we began meeting with three other young couples in the church for a Bible study. Our focus is Biblical parenting. This is a much-needed study -- maybe in the States as much as in Mexico! The Mexican culture, however, tends to be very child-centered to the extent that parental discipline it almost completely non-existent. It is our hope that we can share Biblical parenting principles with the families in leadership, and that they will begin to put the principles in action and share them with their extended families and friends. God has been working this out over the past 3 years! All three couples in the study are in leadership and all three have new babies. What a great time to start! Pray that God would help us with the sometimes frequently confusing verb tenses and that we would be able to communicate His truth -- not our opinions.

We thank God every day for our friends and family in the States and around the world! You are such a blessing to us! Feel free to print out our Prayers and Praises below to stick on your fridge or work station so you will be reminded to pray for us! We love to hear from you, too, so send us an email! If you desire to contribute to our work and ministry here in Mexico, click here to visit our financial partnership page.

Prayers and Praises
Praise God for His provision and protection during our trip to Oregon.
Praise God for the family who was willing to come down and housesit for us for the month+ that we were gone. I think it was a blessing for both of our families!
Pray that God would continue to draw the youth of Boca del Rio and Las Glorias to Himself. That He would be turning the hearts of the fathers back to the sons and those of the sons to the fathers
Pray for the need of a video projector for the church and the repair/replacement of the borrowed projector for our ministry
Pray that we would have clear vision as we plan events for Holy Week and passover
Praise God for His provision and covering -- the roof of our van and the roof of our home!
Praise God for His healing from the colds and flu bugs which have been going around down here
Praise God for the church leaders who are desiring to train up their children to love the Lord and obey Him
Pray that we would be wise and that the teaching we share during the parenting classes would be clear and understandable and applicable
Pray for Doug as he continues to battle with allergies. We are in the worst of the "dust season" right now.
Lift our family in prayer this week as we prepare to lead the worship for this month's city-wide prayer meeting. It's an honor to be invited to participate, and we love to sing together, but it's unusual that we would do so in front of so many people. Pray that our health would hold and that God would be glorified through and in spite of us!
Pray for the mission teams who will be traveling down this summer. They are in the all-important planning and fund-raising stages!
Pray for the governments of Mexico and the United States. We know that there is much unrest here in Mexico due to the uprising of the drug cartel. We pray protection and wisdom for the honest and dedicated government officials who are fighting against corruption and deceit.
Praise God that His Word is "living and powerful, and sharper than any two-edged sword, piercing even to the division of soul and spirit, and of joints and marrow, and is a discerner of the thoughts and intents of the heart." (Hebrews 4:12)