Proverbs 25:25 "As cold waters to a thirsty soul,
so is good news from a far country!"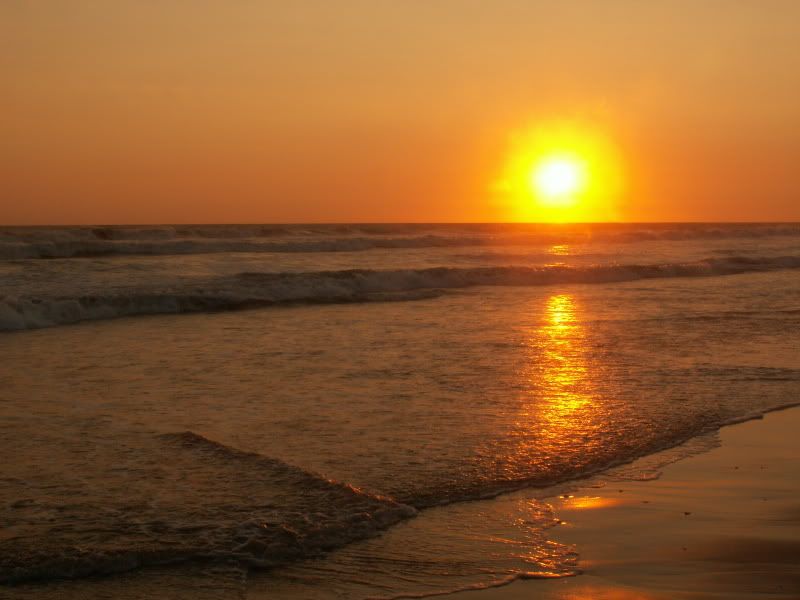 December is not only here, but halfway gone! Wow! Where have the days gone?! Our family and our church are gearing up for a pretty exciting holiday season! In the next couple of weeks, Lord willing, we'll have two posadas, Christmas and two visiting American mission teams. I'll say it again, "Wow!"
November was a pretty full month, too. The first Sunday of each month, we celebrate the Lord's supper with a comida agape (church potluck). "Agape" is the Greek word for brotherly love. November's agape dinner was especially fun, because it coincided with Sister Pily's birthday.
Church dinners here are so different from the potlucks at our home church in Oregon. In the States, a potluck is all about variety. Miss Hazel brings her potato salad and so does Miss Emma, but you should take a spoonful of both, 'cause they're totally different from each other. Miss Julia wows us with her fancy desserts and chocolates, the menfolk get together and make homemade ice cream...you get the picture. Something for everyone!
So what do the folks bring to a potluck in Boca del Rio? Fish.
We had a great time of fellowship celebrating Pily's birthday and according to Boca tradition, Pily got wet. In this instance though, the birthday girl was not the only person to be soaked! (To read more about the agape dinner/water war, click here.)
Doug arrived home safe and sound (albeit tired) from his trip north. He brought a special gift of a movie called "Indescribable" by Louie Giglio. If you haven't yet seen this video, which showcases the magnificance of God through photos from the Hubble Space Telescope, may I recommend it
very highly
!!! Caleb wrote a short article and posted some great photos at his blog.
Click here
to read more.

November 7th was Andrew's 11th birthday. Several friends came over, and we celebrated in style with pizza and cake. In this photo, Sarah and our friend Maria are putting toppings on the pizzas.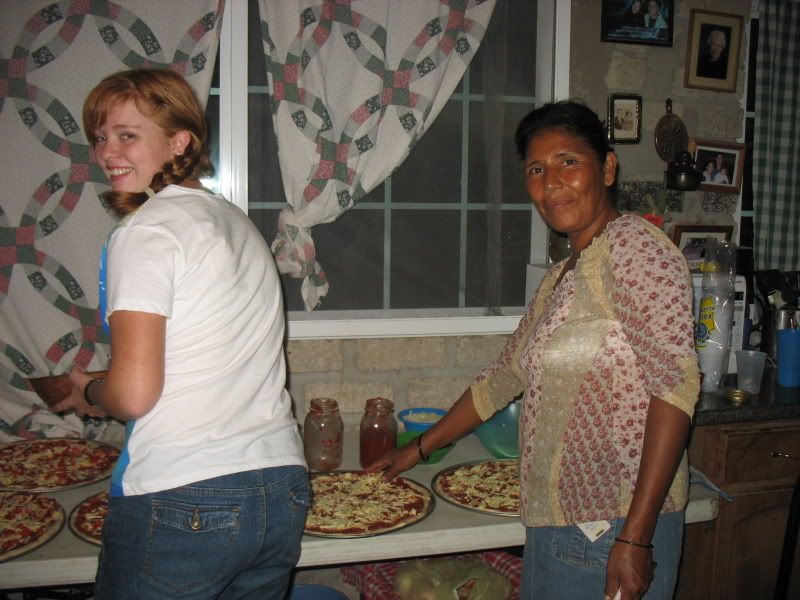 To see more photos of this big day, click over to Rebecca's blog.
We've been continuing to work on our ministry website. It has now progressed from the "a lot of work with little to show for it" stage to the "wow, this is starting to look like something" stage. Here's an excerpt of an article we posted recently...
In case you're thinking that you couldn't possibly become a missionary, because missionaries obviously "have it all together" and just "know" the will of God in their lives, allow me to introduce you to two missionaries who -- even after severe persecution for their faith and several years on the "mission field" -- didn't quite have it all figured out.
Act 16:6-10 Then [Paul and Silas] went through the region of Phrygia and Galatia because they had been prevented by the Holy Spirit from speaking the word in Asia. They went as far as Mysia and tried to enter Bithynia, but the Spirit of Jesus did not let them. So they passed by Mysia and went down to Troas. During the night Paul had a vision. A man from Macedonia was standing there and pleading with him, "Come over to Macedonia and help us!" As soon as he had seen the vision, we immediately looked for a way to go to Macedonia, for we were convinced that God had called us to tell them the good news.
Paul and Silas, who are probably best known for the prison account of Acts 16 where the Philippian jailer was converted, are now considered spiritual giants. The above passage, however, does not paint a picture of men who have every detail planned ahead of time. (Read the rest of this article here.)
The kids continue with their studies at home. Almost daily, we are asked questions about homeschooling. It is a new concept here -- very similar to the way it was 20 years ago in the States. In smaller villages, finding good teachers for the public schools is almost impossible. The villages are not able to actually pay a wage. The best most public school teachers can hope for is to be provided a room to sleep in and food each day. The schools in both Las Glorias and La Pitaya were closed some years back when the town was no longer able to keep a teacher. Now all the kids walk or ride their bikes to Boca del Rio. This isn't a very long bicycle ride, but it does put a bit of a strain on the already full classrooms of the Boca school. We thank God daily for the privelege He has given us to be able to educate our kids at home. It's a lot of work, but it's worth every moment!
In this photo, Sarah and Andrew are working together on an engineering class project. It doesn't look like much yet, but we have high hopes!

Sarah continues with her French classes at the Instituto de Ingles de Guasave. Yes, that's the Institue of English. They also give classes in Spanish, French and Japanese. The school is run by a Christian family and they hope, within the next year, to offer classes in all subjects to all ages (K-12) in English. Pray for this family who pours out their lives to teach the next generation!
In addition to several hours of French homework each day (which she loves) and Geometry (which she does NOT love), Sarah has been spending a bit of time writing on her blog and has recently been invited to write for an online girls' Christian magazine. Cool!
Here is an exerpt from a post at her blog...
Hey everyone! I have felt led to post about prayer. Prayer is one of the hardest and most necessary things in the Christian life. Setting up a daily and hourly prayer schedule is difficult and takes a lot of work. It is my belief that it is so hard because we have an enemy whose object in life is to see us fall and fail in all that we do for God. Prayer is what makes the Christian tick. If the Devil succeeds in causing us to fail at it, then he has succeeded in making us live a stunted life. We can't grow if we don't pray and receive from God. (Read more here.)
A friend of ours, Ramon, pastures his cattle in Las Glorias during this time of year. He has invited the boys to come and help him milk his cows at 4 am every morning. Andrew and I went together the first day and got this great shot of the sunrise.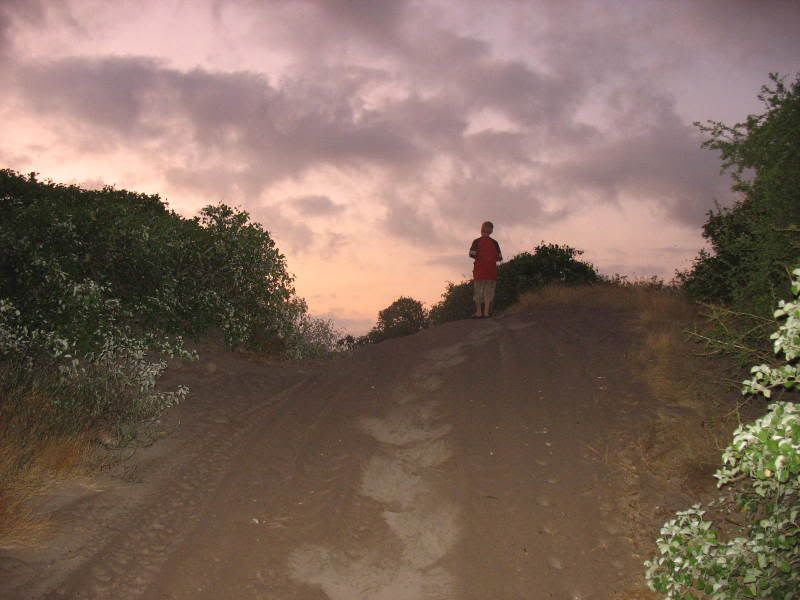 It's quite a committment for these boys, but we've certainly enjoyed the blessing of fresh milk and cream! Ramon has asked many questions about Christianity. Doug has spent some time talking with him about spiritual things, and he listens intently. We offered to give him a Bible, but he can't read. We do have the Bible on CD, but the cabin where he stays has no electricity.
Romans 10:14 How then shall they call on him in whom they have not believed?And how shall they believe in him of whom they have not heard? And how shall they hear without a preacher?
Pray for the many in Mexico and around the world who will never hear the good news about Jesus...unless someone actually tells them...simply because they can't read.
We are anxiously awaiting the arrival of a mission team from New Hope Church of Winston, Oregon. Two families are coming down to spend the holiday season with us. Pray for these families as they plan and travel! They will be arriving, Lord willing, the day after Christmas. What a fantastic Christmas present!!!
In addition to the Oregon team, a mission team from a California church will be arriving the same day! Their goal is to bless the church here by completing some construction projects. They had considered a trip down last summer, but all of the leadership of Calvary Chapel Boca banded together to tell them NOT to plan a serious construction project here at the end of July. December is a MUCH better time of year!!! We look forward to seeing what God is going to do in the next couple of weeks and will be posting photos and articles in our Online Scrapbook as regularly as possible.
Finally, be in prayer for our semi-annual exodus to the US. We are earnestly desiring to make it all the way to Washington to see family and friends and to encourage several churches along the way. Pray that God would provide the funds necessary and that the van would cooperate! Above all else, though, pray that His will be done in our lives and in our furlough! We'll keep you updated on our schedule as we work it out.
Thank you so much to all of you who have prayed for us and sent notes of encouragement and gifts over the past month! What a blessing you all are!
Serving the Body of Christ in Mexico,
Doug and Rebecca and the crew
Prayers and Praises:
Pray for our family's health. We were hit with our first major cold of the season last week and it's making the rounds. Currently, everyone is suffering coughs, sore throats and runny/stuffy noses. We praise God that we'll probably all be healthy again by Christmas time, but it's pretty miserable right now.

Praise God for a gift we recieved from New Hope church which has enabled us to continue construction on our home!

Pray that God would provide according to His will for our winter furlough to the States.

Pray for God's continued provision of our family's and ministry's daily needs.

Praise God for the families from Oregon who are setting aside their families' Christmas celebrations to come spend the season with us!

Pray for 3 health "issues" we have: Sarah's wisdom teeth are coming in, Caleb's tonsils really need to come out, and the twins will probably be needing braces in the next year or so. All three things are rather "big", but we serve a big God! We are trusting Him to supply -- whether by healing or my medical intervention.

Praise God for the family who has offered to bless us by watching our house and animals during our furlough. Pray that God would work out all the details according to His plans!
Embrace the Journey...Christ or Nothing!