Happy New Year!!! Today is Thursday, January 18. We're sending a few photos for you, so that you can see what we're up to.
Doug and Esteban were able to get the van roof painted to protect it from the salt air. Praise God for His provision, and thank you to those who were praying about that and who helped us financially with that project. It is a relief to have that done!
At precisely 7:00 a.m. Christmas morning, the kids piled in for the traditional "Christmas Dog-Pile on Dad". Then followed the traditional photo by the tree!
Pray for a new family we have met. Freddy, Minerva and their son Irvin spent Christmas morning with us. They had been staying at the hotel for about a week prior to Christmas because of problems they had been having with her family. Minerva became a Christian several years ago and had been praying for her husband since then. Six months ago, he gave his life to the Lord and turned away from drugs and alcohol. Now their family has rejected them and persecutes them heavily. Freddy and Minerva are praying about moving to a different city so that their son can be safe. He has had nightmares for weeks and they believe that the nightmares have been caused by the witchcraft that Minerva's mom is involved in. As soon as the family moved to the hotel, the nightmares stopped.
Well, it's not a very clear picture, but it tells a funny story, so I had to include it. One of the ministries that we have is the "Pulling the Trailer" ministry. Sergio, the drummer from the church in Boca del Rio, has a very nice sound system that he rents out to Christian groups and churches. The truck that he usually uses to pull his trailer was broken down and he had several events to do, so we used our van to pull his trailer to Los Mochis. At this event, both large speakers blew (weird electricity in Mexico), so we took them to a repair shop after the concert. This picture was taken at 1 a.m. in the middle of the street in front of the shop. We had to remove the speakers from their boxes so that they could be taken inside and fixed for the concert the next day. It just struck me as very "Mexican" that we would stand in the middle of the road and disassemble speakers at 1 in the morning. Funny thing is, it just felt normal!
We had agreed to do some work for the man who owns the house we've been living in for the past year as part of our rent. With only a month left in this house, we though it would be good to get going on it! The day after Christmas, 15 friends from Boca del Rio and Guasave showed up to help us enjarar (that's the cement coating they use instead of sheetrock here) all of the upstairs rooms. Sarah learned how to float concrete (and she's very good, too!) and Doug and I tried our hands at throwing mortero on one wall. I thought we did an OK job, but when it dried, one of the guys asked us how much of it we wanted him to
arreglar
(fix). Sigh. Those guys can throw a whole room in the time it took us to do one wall, and they use a fraction of the material. I guess we'll stick to what we know.
The group spent about 4 days and finished the bulk of the work. Three of the guys, plus Esteban, stayed another 3 or 4 days to finish the ceilings.
Misael (left) and Julio (right) were the two lead guys who stayed to do the final touches on the rooms. Misael is a Christian brother from Guasave and Julio is Esteban's father-in-law. During the meal time, Misael, Esteban, Wes, and Doug were able to share scriptures and testimonies. Alfredo and Julio asked many questions and there was lively discussion. Pray that God would touch the lives of these men. Alfredo has some deep hurts in his life, and both he and Julio are searching for more meaning in their lives.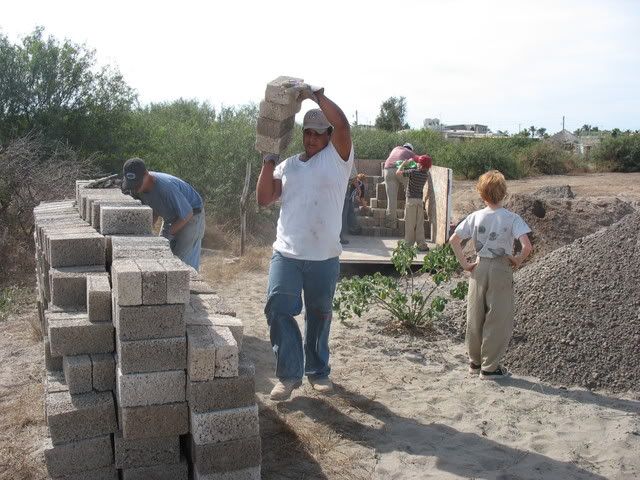 Construction has recommenced on our new house! This photo is of the first load of
tabiques
(blocks) we will use for the walls of the bottom floor. Last summer a group of young men from Oregon came down to help us lay the foundation. Now the walls are starting to go up. Every day it looks more like a house. Lord willing, we will be able to move in when we return from the states at the end of February. It will be a crude, one-room structure, but it will be ours! The same crew who helped us with the rental house is helping with the new construction. Pray that the Holy Spirit would guide us as we share our lives with them. Communication is becoming easier, but at times Doug (and me, too) become a little frustrated with the whole "language issue". Not to mention that while we know a lot about how to build in the States with wood and metal, none of that applies when building in Mexico with concrete. Doug said yesterday that after spending another week working with these guys he'll be fabulous at understanding them…or he'll have a really big headache.
Do pray for protection for our work crew (including Doug). Doug injured himself two days ago and has a bruised rib. The one major expense that remains for this house is the running of electricity. The closest electric pole is the one that you see on the far right of the photo. Looks like it will cost close to $2500 US to do it correctly. We may be using a looooong extension cord for a while! I'll close with another absolutely wonderful sky-scape from our roof.
(See Attached Photo: Skyscape)
The heavens declare the glory of God,
and the firmament shows His handiwork!
-- Psalms 19:1
Blessings to you all! We pray for you daily and thank you for your prayers for us, too. All our love, Doug and Rebecca and the kids
P.S. Sarah wanted me to include a small update for her. I asked if she would like to write it, but she thought it would be very difficult, so I agreed to do it. About two weeks ago, Sarah and the neighbor girls were out riding horses on the dunes. Sarah's horse, which Hannah was riding, fell at the bottom of the dune and was killed. Praise God that none of the girls were injured. Esteban said, after studying the animals' tracks, that the horse's last act in life was to save Hannah's life by throwing her to the side, so he wouldn't fall on her. Sarah was very sad for some time, and is still sad, but is handling the loss very maturely. She and Becca still take the other horses out riding almost daily, so the accident hasn't scared her from riding. I think that all three girls learned a lot from the incident.
THANK YOU to all of you who pray daily for our kids' safety.
We have reason to appreciate it!!!