Hello again everyone! Wanted to update y'all on house progress and "other stuff" with our family. On January 15, construction began once again on our house. The floor needed to be finished first and then the walls could go up from there. We had a bit of a cold snap down here -- I guess we are acclimated now, so it may not have been what you would consider cold, but for a few days, the computer told me that it was warmer in Tenmile, OR, than it was here. Add to that the fact that most Mexican homes don't have heating systems or hot water heaters and you have…cold.
My sister sent us a great care package of hot cocoa and coffee (Thanks again, Cindy!) so we were able to keep warm on the inside while we worked. We discovered that the workers really like mochas!
As of yesterday, the walls are up and we're getting ready to start the roof. You can see from the picture that the sun is out again -- Doug said that he thought he preferred to work in cloud cover, since the sun is very intense here. Alfredo and Julio come over every morning for coffee and every afternoon for
comida
(lunch). This morning, Alfredo asked Doug for a Bible. I was glad that we were able to give him one. Pray that God continues to provide Bibles to give to those who desire them and praise Him for putting that desire into people's hearts!
The boys continue to attend school in Boca del Rio. That is an interesting thing. We are learning much from this experience! I praise God daily that we've been able to homeschool for the past 12 years. Because we feel that the boys are very much ahead of where they "should be" academically, we're OK with them taking a break to attend school. (That sounds weird, I know, but…) If we really desired for them to learn anything besides Spanish, we would be very frustrated. They all continue to meet new kids and make new friends, and it gets easier daily! Pray that their attitudes stay good. Some days it is difficult to get up and go listen to hours of lecture in a foreign language.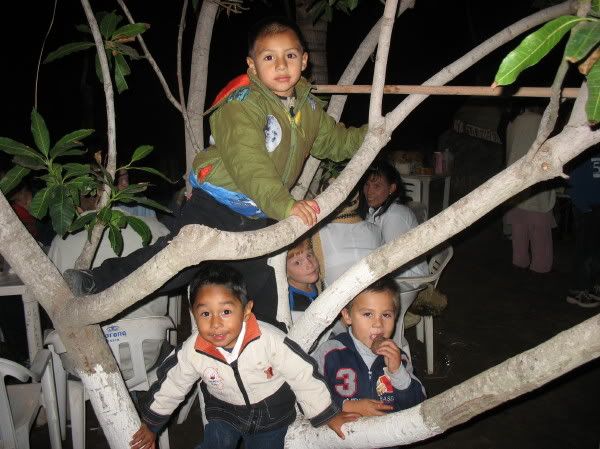 The "Christmas Tree" photo is of Andrew and 3 of his friends from here in Las Glorias -- Havid (Esteban's son), Jesus Israel (Havid's cousin) and Juan (another cousin). This picture was taken at the Las Glorias Christmas Eve party.
When driving through the "back roads" of Las Glorias, you might come upon a herd of cows or goats. Many ranchers run their herds through here during the week, since there is a lot of grass and not many people. Yesterday, Auralio and his son posed for a photo for me. His son was so incredibly cute on that donkey, I just had to take a picture. Auralio lives a couple of miles down the road and drives the cattle to Las Glorias every morning and back home every evening.
We're planning a trip to Arizona in a couple of weeks. It will be a short trip, but we're looking forward to meeting some friends up there and taking care of paperwork. When we return home, about the 20th of February, we will be moving into our new home. We have been offered the use of another house in Alomito (about 5 miles away), but decided -- after much prayer -- that it would be better to just move once and think of it as camping for a while. We should have a roof by then, Lord willing, and there is already water at the property. All we really will need is a septic system and electricity. Esteban has said that he will take control of the electricity issue. He's pretty ingenuous and knows who to talk to in order to get things done, so we should have lights when we move in. Pray that the remaining details with the house work out smoothly.Doug's classes will be starting up again when we return from the States. They've been on winter break since just before Christmas. During this time, the Mexican students have been ministering in a small village about 3 hours south of here and the other American students went to Pueblo and Mexico City for a conference. With the return of daily classes and homework assignments, and with the work that will still need to be done on the house, things could be a little stressful (what's new?). Our home phone will be turned off at some point soon -- probably the end of this week. Our mailing address will remain the same and we will continue to check email a couple of times a week, until we are able to reestablish a land line, which may be some time. In case of an emergency, we can be reached through our home church in Oregon (Pastor Dave will have our cell phone numbers). We will continue to pray for each of you and to send updates as often as possible.
Prayers and Praises:
Please continue to pray for our family and for the Church in Mexico
Pray for the students returning from other parts of Mexico to the school in Boca
Pray that our boys are not too frustrated as they begin to really learn the language
Pray that God would give us wisdom in the building of our house, the raising of our kids, and basically in living our lives here. That we would live what we believe.
Julio got a piece of cement in his eye yesterday -- pray for healing for that and that the pain would go away.
Praise God that the house is going together so quickly!
Praise God that we are able to encourage and bless Alfredo and Julio and their families!
Pray for a safe trip to AZ for us and that all the tax paperwork that we need makes it there.
You are in our prayers as well!!!
Ephesians 1:16-21 I do not cease to give thanks for you, remembering you in my prayers, that the God of our Lord Jesus Christ, the Father of glory, may give you a spirit of wisdom and of revelation in the knowledge of Him, having the eyes of your hearts enlightened, that you may know what is the hope to which he has called you, what are the riches of his glorious inheritance in the saints, and what is the immeasurable greatness of his power toward us who believe, according to the working of his great might that he worked in Christ when he raised him from the dead and seated Him at his right hand in the heavenly places, far above all rule and authority and power and dominion, and above every name that is named, not only in this age but also in the one to come.
-- Doug and Rebecca and the kids