The Lord reigns; let the earth rejoice;
let the many coastlands be glad!" (Psalm 97:1)
Let the peoples praise thee, O God; let all the peoples praise thee!
Let the nations be glad and sing for joy! (Psalm 67:3-4)

One of our family's favorite authors is John Piper. In 1993, he published a book entitled "Let the Nations Be Glad – The Supremacy of God in Missions". If you've never read it, we'd like to recommend that you do so! For now, though, here's an excerpt:

Missions is not the ultimate goal of the church. Worship is. Missions exists because worship doesn't. Worship is ultimate, not missions, because God is
ultimate, not man. When this age is over, and the countless millions of the
redeemed fall on their faces before the throne of God, missions will be no more.
It is a temporary necessity. But worship abides forever.
Oh how we look forward to the day when we will be able to have pure, undiluted worship! Until then, we are missionaries – worshipping God in Mexico and hopefully "rubbing off" a little on those we come in contact with.
September has ended and October is well on its way! Most of you are probably enjoying the cooler temperatures of fall and are beginning to think of fireplaces and hot cocoa. Here in Mexico, we still haven't turned off the fans, the fridge can't keep up with the ice cube demand and we continue to spend half the day cooling off in the pool. We even did history in the pool one day last week, because the house was just too hot. Only a few more weeks till the winds change and humidity is blown back over the ocean where it belongs. We can hardly wait!!! The folks from Boca come over frequently to cool off, too. The pool has been such a fantastic ministry tool!
Read more…
Slowly but surely we are re-building our ministry website! By the end of this month, we should have it fully functional. When we're finished, Lord willing, visitors will be able to read newsletters from our past 3 years' ministry, learn more about our area and our ministry here and hopefully they will become excited about the work going on down here and want to become involved – financially, prayerfully and physically, too!!! For a "sneak peak" you can
click here
link to FLOW blog October update letter to read the rest of this newsletter online!
Luz and Briseyda, graduates of the School of Ministry and part of the worship band OACA, have returned from southern Mexico. The OACA group traveled to Puebla and Queretaro to visit family, show off Sergio and Bris's new baby, and promote their latest album "Open Heart Surgery". During their absence, our family has stepped in to lead worship on Wednesdays and Sunday mornings. We were very happy to have Luz home again last week! With Caleb playing his djembay, congas or the cajón and Sarah getting more comfortable on the guitar our worship band is growing! We're praying for a bass guitar now to make our ensemble complete!
Sergio, Bris's husband and leader of the band, has sent word that his work in Queretaro is going well, and he hopes to have enough money saved to pay off his debts when he returns in December. Pray for this young family! They are struggling to make ends meet as a family and this time of separation is hard on all three of them.
Here's a photo of Sergio and Bris's new baby, Ezekiel. Isn't he absolutely adorable!!!
Shrimp season opened at the beginning of September.
Click here
to read more about Doug's experience as a fisher-of-shrimp.
This month, Doug has been doing some work for an American family in town. This couple is planning to open a coffee shop here in Las Glorias and they have much to do in a short time to transform their patio into an outdoor café. Those of you who know Doug know that he's in his element when he's building something. Even though it's hard to work in 100+ degree heat, he's really enjoying himself!
Click here
to see the finished product! They turned out fantastic!!!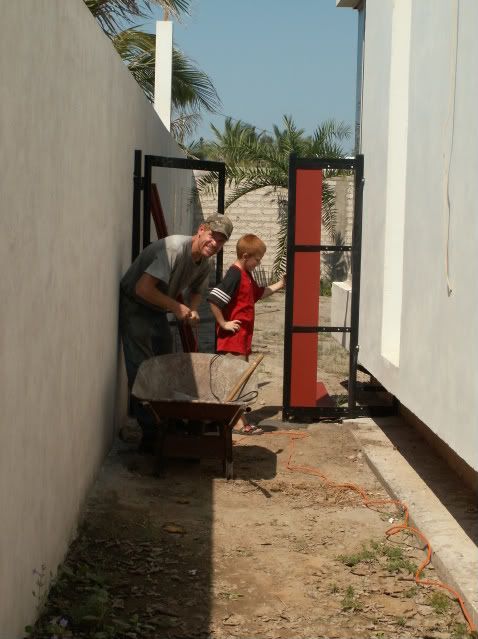 Karen and Mavil are still praying about going to Africa as full-time missionaries. Their hearts are already there! A church in Southern California donated some clothing to sell to help raise money for air-fare, visas and passports. While they work to sell the clothing, Karen has been helping Sister Maria at the water purification station. This is where we (along with the rest of the village) purchase our drinking water.
Click here
to see more photos of the process.
The ladies of the church threw a surprise party for Rebecca's birthday. They came over under the guise of wanting to swim, but they brought a big pot of
posole
and all the trimmings for a great time of fellowship and fun!
Read more…
And finally...we have some "new additions" to our troop. Our dog, Izzy, had puppies on Thursday and due to some extenuating circumstances we ended up with 11 pups – 3 of which are real troublemakers!!!
Click here
to see pictures and read the whole story!
Prayers and Praises:
• We continue to pray for the mission teams which are in various stages of preparing for trips down to Sinaloa this year. God will do mighty things with their time here, and we know that they will face many struggles during the next months, too.
• Pray for missionaries around the world who are bringing the Gospel of Jesus to the nations!
• Praise God for His provision in our lives as Doug has been hired to do some fabrication and carpentry work.
• Pray for the fishermen of Boca del Rio and other local villages – this has not been a good fishing season. There have been several accidents and capsized boats and a couple of deaths, also. The life of a fisherman is a hard life indeed.
• Pray for Rebecca and the kids as school (officially) begins again. Sarah is continuing her French class and we continue to trust God to provide for them.
• Praise God for the provision of a small motor bike. Esteban gifted an old moped to the kids to use as a shuttle around town. This will help with our gas costs!
• Praise God for a family in Guasave who has blessed the church with an electric piano. We have been transporting ours twice a week for services and (in addition to being beastly heavy) it is hard on the instrument. Now the church has its own that won't need to be transported!!!
• Continue to pray for the youth and children of Boca del Rio and Las Glorias – youth groups for boys and girls continue to meet weekly.
• Pray that God would bring healing and unity to the families of our village. We believe that our family has been called to be a light in our community, so pray that we would be able to "shine brightly"!
• Praise God for continued health of our family. The heat has been hard on everyone, but we've managed to stay pretty healthy this season. Wa-HOO!
• We continue to praise God for our swimming pool. Yes, a pool is a luxury, but when the air temperature is 105, the humidity is 75% and the tap water comes out at 104…some days the pool feels like a life-saver. We've had up to 30 people at a time over once or twice a week all summer. The pool has been quite a bit of work sometimes, but we feel so blessed to be able to share it with the church and the community.
• Pray with us concerning our winter furlough. Our hearts' desire is to make a trip to Oregon (via California) to see family and visit our home church, but we also deeply desire to pay off our house here in Mexico. We feel strongly that God wants us completely debt free, so pray that He would give us wisdom in these decisions and provision as He wills!