Psalm 107:21-31
Oh, that men would praise the Lord for his goodness,
and for his wonderful works to the children of men!
Let them sacrifice the sacrifices of thanksgiving,
and declare His works with rejoicing.
They who go down to the sea in ships,
who do business in great waters,
they see the works of the Lord and His wonders in the deep.
For He commands and raises the stormy wind,
which lifts up the waves.
They mount up to the heavens;
they go down again to the depths;
their soul is melted because of trouble.
They reel to and fro, and stagger like a drunken man,
and are at their wits' end.
Then they cry unto the Lord in their trouble,
and He brings them out of their distresses,
He makes the storm a calm, so that the waves are still.
Then they are glad because they are quiet;
so He brings them unto their desired haven.
Oh, that men would praise the Lord for His goodness,
and for His wonderful works to the children of men!
Hurricane season is in full swing! While Hurricane Ike was busy ravaging the Atlantic, tropical storm Lowell took up residence just off the Pacific coast of Mexico. With all that pressure coming from the east, Lowell, who was just a little guy headed west, had nowhere to go...so he just sat there blowing and dumping for 5 days. Forecasters predict that this year will be one of the wettest on record. We believe it! Already we've had more rain than in the two prior years combined, and we still have another month-and-a-half of storm season. (
More about Lowell here.
)
---
Doug was finally able to go out shrimping with a couple of guys from church yesterday. Look what he brought home!!! Fishing season brings a new opportunity for ministry -- Doug and Ladis (a Christian brother from Boca) will be out in a small boat with a couple of non-Christian guys all day, every day for a couple of weeks. Pray that they are able to let their lights shine! Also pray for protection for them. The boats have only been able to go out a couple of days this week, due to turbulent seas, and already there have been 2 or 3 capsized boats (one of which was a big commercial fishing boat) and one death. You can read more about
Ladis' boat capsizing
here.
---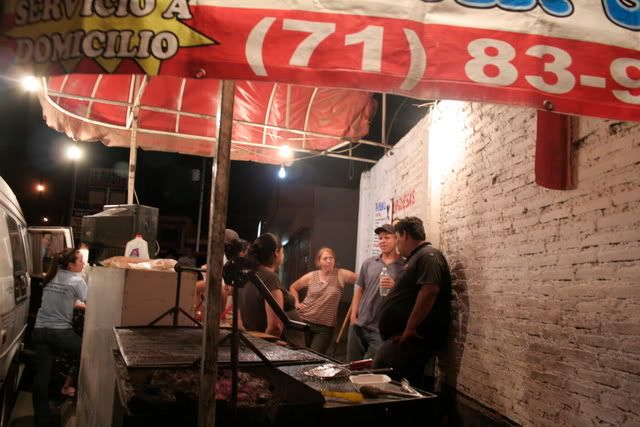 Here is a picture of a typical "curb-side restaurant" in our part of Mexico. Gives new meaning to the term "drive-up window"!!! We stopped here when the mission team from Sacramento came down in June.
Read more about McDollar's Hamburgers here
.
---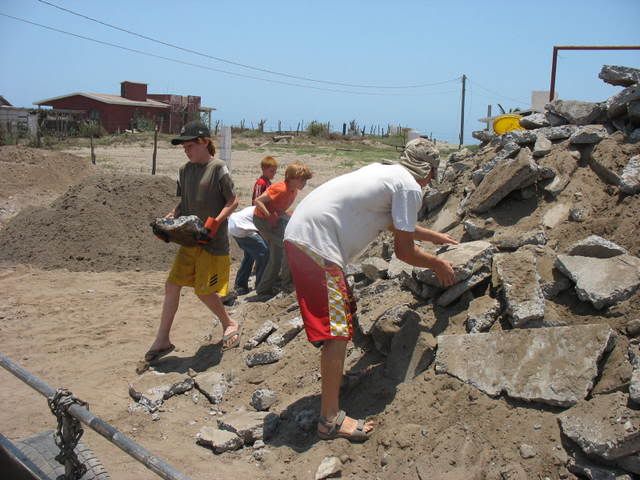 Construction continues around the house. Intense heat and humidity make working concrete pretty miserable and the rain is a challenge, too. The guys have been working on an outdoor seating/dining area in front of the house.
Read more about it and see more photos here
.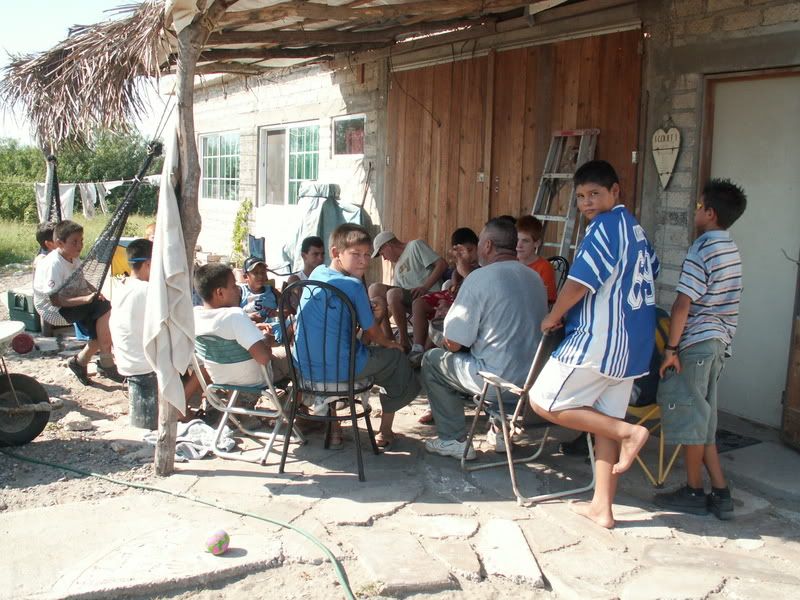 This patio also makes a great place for the youth to meet. Brother Tito has been helping lead the boys' study on Thursdays. What a blessing! With both Doug and Tito riding herd on them, the Boca boys actually sit still and listen! Caleb commented, "Not one of those guys said a word while Tito was talking!" I think you've gotta know Tito to know how non-surprising that is! Before coming to Christ about 5 years ago, Tito was a hellion! Now he's as passionate about Christ as he was about persecuting the Christians! Possibly a bit like the Apostle Paul? Anyway, he has the benefit of knowing all of these boys since birth. They know that if they mis-behave he'll tell their parents -- and might possibly "thump" them, too! Thanks for your prayers! Youth group has been much more peaceful the past few weeks!
---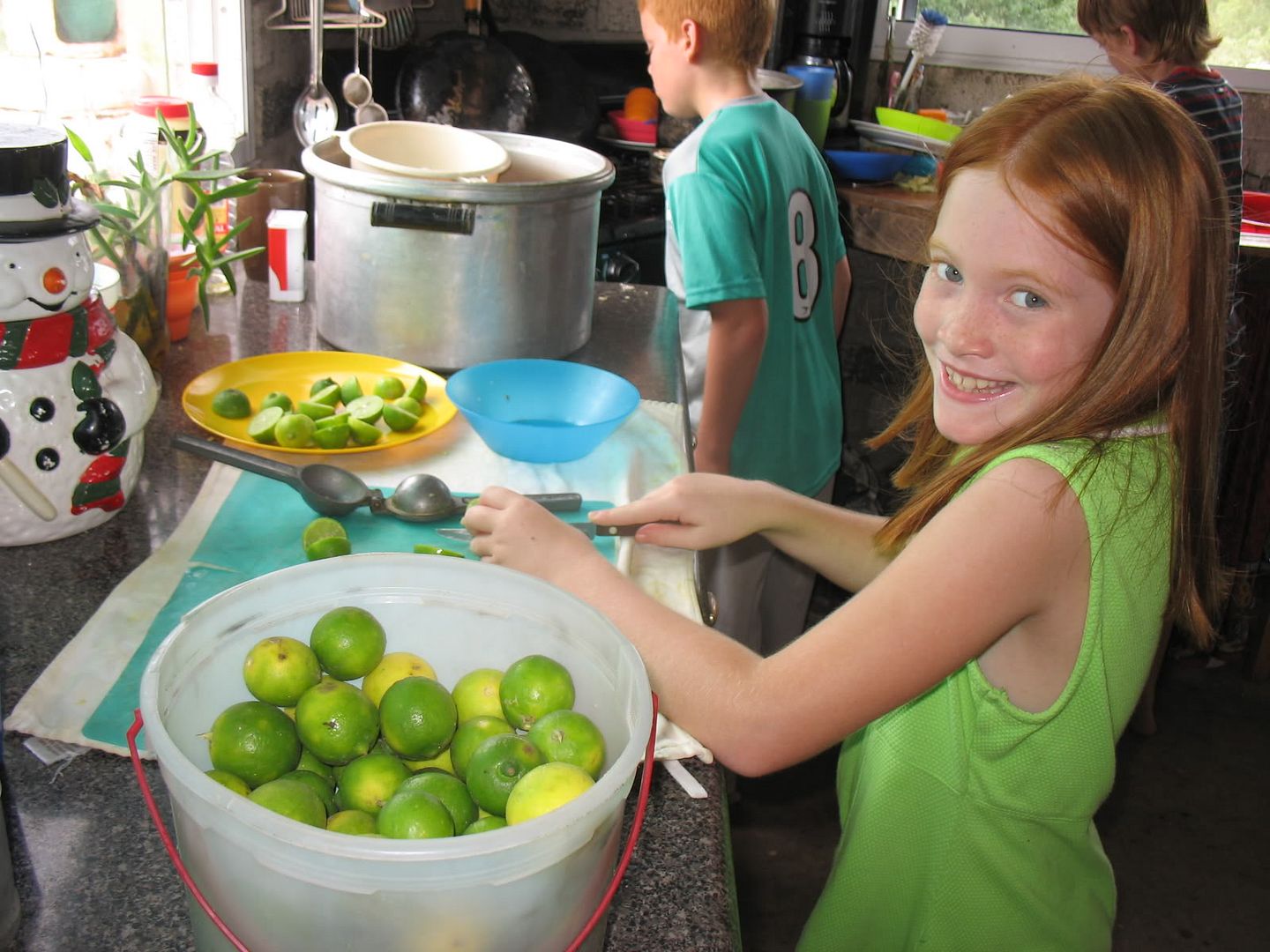 Fresh limes and mangoes came into season right when we got home from furlough. We quickly filled every canning jar we had!
Read more here.
---
The Calvary Chapel church of Compuertas held a VBS a few weeks ago. Doug was invited to share the message on Sunday night and we went to celebrate with them. Here are Seth and Jessee dancing it up with the other kids.
Read the whole story and see more photos here.
---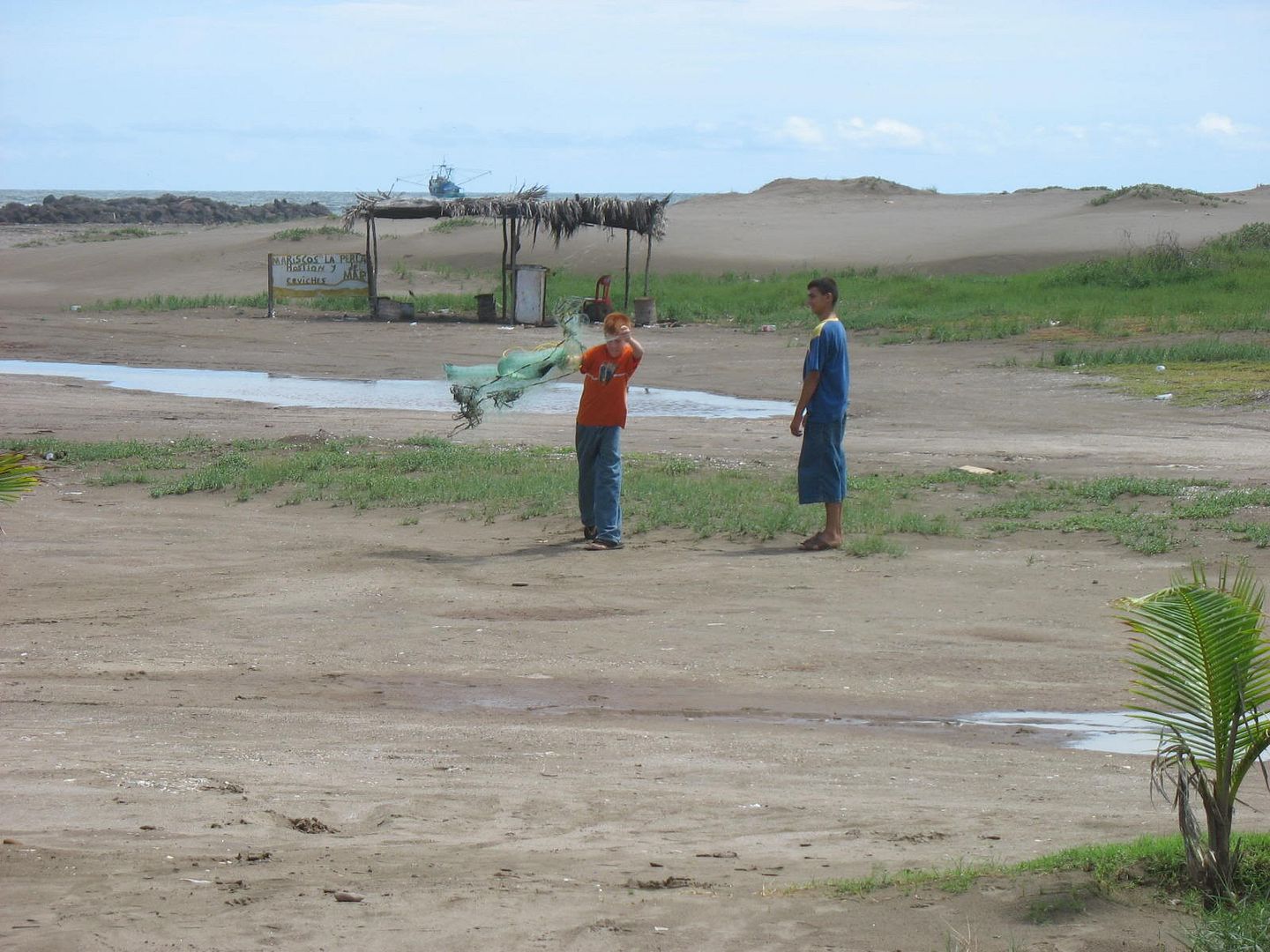 Here are Caleb and his friend Abimael practicing their casting techniques with Abi's
taralla
.
Read more about the taralla and see more photos here.
Prayers and Praises:

Praise God!!! Electrical power has been much more dependable this rainy season. We've only had a few days where we've lost power.
Praise God that we seem to have most of the leaks in the roof taken care of.
Praise God for the beginning of fishing/shrimping season. It is a relief to all the residents of this small fishing village!
Pray for protection over Doug, Ladis, Braulio, Tito and the other Christian brothers (and all the fishermen!) who are out on the ocean every day.
Pray that the Christian fishermen would be good examples in their day-to-day activities and that they would have an opportunity to share Jesus with those around them
Praise God for Brother Tito who has come alongside Doug to lead the youth
Pray that the youth of Boca come to see their spiritual need -- more than just the need to be entertained
Continue to pray for the other Christian fellowships in Mexico and around the world
Pray that God would raise up workers for villages which have no organized fellowships -- specifically Palos Verdes and Las Culebras
Continue to pray that God supply financially for our family and ministry here in Mexico. We have been in a very dry time, but we praise God that we see His hand moving to watch over us daily!!!