Now to Him who is able to do immeasurably more than all we ask or imagine, according to his power that is at work within us, to him be glory in the church and in Christ Jesus throughout all generations, for ever and ever! Amen!!! Ephesians 3:20-21
I've always loved that passage of scripture! If you read nothing else in this letter, I hope you'll read those verses at least twice. After you've read them, read this passage twice.
But without faith, it is impossible to please God; for he that comes to God must believe that he IS, and that he is a rewarder of them who diligently seek Him. Hebrews 11:6
The past several months have been a time of testing our faith here in Mexico. Every time, though, God has proven Himself faithful. Why do we still doubt? Just our humanity shining through, I guess! I pray that you're encouraged and moved to prayer as you read this letter, and that you'll post our "Prayers and Praises" on your fridge to pray for us over the next month. Do you know how important your prayers are???

Remember that anytime you see underlined type like this, you can click on the underlined words and another window will open up so you can read an article at one of our blog sites. If you just don't like clicking on links though, please come visit our blogs (short for "web-log") by typing the web address in your browser's address window (or you can click on these links, too! http://thecoultfamily.blogspot.com/ (The Family/Ministry Blog) or http://whatbeautifulfeetyouhave.blogspot.com/ (Rebecca's Blog) or http://lightingthedarkenedworld.blogspot.com/ (Sarah's Blog) or http://joy-full-noyz.blogspot.com/ (Caleb's Blog).

And now, without further adieu – the August 2008 update letter:
Near the end of June, we hosted a mission team from Restoration Life church in Sacramento, California. What a fantastic time we had with them!!! There's no way to share everything in this update letter, so check out our Ministry Blog for more photos and articles about their time of ministry here.

The Restoration Life team laid the foundation for the Las Glorias youth center. We are praying for the funds necessary to continue with this project. God is able, right?!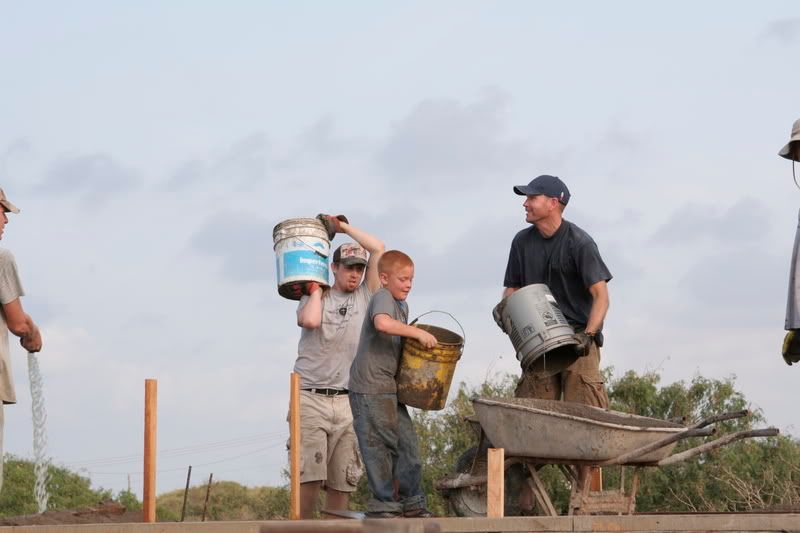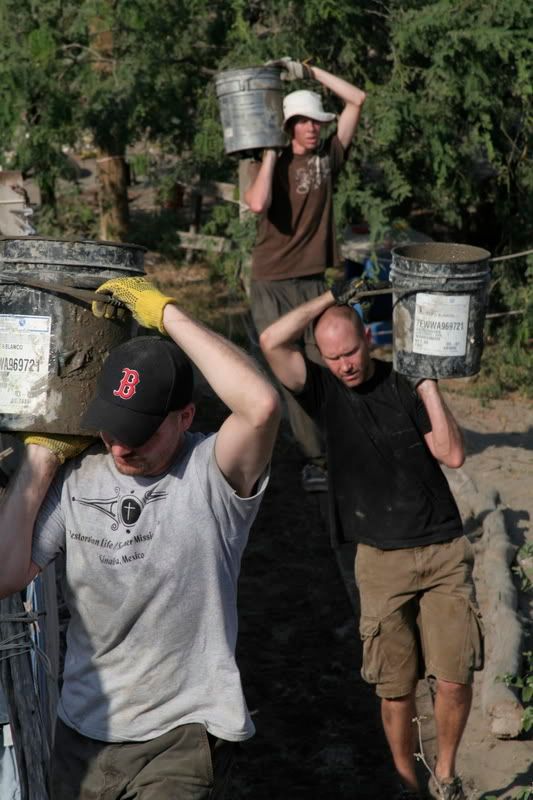 Another "added bonus" to the mission team's visit was the opportunity to lead worship…in English! It was great to be able to sing in our heart language again. Accompanying us on the guitar is Geo Boone. We were reminded of how small the world is when we saw his name on the list of missionaries from Sacramento. Geo was in the youth group of the church where Doug and I were married. I love how God brings special surprises to our lives like that!!!
Another thing that the Rest Life team did was to lead a 3-day VBS. This is only one small photo. You really need to come read the article and see all the pictures from the VBS!
Aristeo and Armida have been "legally wed" for more than 25 years and have several grandchildren, but they have never had a church wedding. The church gathered around and celebrated with them at the end of June. Their wedding was a beautiful thing! We were happy to be able to share it with them and also with the American team. Pictured above is one of several symbols used in the wedding ceremony. The rope symbolizes the permanent joining of two people before God – hence the phrase "tying the knot".
Pablo – the brother of Sergio, one of the teachers at the School of Ministry – is a professional clown. He and his family travel all over Mexico. Not only do they make people laugh, but they also share the gospel message. Pablo and his kids, Pablito and Munsie, came to visit Boca del Rio at the end of June. Here is Sarah learning how to apply clown make-up in a seminar Pablo gave to all the students. You can read more about the class (and see a picture of Sarah fully made-up) by visiting Sarah's blog.
Doug has had the opportunity to teach a few times this summer. In a couple of weeks, Lord willing, he's scheduled to teach at our sister church in Compuertas (near Los Mochis). Pray for him as he prepares to share God's heart with these believers who are so special to us.

Youth groups are still meeting at our house. The adolescent boys, ages 10 to 14, come over on Thursday afternoons to swim and hang out. Sometimes they watch a movie, too, but always Doug shares a Bible verse and a life application with them. Pray for this group of boys. Only a handful of the youth have fathers who are active and interested in their lives. There are few positive role models. Finding a curriculum to use with them has been incredibly difficult, since their attention span is unbelievably short, their commitment is weak and their knowledge of Bible basics is almost non-existent. We are indeed starting "from scratch" with this group. In a way, that is a good thing, but it also is a hard and time-consuming thing. Well, anything worth having is worth fighting for, right???
The older teens, the jovenes, still meet on Fridays. We've been given a creation/evolution video series (in Spanish – yeah!!) which we are praying about starting soon. The schools in Mexico teach evolution as fact – even more so than the schools in the States – and it will be great to be able to share what God's word really says about His creation.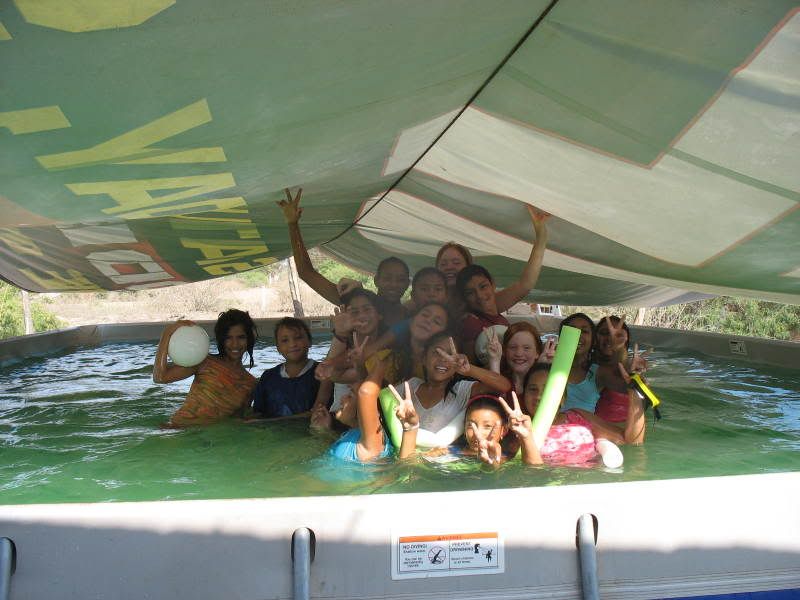 The adolescent girls' group meets on Tuesdays – sometimes at our house and sometimes at the church. Sarah is in charge of this group and is absolutely flourishing with the responsibility. Pray for these young ladies, too. They all seem to have such sweet spirits and are eager to learn.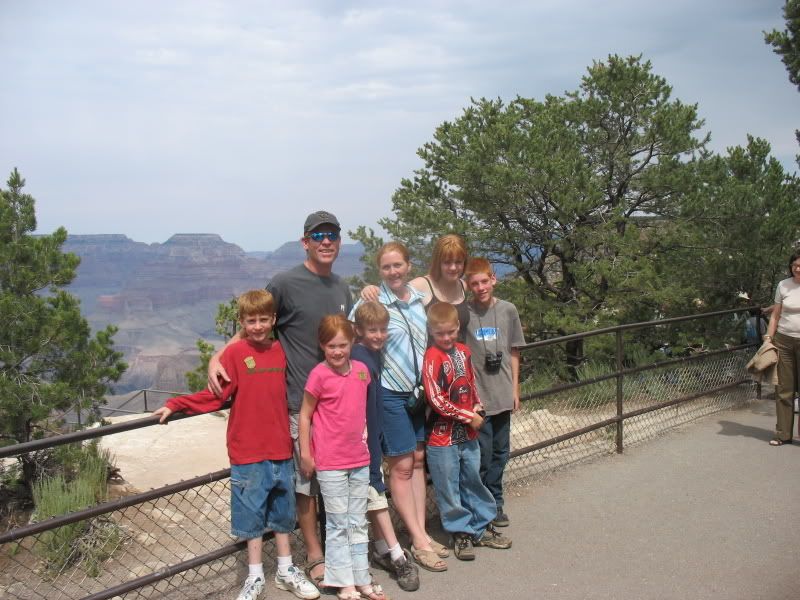 The Monday after the Restoration Life mission team left, we headed north to Arizona. You can read more about our furlough at Mom's Blog. We did a lot of camping and really enjoyed our time in God's creation. When we finally came back to civilization, we were blessed over and above what we could have imagined through a church in Tucson and several families who took us under their wings for almost two weeks. Just the fact that they allowed us to "move in" to their homes for so long was fantastic, but the church also repaired the AC and replaced the tires on the van. As a bonus we even got new shocks. WOW!!! Thank you for your prayers! Thank you, God!! And thank you again, Saguaro Canyon EFC, for letting God use you in our lives!
So now we're home and preparing to wait out the last couple of months of ridiculously hot, humid weather and insane, kamikaze mosquitoes. Our phone was off when we got home (which is why no one has heard from us for a week), but now we're back online! Feel free to send us an email or leave a comment at our Blog sites. We look forward to hearing from you soon. Until then, remember to pray for us – we'll be praying for you, too!!!

Prayers and Praises

· Pray that God would continue to provide for our physical as well as spiritual needs.
· Pray for the youth of Boca del Rio and Las Glorias – that God would be real in their lives and that they would seek His will for their futures.
· Pray for Doug and Sarah as they lead the weekly Bible classes for the youth.
· Pray for the families of our communities – that the hearts of the fathers would be turned to the children and those of the children would be drawn to the fathers.
· Pray for Doug as he prepares to teach at the church in the village of Compuertas.
· Praise God for His provision during our time in the States.
· Praise God for the mission teams that came down here during June and July.
· Praise God for the new friends we made during out trip to Arizona and during Sarah's time in Kansas.
· Pray specifically for God's provision for the ministry of Calvary Chapel – Boca del Rio and ADAPT international. (the ministries we work with here)
· Praise God for his provision of school supplies for this school year – continue to pray for wisdom and insight as we educate our children and seek to bring them up in the nurture and admonition of the Lord.
· Pray for the mission teams who are planning trips down this winter and next spring. They will be impacted mightily and are such a blessing to us, too!
· Pray for grace to endure the heat and the bug issues.
· Praise God!!! Our water issues seem to be at an end. City water has been coming in twice a day every day since we've been home…with pressure, too!!! Wa-HOO!!! Pray that it continues past the rainy season!!!
· Pray also that God would be raising up financial support for our family and ministry. We believe that God truly is able to do immeasurably more than all we ask or imagine! We believe that He IS, and we will diligently seek Him!!!
· Praise God that He has raised up people like you to partner with us!!!