Happy December!!!
The Christmas season has crept up on us, and now we are less than two weeks from the "Big Day". We are looking forward to our second Christmas in Mexico. Esteban and his family, Lord willing, will be joining us again for Christmas brunch and the church has a Posada planned for the night of the 23rd. Doug isn't so sure that he's excited about the traditional Christmas Eve dinner of menudo, but the fellowship can't be beat! The posada in this part of Mexico is a little different than what we read about in books before we moved here. Apparently it's different in every community, depending on the traditions of the families. Our church celebrates with a family dinner, piñatas for the kids, reading the Christmas story and of course bags of candy. In some communities, children form a parade and go door to door searching for the house where the party will be – in remembrance of the night that Joseph and Mary went door to door searching for a place to stay. It's a great way to celebrate with our church family!
This month, rather than an epic (which these letters sometimes become) we're just including a bunch of photos with captions. You'll notice a couple of links to longer stories. Rebecca's been working on a blog about our family and life in Mexico. In order to read the longer stories, all you need to do is "click" on the words in blue. If for some reason the link doesn't work, you can visit Rebecca's blog at http://WhatBeautifulFeetYouHave.blogspot.com/. We are hoping to VERY SOON have a web site for our ministry, but it's in process. When we have it up and running, we'll let you know!
Water continues to be an issue around here. In October, two weeks after we returned home, the main well in Tamazula caved in. Shortly after they fixed that problem, the main water pump burned up. The new pump the water company installed was defective, so once again it needed to be replaced. Here we are more than two months later, and still no one in the area has sufficient water. It's just part of life that the people accept. Very difficult for us! Pray that we would be gracious in this situation, because it is a very…frustrating thing to deal with. Esteban and Doug went out today to fill up the cistern. We're set for a few days!

One of Esteban's many projects is a herd of cattle which ranges near here. Andrew went out with Esteban, Andres and Ramon on branding day. What an experience! It sounded like Andrew was a pretty good cowboy. He tackled a steer (small one!) all by himself and held it down to be branded.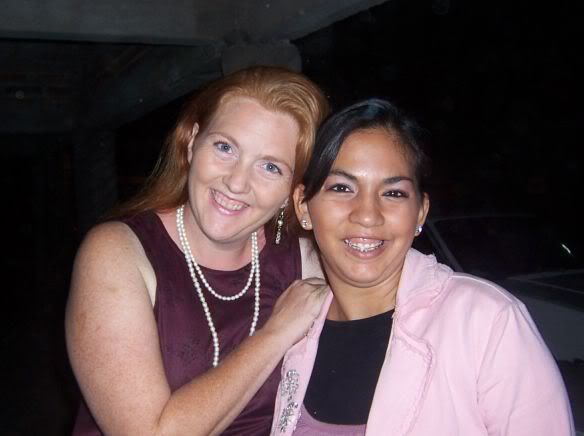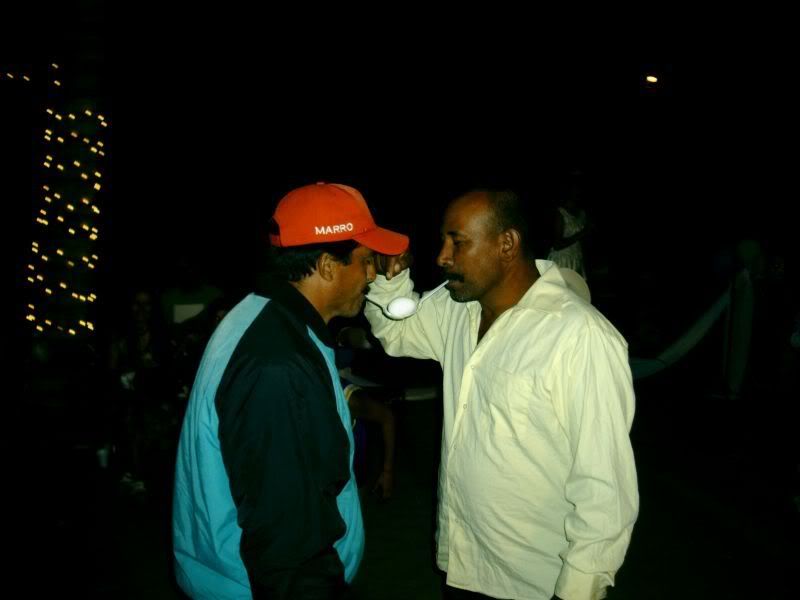 Sarah's Quince años party went off without a hitch. It was a beautiful ceremony and a very fun party. The master of ceremonies, Diego, got all the party guests involved in great games, like pass the egg in the spoon, and the evening passed quickly. To read more about the party, and to see more photos, check out Rebecca's blog.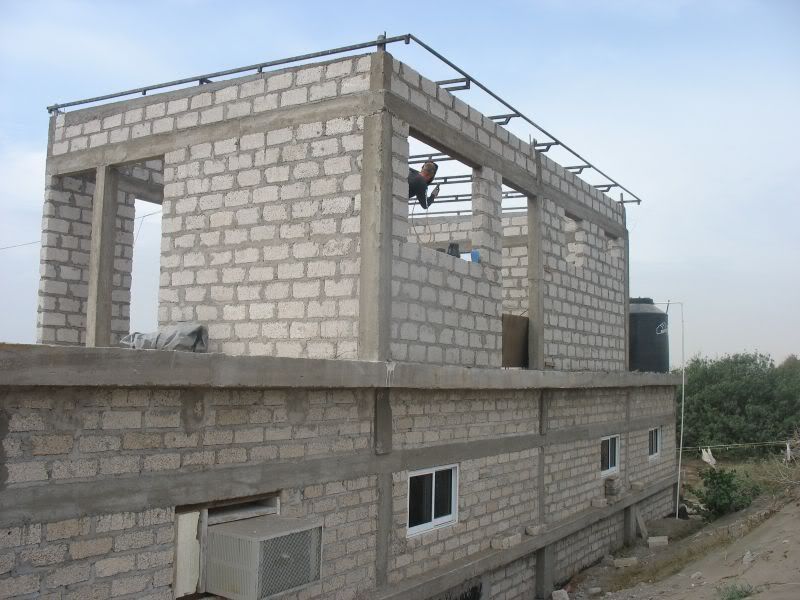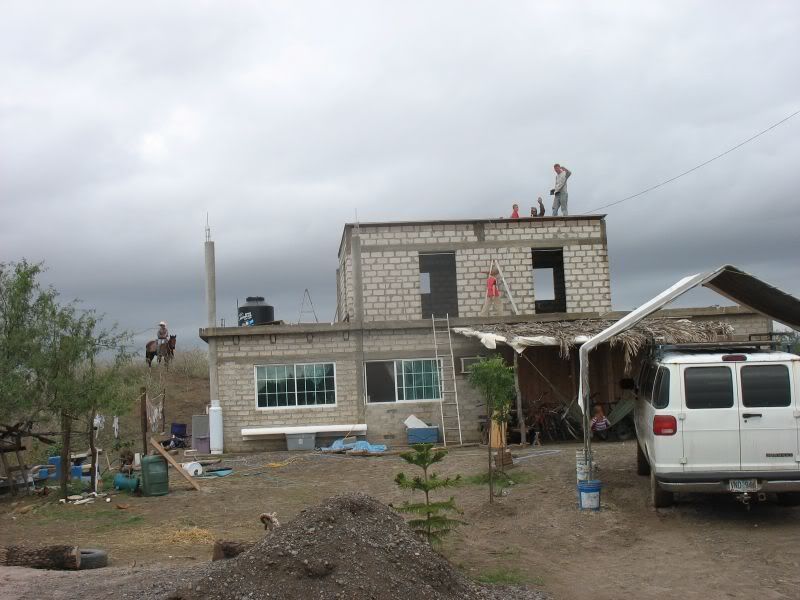 The upstairs is now enclosed and inhabited. And none too soon, as you can see from the clouds in this picture. Alfredo finished laying brick about two weeks ago, and Doug began scavenging materials to construct the roof. The rain began as Doug and Esteban finished screwing down the roofing material. Praise God!!! It's still a "work in progress", but the boys are officially moved in. Even though they have to go outside to get into their room, they are very happy! Today Doug is installing the "indoor staircase/ladder". Ah, construction! Gotta love it!
Every Thursday the ladies of the church get together for a Bible study and prayer time. The group rotates from house to house so that each woman who wants to can host the group in her home. This is also good for those ladies whose husbands won't let them attend events at the church; they can still be involved with the women's group. Last week was my turn to host the study. I drove to Boca to pick the ladies up so they wouldn't have to walk (it's not that far, but half a mile is half a mile!). We had a wonderful time of fellowship!!! Several of the ladies said that they had wanted to visit sooner, but didn't know where we lived. I laughed and said that they should ask the youth – all of them seem to find the house pretty easily! Sister Cristina asked me to share on parenting. I really felt honored. It was hard to decide what to share, though. How can you condense 15 years of training and the motivation behind it down to a one hour study? What I ended up doing was sharing Doug's and my heart for our children and the basis for it from scripture. It was only my second time teaching in Spanish, but it felt like it went well.
In this community/culture, it is not unusual to have three or even four generations living in the same house. Sometimes the grandchildren live with the grandparents while the parents work in another state or even another country. Single moms live with their parents, too, so the issue of "parenting" is something that all the ladies in the church can relate to. There is a sense of powerlessness among the women, since there is no firm teaching in the church about the training of children. I suppose that it's a lot like in the States; not wanting to impose their opinions or risk offending, or perhaps feeling insecure about their own abilities, pastors and elders shy away from the issue of parenting. The associate pastor of our church and his wife want to change the way the church responds to this issue. Doug and I have offered to help in any way we can. The book, "Shepherding a Child's Heart" is a great study for parents of all ages (and with children of all ages). We're praying that we'll be able to get several copies of this book in Spanish so that we can begin a couples' study at the church. (We have found a place to buy the book online. If you are interested in helping to purchase them, let us know.)
Along the same topic, youth group continues. Doug has divided the group into two smaller groups in hopes of developing some deeper commitment among the older youth. A group of jovenes, ages 15 and up, has started on Friday evenings and the adolescentes, 11-14, still meet on Saturdays. Sister Armida is still working with the children ages 6-10 and Sister Cristina teaches the children under 6. Altogether, there are about 50 kids involved in the children's programs on Saturdays. Continue to pray for these classes. All of the teachers have their hands full! As in most churches (in the States and here in Mexico the workers are few!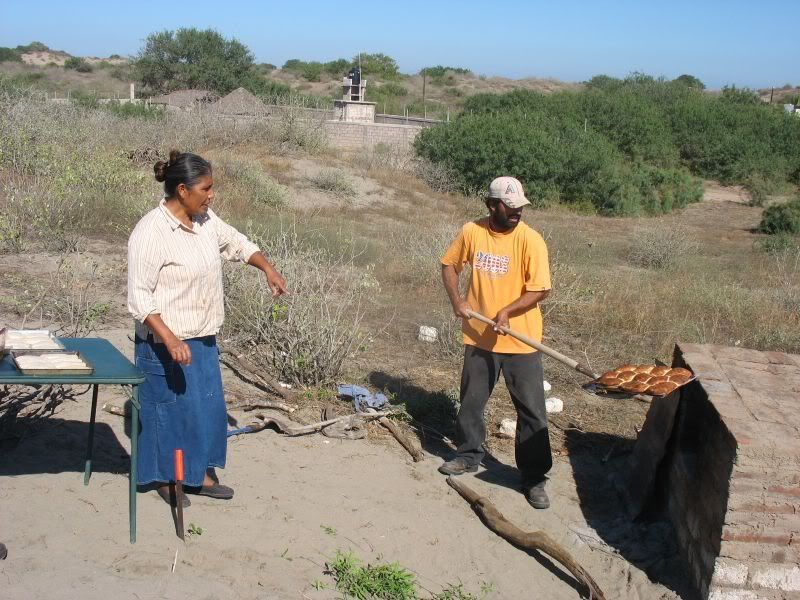 Sister Maria came over a couple of weeks ago to help me break in my new brick oven. It works!!! She taught me how to make empandas and pan de mujer. Both of these are regional specialties. I told her that next time I would teach her how to make pizza! I can fit 6 "extra large" trays in the oven at once. Andrew and Evie volunteered to make pizza for the children's Christmas party. (Funny how kids do that isn't it?)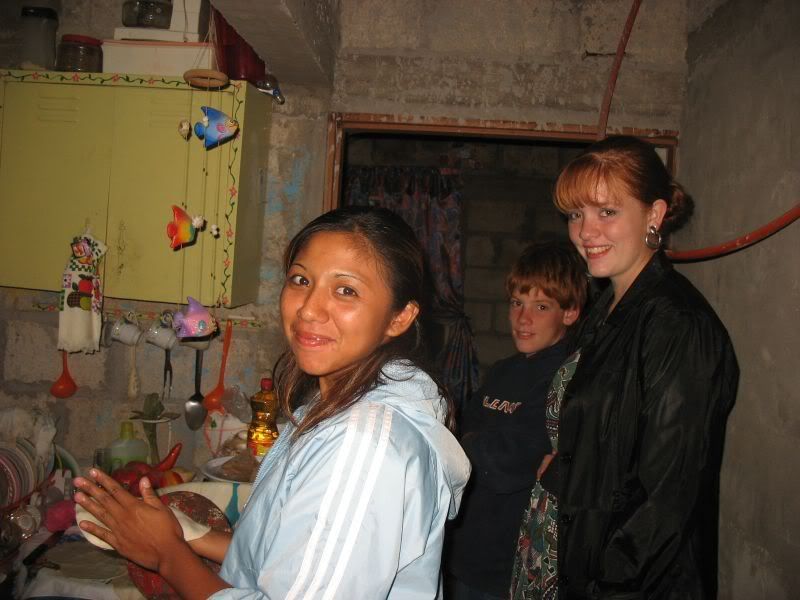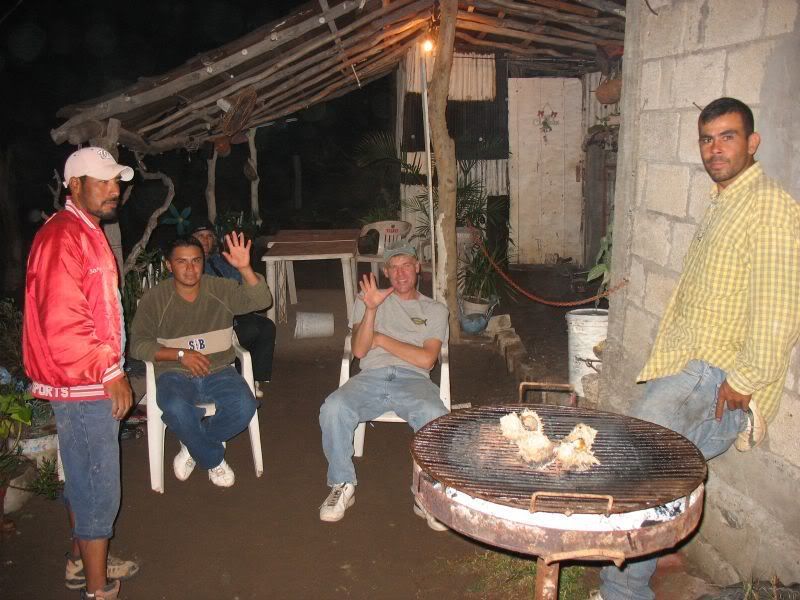 We've also begun a weekly Bible study at Esteban's house.
Last week we had 4 couples (including us).
It's a great start!
We've really missed our home fellowship group we had in Oregon.
This small group has that same "family" feel.
It's good to share a meal and build friendships while sharing God's love. Pray for these couples: Julio and Lupita, Esteban and Vasilia, Pedro and Lucy. None of these couples attend church -- for various reasons -- but we've begun to build relationships with them through living here in Las Glorias.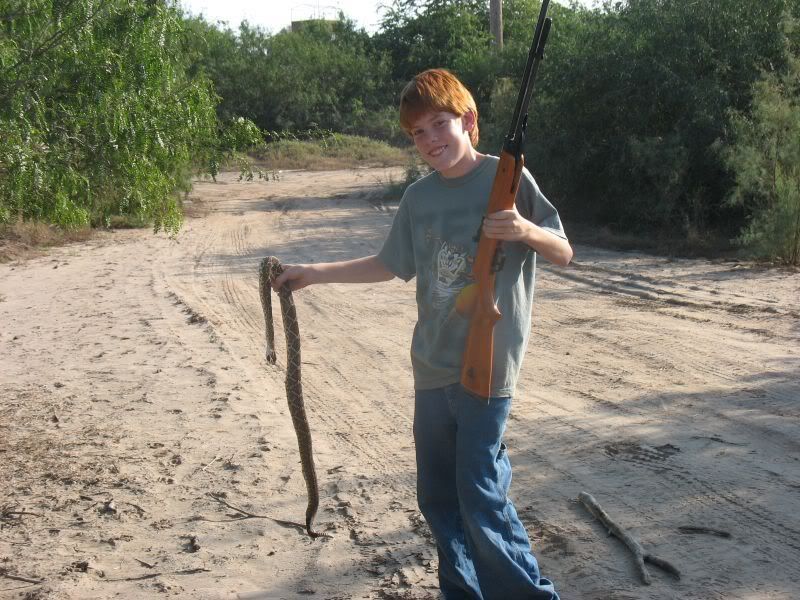 Life in Mexico photo: Caleb with one of the local "varmints". To read the whole story of the rattlesnake adventure, click here.
Prayers and Praises:

Praise God for His provision for the second story of our house and that the boys are moved into it!




Praise God for His protection for our family -- both here at home and while people are out and about.




Praise God for the home fellowship group Esteban has started in his home. Pray that the families who come would be blessed by the fellowship and the Bible teaching.




Pray for the youth of Boca del Rio and Las Glorias: that God would continue to bring more kids to the kids' classes on Saturdays and young adults to the group on Fridays.




Pray for Doug and I as we travel to Hermosillo this weekend. (We're helping a family by being their transportation to a wedding.)




Praise God for continued good health for the kids!!!




Pray that God would continue to improve our family's Spanish. Doug and I find ourselves called to do more and more in the capacity of "teachers". The more we learn, the more we realize that we don't know!!! Pray also that we would have the grace to laugh at ourselves and not become frustrated by those confounded verbs!!!




Pray for mission teams that will be traveling to Las Glorias in January and for those preparing for trips during the coming year.




Pray for continued provision for our family and ministry here in Mexico.