Psalms 95:1-3
Oh, come let us sing unto the Lord!
Let us make a joyful noise to the rock of our salvation.
Let us come before his presence with thanksgiving,
and make a joyful noise unto him with psalms.
For the Lord is a great God,
and a great King above all gods.
Feliz Dia de Gracias! Happy Thanksgiving! On Sunday, Doug officially graduated from the School of Ministry; Today, November 20th, we celebrate Mexican Independence Day; tonight Doug is taking Andrew for a boat trip to celebrate his "double digits" birthday (10 years old); Thursday we celebrate the American Day of Thanksgiving, and Friday we will be celebrating Sarah's Quince Años (15th birthday) with our church family in Boca. It is a week absolutely full of celebration!
In the throes of preparation for all of these festivities, I (Rebecca) find myself easily "swamped" by my circumstances. Quickly, I can lose sight of the reason for the celebration. My friend, Yadira, corrected me yesterday, and I was so grateful to her! "It's not about the food or the decorations," she said. "We just want to share the celebration with you and thank God together with you!" Ah, thank you Lord, for that reminder! Especially as a wife, mom and chief-cook-and-bottle-washer, I can get caught up on the preparations and forget the purpose. With Christmas coming soon, I know that many of you will find yourselves busier than you may want to be. Just remember why we celebrate – it's not about the food, the family gathering together, the presents or the Christmas pageants. We celebrate the Christ, and together we thank God for HIM!!!
I mentioned that Doug graduated from the School of Ministry on Sunday. All I can say is, "WA-HOO!" The ceremony was held at our sister church in Compuertas, which is a small village 2 hours from here. The whole church turned out to celebrate with us and a couple of carloads of people came from Boca as well. It was a great turnout to honor these students who worked so hard this past year.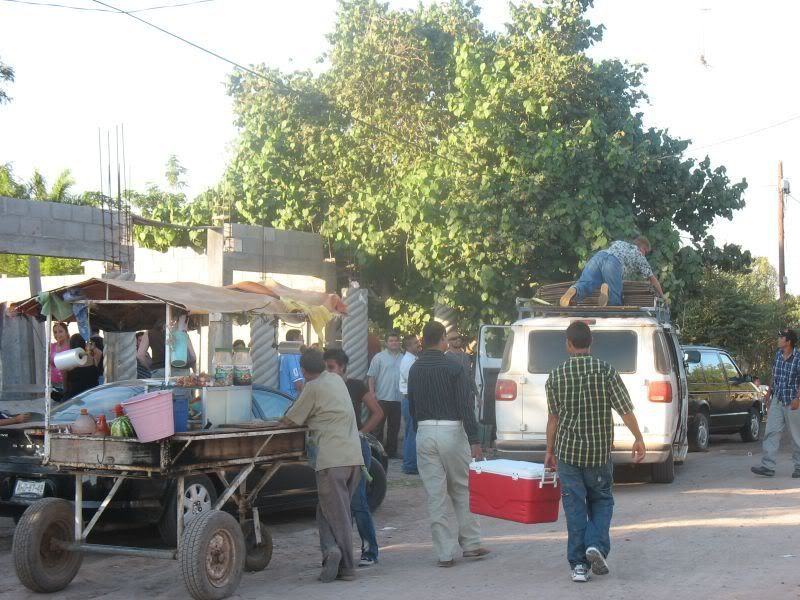 There was even a street vendor out in front of the church selling nuts, fruit and juices! It was, officially, a party!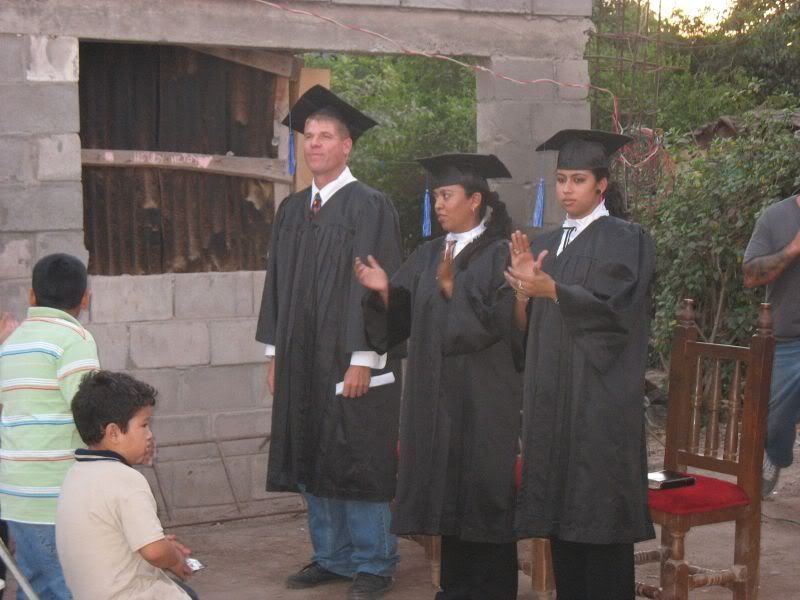 Although the ceremony itself was fairly informal, the graduates did have the necessary caps and gowns and received their certificates of completion. It was a great time of celebration and thanksgiving! The graduates in the photo are Doug, Devora and Briseyda. Not pictured are the graduates who attended a ceremony at the end of October in southern California: Annette, Carol, Denny and George. All the students spoke of how God had changed their lives during the past year and increased their faith and their desire to serve Him.
We've prayed about Doug continuing on as a second year student and decided that it isn't God's will for this year. Possibly in the future, but for now we believe that our calling is to focus on the work with the youth of Boca and the training of our own kids. A couple of our kids were very happy about that. One sighed, visibly relieved, and said, "I mean, I like the school and everything, but Dad was always doing homework and never got to do anything with us." We chuckled, but knew that he wasn't alone in his feelings and that they weren't entirely unjustified, either! The year of study was such a benefit, and worth every moment spent, but it was a sacrifice, too, for the whole family. We can't say, "Thank you!" enough to you, our supporters, for making the training a possibility for Doug. Even though the school is very reasonably priced, by American standards, we could not have done it without you! Thank you so much!
We have another reason to be thankful in this season of thanksgiving. As mentioned in our last letter, generous giving during our time in the States enabled us to start construction on the second story of our house. We've completed the walls of the main upstairs room and now only lack the roof, doors and windows. Esteban's brother-in-law, Alfredo, worked with Doug and Andrew laying brick and pouring concrete. Actually, Alfredo laid the brick and everyone else hauled bricks, sand and gravel up to the roof for him. It was a great team project!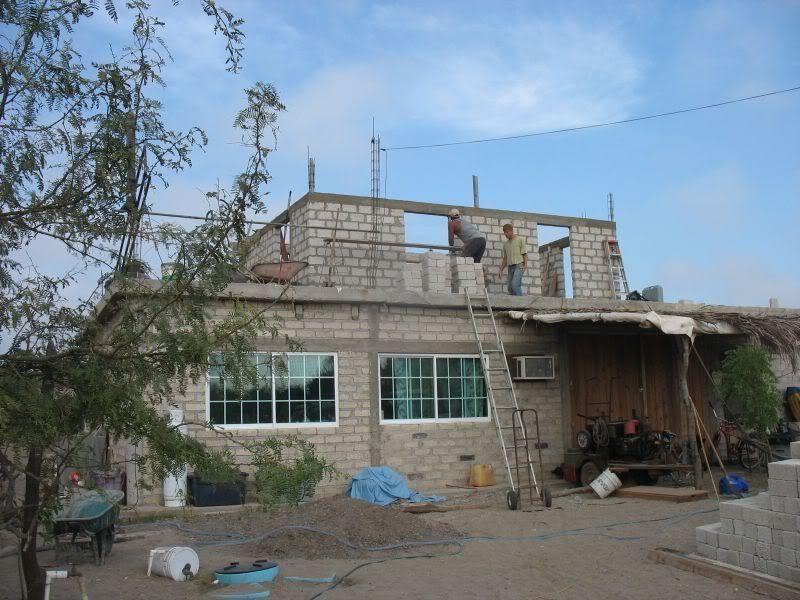 Laying brick on the second story.
Seth and Andrew hauling sand up to the roof.
Doug and Alfredo are pouring the first of two pillars which will eventually support an upstairs porch. The bucket Doug is lifting weighs about 50 pounds. Alfredo lifts it up over his head and pours it into the PVC mold…about 25 times each pillar.
Part of Alfredo's pay included this really neat trailer that Doug built for his bike. Using the tires off one of the kids' old, broken bikes and some galvanized tubing Doug had scavenged at a local scrap yard, Doug built what Alfredo now calls his "pick-up". Alfredo was all smiles the day he finished working and rode off, carting all his equipment in his new truck!
One rather "fun" thing we were able to pick up when we were in the States is a swimming pool. A Christian brother had one that he and his family couldn't use, so they offered it to us. We didn't realize what a blessing they had given us until we got down here and started setting the thing up! None of us had any idea how big the pool was going to be. We thought maybe 9x12 feet and were happy that we'd have a nice "splash about" for the kids. As the pool unfolded, Doug and Chewy (another friend from Las Glorias) continued to flatten more ground – it was bigger than they thought! When all was said and done, the pool stood 4 feet tall, 17 feet wide and 24 feet long. Wow!!! We started thinking about all the great outreaches we could do with the youth! One obstacle remained: how are we going to fill it?
The kids didn't really care how much water was in the pool. As soon as the bottom was covered, and Dad gave the OK, they were in! Three weeks later, we had enough water to have our first "youth event" in our new pool. There are so many funny stories about how we finally got all the water, but I won't share them here. We've mentioned before that water is always an issue here. It's been more of an issue than ever for the past 2 months. Just another lesson in faith, patience and God's providing – even in seemingly frivolous circumstances!