Hello everybody!!! It's still March, so we're not too late for a March update letter! Many of you have noticed that our letters have looked a little different the past couple of months. Hopefully, this is an improvement! We struggled for a couple of years to get photos embeded into the letters and that obstacle seems to have been overcome...finally! I (Rebecca) have spent a ridiculous amount of time planted in front of the computer trying to figure out how to get it to do what I want...with some measure of success. We now have a Ministry Blog at
http://www.thecoultfamily.blogspot.com/
along with a Mom's Homeschool Blog at
http://www.whatbeautifulfeetyouhave.blogspot.com/
. Throughout this letter, you'll see colored text. If you click it, the link behind the text will take you to certain articles at our blogs. If you'd rather, you can click on the links above and just read the whole blog.
Our website is on hold for the time being, simply because we've lacked time to build it. A missionary from California has offered to help with it, so as soon as I get my act together, we'll get that one moving. In the meantime, we have added a couple of neat things to our Ministry Blog (which is kind of like a web-site, but smaller and more "interactive"). One neat thing is a "chat box" where you can leave short messages, prayer requests or praises. The other neat thing is a "Make a Donation" button. Several people have asked us how they can contribute to our ministry online. Well, now we have a way! Thank you, Paypal!
Thanks again to everyone who has been praying for us and sending encouraging notes. Your prayers and encouragement are SO incredibly important!!!
And now, without further delay, the Coult family's March update letter:
Las Glorias and Boca del Rio have gotten a bit of a "face-lift" during the past few weeks. At the end of January, a ceremony was held to mark the beginning of the construction of a new highway joining Boca del Rio to the current highway. The hope of the community is that with better access, both tourists and businesses will be attracted to the area. During the rainy season, the dirt roads leading into Boca are nearly impassable, and during the dry season they are incredibly rutted and dusty. The paving of Las Glorias' main boulevard is also on the list of scheduled projects.
Several hundred villagers and many from surrounding areas attended the first dedication ceremony. Sarah was pretty proud of the fact that the governor of Sinaloa actually stopped and shook her hand. Pretty special! Unfortunately, I was too slow with the camera!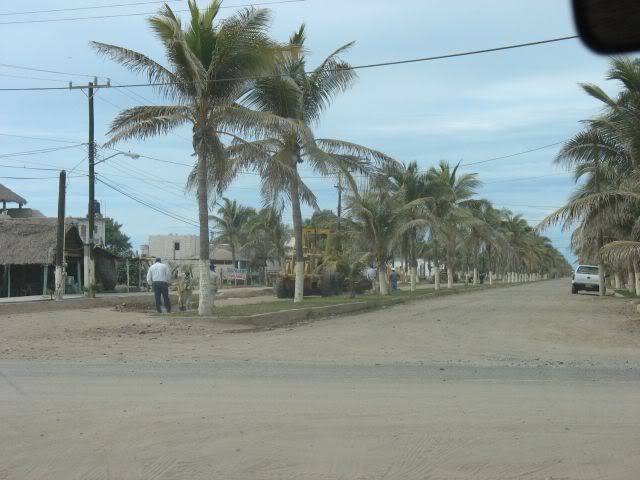 Here is a photo of the entrance to Las Glorias taken at the beginning of February. Trucks and tractors descended on the village and attacked the boulevard with a vengeance. Six weeks later…
Down the road in Boca del Rio, a similar transformation was taking place…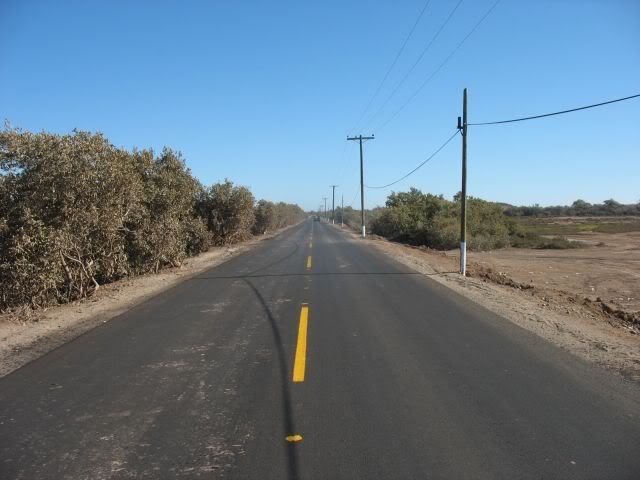 And both roads were open just in time for the semana santa invasion! Bring on the traffic!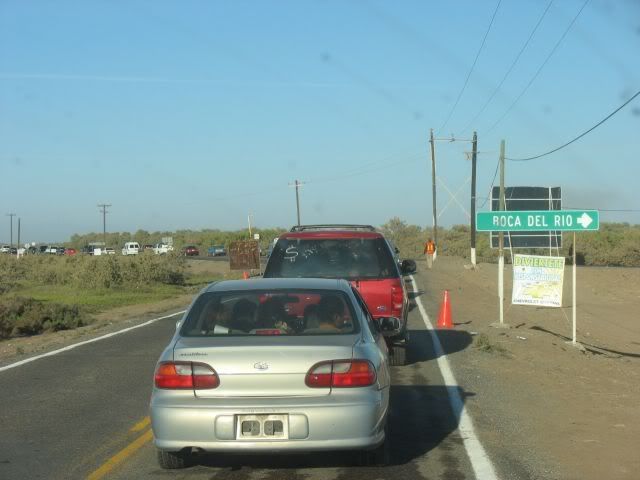 Semana santa, Holy week in English, is traditionally the celebration of Jesus' last week of ministry before his crucifixion, leading up to prayer vigils on Friday nights and sunrise services on Sunday mornings. In this part of Mexico, however, we've discovered that a surprising number of people have no idea of the actual meaning of the holiday. "Semana santa" means "spring break".
Beginning the Friday before Good Friday, people begin to trickle in to Las Glorias. Houses and yards are in the process of "spring cleaning", some receiving new paint, some getting a second story added to their roof, some just hosed down and swept out. On Saturday, as Sarah and I (Rebecca) drove to Guasave for her French class, we passed 13 cars with ladders tied to their roofs. On a normal Saturday, we might pass 13 cars total on the 40 kilometer stretch of road, but traffic was pretty heavy, and apparently they had scheduled a ladder convention, too. (Just kidding, but we thought it incredibly funny how many people were bringing ladders to the beach! There's got to be a story there!)
By Wednesday, the beach lots were beginning to fill up, street vendors were set up to sell everything from mangoes on a stick to "Sushi de los Plebes" [pronounced PLEH-behs] (Which is a really funny name. Literally translated: Sushi for the Common Folk). Traffic was getting ridiculous! Wednesday night it took 40 minutes to drive from the church in Boca to our home in Las Glorias.
Doug and I went for a walk on the boulevard Wednesday night, to "see the sights". I snapped this photo of a ranchero band. To read more about them, click
HERE
. They were a really fun group!
Over 100,000 people swarm to the beaches of Las Glorias and Boca del Rio during the weekend, so every year we do some sort of outreach ministry there. Last year we handed out free cups of water on the Las Glorias beach. This year, we broke up into groups of 2 or 3 people and went out sharing Jesus with the folks on the beach in Boca. After a time of prayer, we divided up and went walking.
Here are Sergio and Ladis sharing with a couple using a tract from Living Waters Ministry.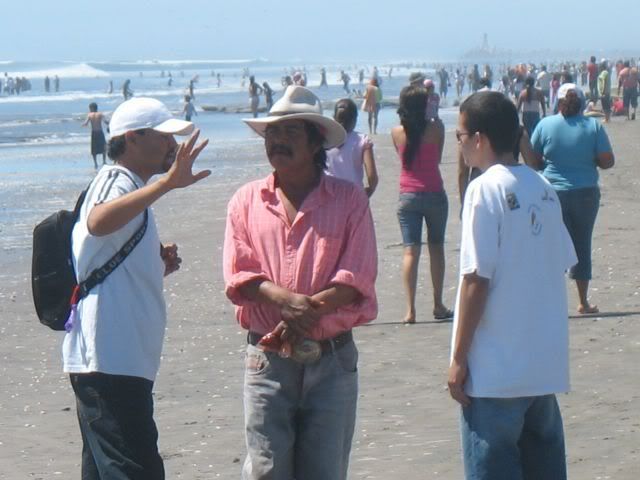 Braulio and Omar share with another man about what semana santa really means.
Thousands of people walk the beach. During the course of the weekend, our group went out 3 days and shared our faith. Over 40 people prayed to receive Christ. Wa-HOO! We are praying that God will complete the work He began in the lives of these people. Check out our
Ministry Blog
to read more about this outreach.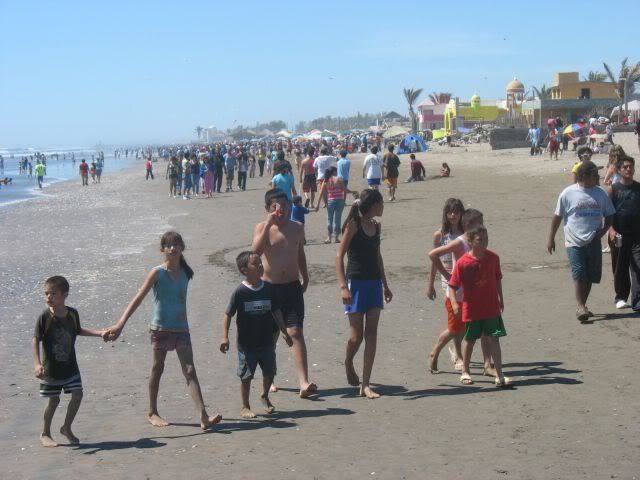 The majority of the vacationers left on Sunday night. Monday morning, the "leavings" were amazing [especially the "leaving" on the scaffold. At least the tide didn't carry him off!].
Read more about the clean-up efforts
HERE
.
Most of the past month has been full of preparations for semana santa, but we have done other things, too. The twins turned 12 on March 8th. You can read more about their party at Rebecca's
Rebecca's MomBlog
. Rebecca was also interviewed for an international mission blog at the beginning of this month. To read her interview and those of other missionaries, too, check out
A Cup of Joy -- Missions Month
.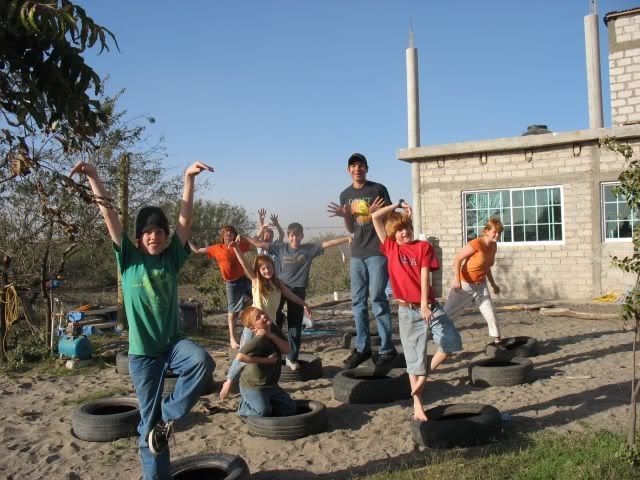 The leaders' wives have gotten together to serve "snacks" to the congregation. This is in an effort to build fellowship among the body. So often we come to church to sit and sing and pray and listen to a message, and then we leave without really connecting to anyone on a deeper level than, "Hi! How are ya?" This is as true in Mexico as it is in the States. We've begun a time of fellowship between the worship service and the teaching time. During this time, coffee, muffins and tostadas or tacos are available. It's been a wonderful time of connecting to each other!
Last, but not least, we have two new "kids" in our house. Two students from CC Boca's School of Ministry moved in with us last Monday. These young ladies graduated from the school at the beginning of this month and feel God's call on their lives to serve Him as missionaries to Africa. One thing that they are lacking is English, so we're hoping to be able to help them learn English during the next months. Pray for Karen and Mavil as they study and as they adapt to being part of our family!
Mavil and Karen
Prayers and Praises!
Praise God for the 40 new brothers and sisters we have in Christ!!!


Praise God for Mavil and Karen who have the opportunity to live with us and learn English.


Pray that God would give them sharp ears and good memories and that they would not become frustrated. Also pray that God prepares their hearts to serve in Africa. ALSO praise God because we just found out last night that the girls now have funds available for their passage to Africa. Now we pray that God blesses them to get their passports quickly.


Praise God for the improved roads in the area. Especially for the 12 loads of rock that the city dumped on the road in front of our house. This practically eliminated the dust and also slowed the traffic down during the past week. Praise Him for His timing!


Pray for continued wisdom and perseverance in educating our children.


Pray for the mission teams which will be traveling down in the next months. Pray that we would be able to encourage them during their time here and that we would be open to what God has planned for them and us, too!


Continue to pray that God would provide for our physical needs.


Continue to pray that funds would be available to purchase Bibles and other ministry supplies.


Pray with us regarding a 15 passenger van that we have the opportunity to purchase. The cost of the van is $1400 and CC Boca is able to put in $400. Pray that God would provide the remaining $1000 if that is His will. This van would enable us to transport all the youth to youth events, and it would also be available for us to drive around, so that we could save our van for our long trips to the States -- and maybe get a few more years out of it.