All the paths of the LORD lead to gracious love and truth for those who keep his covenant and his decrees.
For the sake of your name, LORD,
forgive my sin, for it is great.
Who is the man who fears the LORD?
God will teach him the path he should choose.
The concept of paths and pathways has come to have a deeper meaning for us lately. For the past six months, we have spent quite a bit of time teaching "Pathways to Understanding the Bible", and are seeing great fruit from these courses. We spent most of the month of June traveling and teaching in Central Mexico. The seven of us, Doug and I, Fabian and Sarah, Jeremias, Jessee and Evie, piled into the Sienna and headed out for a "teaching road-trip". In January, we began the Bible Pathways course in Patla, Puebla, with 12 students. When we returned in June for the second course, nine of the original twelve students attended, but they brought with them nine more students! It was a wonderful class!!! We feel very privileged to be able to share God's word in such a user-friendly and practical way and are encouraged to see the students growing in their confidence and knowledge of the Scriptures. Thank you to everyone who has been praying for and financially supporting our ministry here in Mexico! You are such a blessing to us!!! "Prayers and Praises" are at the end of this letter. Please read them and feel free to print them out to pray over them during the month.
In Patla, our team members took turns teaching the various sessions of the Second Timothy course.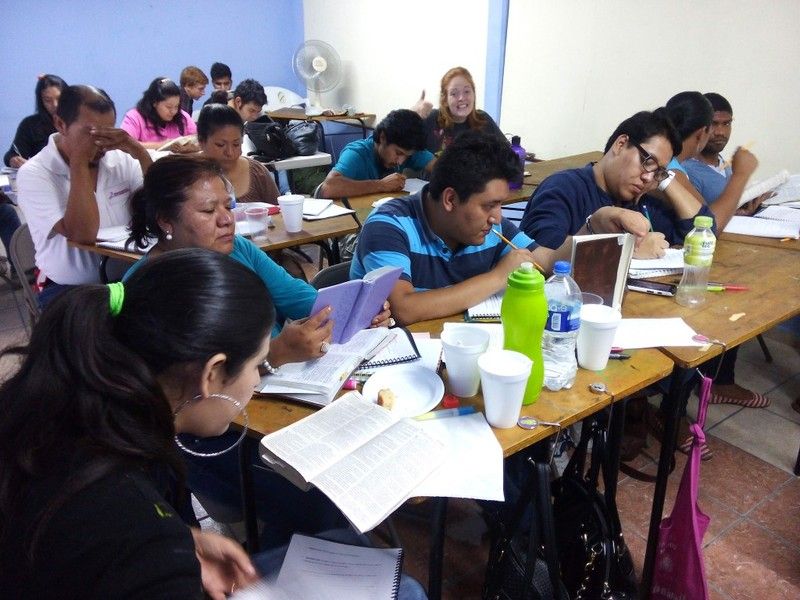 In Celaya, Guanajuato, we began Bible Pathways with the Jonah course. Again, team members took turns leading some of the sessions. We are so excited to see what God is going to do in His Church in Celaya! Each of the 20 students were able to share presentations in front of the class -- a couple of them for the first time in their lives!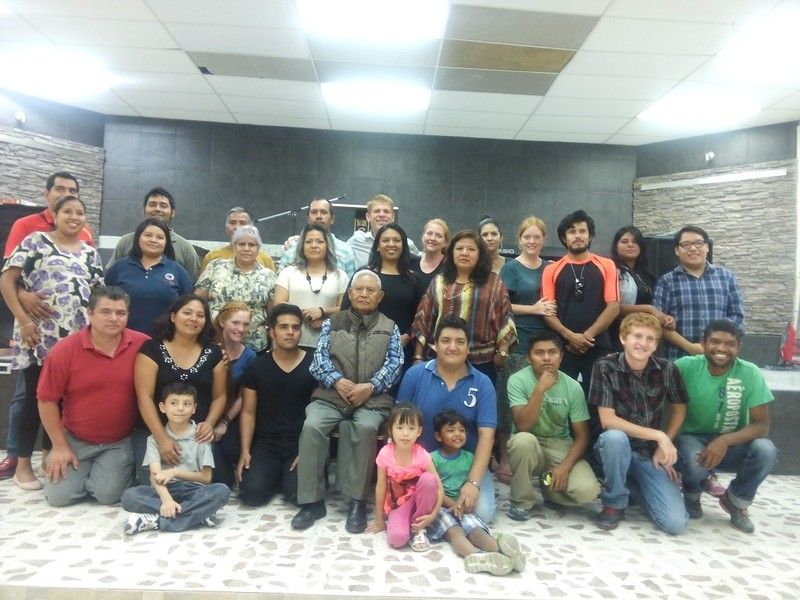 This is the Celaya group (with a few kids thrown in to keep it fun!) along with Pastor Lilo. Pray for us as we prepare for the next session in October, Lord willing! We will be returning to Patla with the 3rd course on the book of Genesis and doing Second Timothy in Celaya.
In addition to Bible seminars for adults, our team proved that you don't need a big group to pull off an effective kids' class. In this photo, Jessee (the Good Samaritan) and his donkey (Fabian) come to the rescue of the Man Left for Dead (Jeremias). The children sat spell-bound as the drama unfolded.
We were able to stop in Quimichis, Nayarit, for a few days and shared parenting classes with the Church there. It was good to be able to spend time with Pastor Narciso and his family. We'll be able to visit again in a couple of weeks when we travel down for their son, Jonathan's, graduation. In the above photo, the children in the barrio where we were staying gathered every afternoon to spend time with Evie. Jessee and Evie took advantage of the opportunity and held an impromptu Bible class. We're praying that next time we visit we'll have a chance to share with the kids again and that God's word will have a positive impact on their lives.
This is Ricardo's
tienda
at the
tianguis
in Celaya. A tianguis is similar to a swap-meet in the States. While we were in Celaya, we visited a small, beautiful town named Tarimoro, where we believe God may be wanting to relocate the Ramirez family. Please join Ricardo and Cristina in prayer for God's direction and wisdom in this decision. As far as we know, Tarimoro has no evangelical Christian church.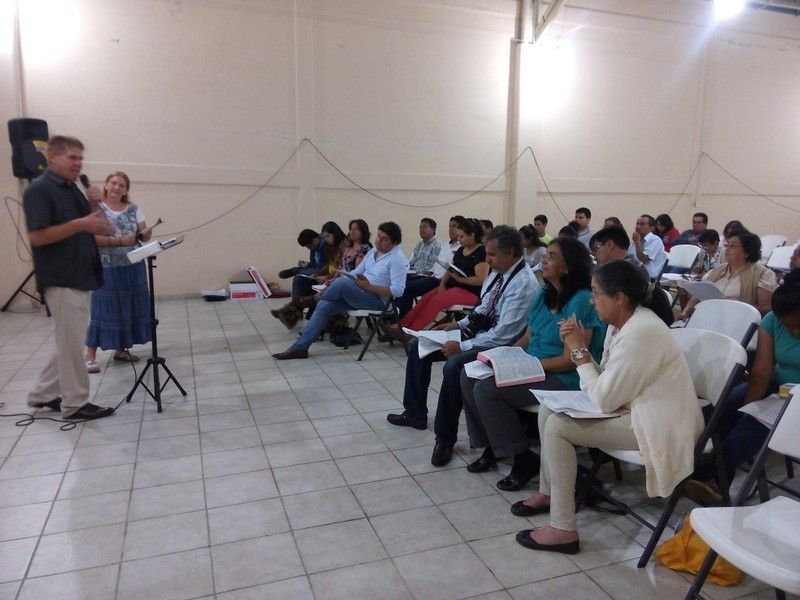 The Church in Xicotepec, Puebla, also invited Doug and I to share parenting classes. It was so good to visit with our church family there, and we felt like we were able to really connect with them. Pastor Ezequias and his wife were such an encouragement to us, and we're looking forward to being able to return there soon. Over the years we've compiled quite a bit of information, instruction and encouragement for parents, and we're feeling that it is time to get it more organized and into some usable form. Fabian and Sarah have offered to help us with the compilation, but even with help this is a huge task. Pray with us as we begin to move forward with this project.
Prayers and Praises:
Praise God for the 38 students who were able to participate in the Bible Pathways courses in Patla and Celaya.
Pray for us as we prepare for the next session. This includes finalizing the translation of the Genesis course. We also recently learned that the other six courses of Bible Pathways have not been translated into Spanish, so our translation team will begin working on that project soon.
Pray for Jeremias as he visits his family in Veracruz. He will be with them a month and returning to Sinaloa at the end of July. Pray that God would be guiding this young man in the path He has planned for him.
Continue to pray for Keala and Evie as they reach out to the young ladies in our village. Keala stayed in Boca del Rio to continue ministering to the girls instead of traveling south with us. We are seeing fruit and continue to pray that God would show Himself real in the lives of these young ladies.
Summer is officially here and the heat is on. Pray for the men as they work to provide for their families. This time of year is always financially really hard here. Fishing season is closed, not much construction is going on and tourism is very low, so everyone is struggling. Julio and Alfredo have been working on a construction project for another family in Las Glorias, but as mentioned before, it's very hot.
Pray for the men who continue to meet every workday to break bread and read the Word together.
Continue to pray for Pastor Braulio and his family who are ministering in Las Flores. We were able to accompany them last Sunday as they went house to house visiting the believers there. There is a lot of illness in Las Flores right now and several of the church members are elderly, so it was great to be able to pray with each family and encourage them in their walk.
Pray that Braulio's car is repaired soon. The engine blew a few weeks ago and needed to be rebuilt. He has been working extra to pay for the parts and labor. It is currently at a mechanic in Guasave, and we don't know when it will be ready for use. Their ministry in Las Flores has been hindered without transportation.
Continue to Pray for Joaquin and Luz as they reach out to youth in Las Glorias, Boca del Rio and the surrounding communities.
Pray for the town of Tarimoro, and pray that God would direct Ricardo and Cristina as far as ministry there is concerned. Also pray for their family as they look into homeschooling their three children in the fall.
Praise God for the good turn-out we had for the parenting classes! Over 100 parents attended the various classes, and we're encouraged by the feedback we got. Pray that God would be glorified in these families and that the Church would grow healthier as the families grow healthier.
Pray for us as we work on compiling all of our parenting material into a usable format.
Continue to pray for our kids who are spread out across the country: Sarah and Fabian in Alamos, Sonora; Caleb in Chico, California; Seth in Winston, Oregon; Andrew in Tucson, Arizona; and Jessee and Evie who are here with us.
Pray for health for our family. Doug has been struggling with a bacterial infection which he picked up while we were traveling in the South.