Psalm 92:1 -- It is a good thing to give thanks unto the LORD,
and to sing praises unto your name, O most High:
To show forth your lovingkindness in the morning,
and your faithfulness every night.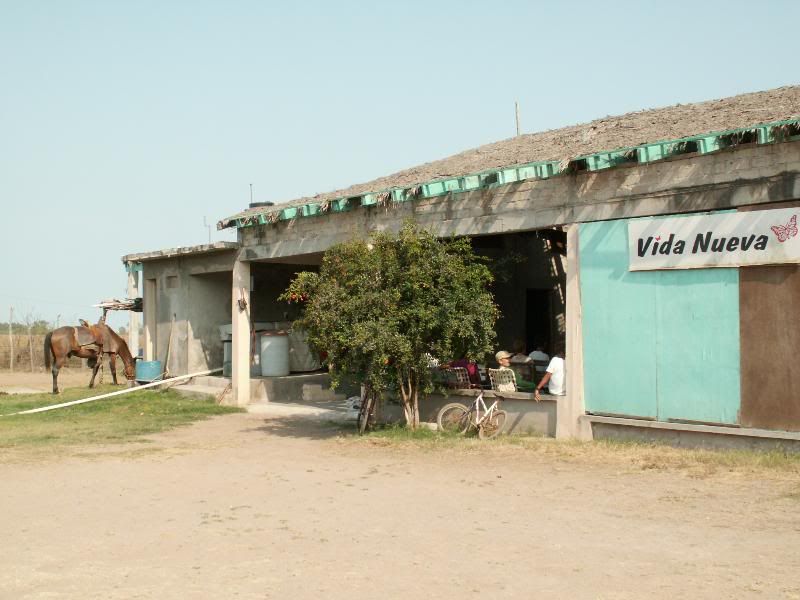 The church in Alamito. This is the "parking lot".
June seems to have been a very short month. We've been busy with our regular commitments but have also added preparations for a mission trip to the state of Nayarit in July.
Music practice in Alamito
On Saturdays we load all the musical equipment into the trailer and head to the village of Alamito for a time of practice. The Vida Nueva worship team now consists of a percussionist, 2 guitars, 2 pianos, 3 vocalists and a bass. Andrew is working on becoming our second bass-player, but for now he has been put in charge of the sound system. It's been a fun challenge blending the two musical groups. Hermana Yadira and her daughters, Ysy and Sarahi, have a distinctly Sinaloa style which we call
ranchero
. The Coult family is most definitely a
gringo
worship team. Put together, we have a very unique
gringo-ranchero
flavor. However it turns out, we certainly have a great time worshipping in song together. We pray that we're a blessing to the people who will come to the outreach.
Twenty people have signed up to travel south with us. We plan to be in the area of Quimichis for one week. During that time, the group has scheduled three outreaches and a mini-VBS. The men on the team have also been invited to enter the local prison as many days as they are available for Bible study and prayer with the inmates. We are very excited about the way God is opening doors in this city and continue to pray that we find favor with the authorities there.
Over the past month, God has led our team to pray in some specific ways for the area into which we will be traveling and ministering. We've listed these specific prayer requests in our "Prayers and Praises", and we appreciate your joining us in lifting these petitions to our God.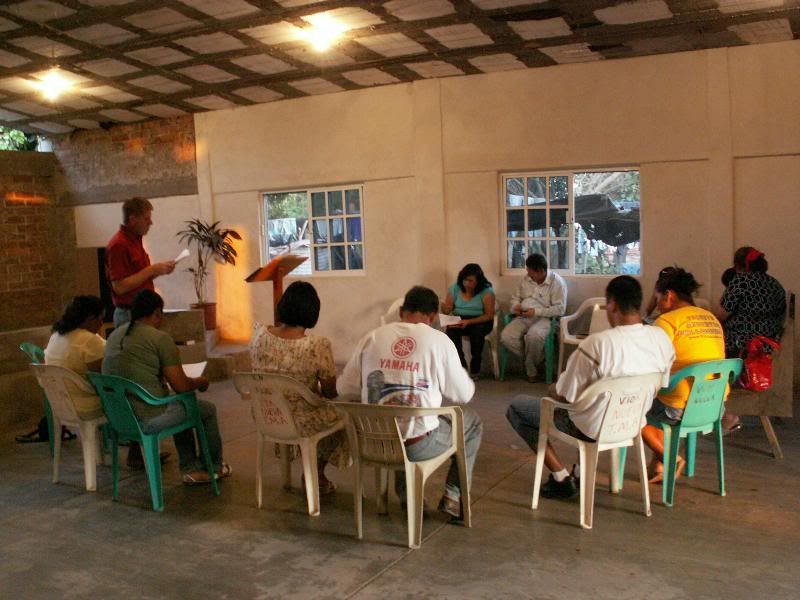 Parenting classes in Tamazula
We are continuing to write lessons for a weekly parenting class. The response in the Tamazula fellowship has been very encouraging. We now have 4 couples and 8 singles attending faithfully there, and have recently begun a class in the village of Alamito. Our goal is to strengthen these families by giving them a solid foundation of Biblical principles and by teaching them how to apply them in their day-to-day lives.
In the past, we've had some measure of success using parenting materials from the U.S. which had been translated to Spanish. As our understanding of the language and the culture has grown, however, we've come to realize that the culture of Mexico is much more than simply its language. The American-written parenting books all miss the mark when it comes to parenting in the culture of rural Mexico. We pray that the book we are writing will be a useful tool for the Church and for many families in Mexico.
Seth and Gary show off Gary's lost sheep.
During the parenting classes, Caleb and the rest of the kids have really been stepping up in the leadership of the children's class. Caleb has been organizing the class using "edible object lessons". The kids really enjoyed last week's lesson on the lost sheep. They made "sheep" using marshmallows and raisins. Yummy!
Sarah's absence has been keenly felt, but it seems that everyone is growing during this time. Continue to pray for the kids as they adjust to their new roles and responsibilities. Sarah has also been going through a time of adjustment, but God is doing some wonderful things in her life. Pray that God would give her wisdom as she plans her next year. Much depends on whether or not she receives a grant or scholarship to study in the fall, so please pray that God's will be done in that.
Prayers and Praises:
Praise God for the opportunity to travel to Nayarit on a mission trip.
Pray specifically for this trip:
That those going down would be "pure vessels" ready to be used for God's glory.
That God would build unity in the team and in the families.
That God would go before us everywhere our feet will walk.
Pray against physical ailments – specifically lower back and stomach issues – that may arise during the trip
Pray for protection as we travel (7/19-7/25) – both the cars and the trailer.

Pray as we trust God to provide the funds needed to complete the youth center here in Las Glorias. We believe that God has called us to finish it by the end of this year. Pray for us as we trust Him in this!
Praise God for the parenting classes in Tamazula and Alamito. Pray for wisdom as we continue to write the curriculum.
Pray for the church plant in El Serrano. Specifically, pray that God would provide a van to transport the ministry workers from Tamazula and Guasave until local leadership is raised up.
Pray for Jorge and his wife and daughter. They've agreed to come to our Tuesday night Bible study, and we're excited to see God work in this family; The enemy, however, is not. Yesterday, Jorge had an accident on his motorcycle. Praise God he only received minor injuries. Pray that the enemy will not hinder them from hearing God's word and plan for their lives.