The Coult's Almost-November Newsletter

Technically, it's still October, and our last newsletter was sent out at the end of July, so to be totally honest, I'm only about a month late on this update letter. But it is almost November, at which point I would be a little over two months late…which is what it feels like! I've missed writing to you all, and I know (from the notes I've gotten!) that the letters have been missed, too. I'm very sorry that I've allowed myself to get so busy!

Today I (Rebecca) shared a devotion at the women's Bible study. It was the first time I've taught in Spanish without someone else there to help me if I got stuck on a word. God was, as He always is, faithful! The women's group at the church in Boca is a strong group of Godly ladies. Every week they meet to pray for their families and to dig into the scriptures. Colossians chapter 3:8-9 tells us to put away all anger, wrath, malice, slander, and abusive speech from our mouths and not lie to one another, since we have laid aside the old self with its evil practices.
In this verse, I found another instance where the Spanish gives deeper meaning to the text. Since I was teaching in Spanish, I had to look up a lot of words that I wasn't sure I could explain. One of those is the last word of verse 9. In English it is translated "practices", but the Spanish uses the word "habitos", which as you might expect means habits. When I looked "habit" up in the Spanish dictionary, though, I found a very interesting definition.
What is a habit? A habit is a custom or something which is done frequently and, therefore, easily. So with that in mind, I re-read verses 9 and 10:
Do not lie to one another, since you have gotten rid of the old self with all of its evil habits and have put on the new self who is in the process of being renewed to a true knowledge of the One who created him (as in personal knowledge of a human being, not information or facts -- another word that translates better to Spanish than to English!).
The more Spanish I learn, the more I love it – and the more I realize I don't know!

Well, there's much to tell about the past almost two months. I'll just hit the high points!

Our furlough to the States was absolutely wonderful. We were so blessed by the many people, both new friends and old, who opened their homes to us during our stay. As near as we can figure, we spent about 100 hours driving. It doesn't seem like so much now, but it felt pretty long when we were in the middle of it! There were still many folks we weren't able to meet up with, and we were sad about that. Six weeks isn't a very long time when you get right down to it!

It was also a blessing to spend some time with some dear missionary friends from Papua New Guinea. While comparing "mission-field stories", we discovered that many of the cultural traditions here in Mexico are very similar to traditions in the villages in PNG. One similarity is that the people of Mexico and the nationals of PNG all love to sit and visit. In the afternoons and evenings here, people gather at the front stoops of homes to chat and pass the time. It reminds me of stories I've read about life in the United States during the 40s and 50s. Life is just slower-paced here, and while we do miss our friends and family back in the US, it is good to be home.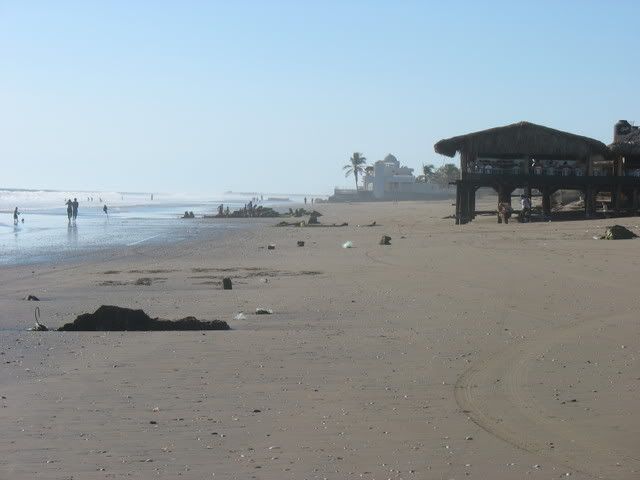 Hurricane Henrietta, which plowed into the Baja peninsula at the beginning of September, also left its mark on the villages of Las Glorias and Boca del Rio. Several summer homes were devastated and a line of restaurants was swept into the ocean in the space of about 20 minutes. Our friend, Esteban, stood on the roof of a neighbor's house to video the waves. When the storm ended, the restaurant shown in this photo was the only one left standing. The piles of debris mark the remains of taco stands and other small buildings. In the distance is another house which was heavily hit. This house was offered to us last winter to live in until we completed the house we are living in now. We were praising God again for watching out for us when we drove by and saw what we could have come home to! As it was, we spent a couple of weeks cleaning up and drying out from Henrietta (You gotta love concrete floors!). We did decide that we won't be leaving during hurricane season again any time soon!


Shrimp season opened the same weekend the hurricane hit, and it has been one of the worst seasons in recent memory. In a culture which depends so heavily on fishing for its survival, this is catastrophic. Several neighbors have told us that they can't afford to go shrimping anymore, because they aren't catching enough to pay for the gas. To make matters worse, many locals were counting on good revenues from shrimp this year, so they borrowed heavily to buy new equipment. Please pray for these villagers who in the best of times live in what many consider abject poverty. The church in Boca stands as a light in a dark place where education is limited, prospects are few and alcoholism is rampant. Pray also that we would have wisdom and resources to help where God would have us help.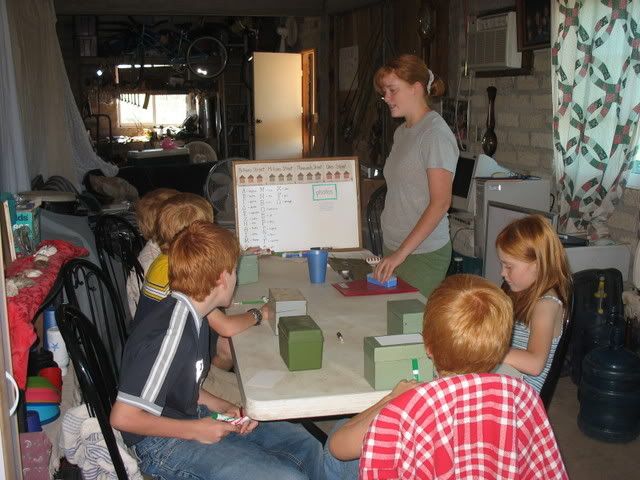 This month we began our 13th year homeschooling — and our second of homeschooling in Mexico. Sometimes homeschooling in Mexico is a real challenge. Actually, those of you who homeschool know that it's a challenge no matter where you are! Come to think of it, just raising kids is challenging, but God is faithful to meet us where we are and He promises that His grace is sufficient for us! Really takes some of the pressure off of us, doesn't it?
Sarah is in her second year of highschool, and as part of her class load she is teaching a class on word origins to the 5 younger kids. It is such a blessing to me, as it frees up a little time each day to prepare for science and history. So far it seems like having another teacher is a blessing to the other children, too. Sarah's doing a great job of keeping the class interesting and not losing her patience with her siblings! We are getting a slightly later start than usual this year, but one of the joys of schooling at home is the flexibility it offers. Starting a month later means that we will have to be much more structured in our daily schedules to make up for the time lost, but it was very much worth it to be able to visit so many friends and relatives in Oregon, Washington, California and Arizona. Pray for us as we continue to educate our kids at home and as we reach out to the families here in Las Glorias and the surrounding villages.


Thanks to generous gifting from our supporters, we are able to begin construction on the second story of our house. Yeah!!! When we're finished with this addition, the house will be a little over 1200 square feet. Esteban's brother-in-law, Alfredo, is working for us for the next couple of weeks. It is good to be able to bless his family right now. He and his wife are expecting a baby in the spring, and with no fish to sell, money is very tight for them. Pray that we would be able to encourage Alfredo and his wife Heidi. Andrew spends much of his free time on the roof as Alfredo's ayudante (helper) and Doug is working up there too, so pray that God would give opportunities for the guys to talk about more than just the price of fish.

The kids are very excited about the house addition, too. The boys have been hauling tabiques (limestone bricks) and sand up to the roof for Alfredo. One afternoon several boys from Boca stopped by after school and helped form a "brick brigade". It was hard work, but since the worst of the summer heat is over, they were able to enjoy themselves. Unfortunately my camera batteries were dead that day!

I'm really glad that the kids come over to visit. They hang out and ask for help on their English homework…then they ask if we've eaten lunch yet! Thirteen year old boys are the same no matter where you live: they are always hungry! Baked goods are a bit of a novelty here, since only a few of the houses have ovens. We keep extra bread in the oven, so when the boys come over, they peek in to see what's leftover. Today the bread was still warm when they got here, so they were very happy!


Youth group at the church in Boca continues to go well. Last weekend about 12 kids came to the Bible study. It was a difficult time, since several of the boys are from very dysfunctional families and have little or no discipline or accountability in their lives. Please continue to pray for the youth of Boca del Rio and Las Glorias. Drugs and alcohol continue to be a real problem. The boys in this photo, Brayn, Abi and Esteban, are three who come to our house frequently and also attend the weekly Bible studies, but they endure persecution for it. Groups of older boys taunt them and jeer at them as they walk to the church on Saturdays. Even during the meetings, sometimes kids will saunter in and try to entice kids in the group to leave. That happened, in fact, last weekend, but the boy who came in with his soccer ball in his hand (trying to round up enough kids for a game) actually stayed for the study. Pray that Doug and the other leaders would have wisdom when dealing with these young men. Pray that they would be able to speak the Truth in love.

Prayers and Praises:

Praise God that none of the residents of Las Glorias or Boca del Rio were injured in the hurricane which hit last month
Praise God for His provision for our family during our time in the States.
Pray for the fishermen's families who are struggling because of the lack of fish.
Pray for the students traveling to Tijuana and Southern California for graduation at the end of this month and for those returning for a second year of classes.
Praise God and continue to pray for our family's good health. God has truly blessed us this past year, and we give Him glory for it!!!
Pray for us as we begin school and as we reach out to the families here in Las Glorias and the surrounding villages. Pray that our family would be effective as we reach out to the families around us.
Pray that our family would be lights to shine out to Alfredo and his wife Heidi. Also pray for her health and that of their unborn baby.
Pray that Doug and the other leaders would be able to speak the Truth in love to the youth of Boca del Rio.
Praise God for the birthdays we have coming up! Andrew is hitting "Double Digits" and Sarah is celebrating her Quince Primaveras (15 springs). Both of these are big celebrations and they happen to fall only a couple of weeks from each other. Pray for peace for Mom, too!