Hello again, everyone!
July has arrived and it is officially summer in Mexico. The thermometer hovers at about 96 Fahrenheit all day and all night (in the house on the shady wall). The breeze from the ocean is refreshing, and we praise God for His creation daily. We've been seeing lots of storm clouds rolling past, but not much rain to speak of yet. We've been told to expect rain in July, August and September. Well, we are definitely expectant!
We were able to see some rain last month when we visited my parents in Kansas. We spent two weeks fellowshipping with friends and family. One of those weeks was at a church camp in Missouri. God provided "full scholarships" for all of us. What a blessing! The camp was wonderful! It was neat being able to share our lives with the people there. Doug shared at one of the chapel times about our ministry and gave a challenge for the students to make a deeper commitment in their daily walk with God. About 20 students made decisions for Christ during the week. Praise the Lord!
Of course there were the usual camp activities, too. Sarah, Caleb, Jessee, and Seth participated in the camp Bible quiz and had a great time. Evie and Andrew also made some new friends and really enjoyed camp. They all shined brightly. Sarah was able to rally a group of kids to share a song during one of the chapel times. We are very proud of all our children and are grateful for the way God is working in each of their lives.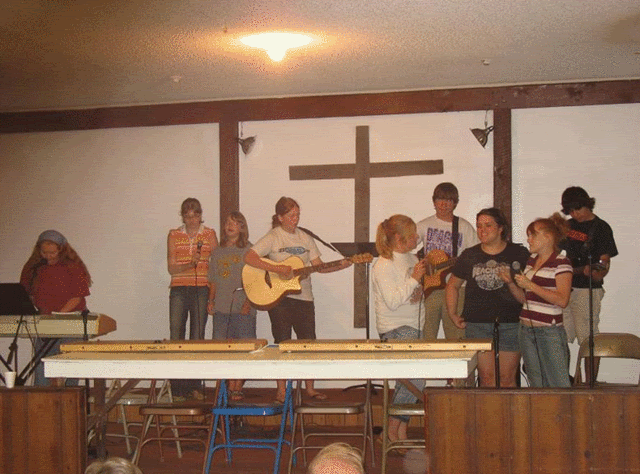 Although we haven't received any rain to speak of, we have received showers of blessings in the form of three young men from Oregon who have come to visit. (Our home church calls them the "
Tres Hermanos
".) We're keeping them busy with various building projects for the local churches and with outreach events, too. They plan to be here until we leave for the states in August, and then they will travel up with us.
It is very hot here, and it's hard to feel like doing much of anything when the sweat is dripping from the ends of our noses while we're sitting still. We have a new appreciation for the people of Mexico after spending a summer here. (Although summer is nowhere near over.) People just accept the heat with a shrug and a smile and wipe the sweat off their foreheads with a
toalla
(towel), which they carry slung over their shoulder.
When we walk down the streets of the mercado, we might find a spot where there is a patch of shade and a nice breeze. There we would probably also find 3 or 4 men sitting and talking and enjoying such a nice place. In the evenings, families and neighbors gather and visit outside to catch the evening breeze. The general atmosphere is "laid back" and relaxed. Nothing needs to be done in too much of a hurry.
In a lot of ways, it fits our family very well. Since we arrived in Las Glorias 5 months ago, we have been praying that God would show us where He wanted us to "plant our roots". We have fallen in love with the people here. We have made good ties with a missionary training center in the nearby village of Boca Del Rio, and established weekly music ministry in Alamito, a village about 3 miles from here. Now, God has provided an excellent opportunity for us to buy a small piece of property in Las Glorias. We believe that He is leading us to purchase it and, Lord willing, we will be breaking ground on it this week with the help of the "
Tres Hermanos
".
We have two outreaches planned in the near future. One is in the village of Alamito on August 2. There we plan to have music, skits, puppets and possibly a movie as well as a spoken message. There has not been an evangelistic crusade in Alamito in almost two years. We have committed to praying every Tuesday for this crusade, because we know that there are many strongholds of the enemy in this village. As the Lord leads, consider praying and fasting with us on Tuesdays (or any other time, as well!).
August 5 through 8, Pastor Jeff will be heading up another crusade in the mountains of Sinaloa. So far we are planning to do the same things that we do in Alamito, but we are listening for the Lord's leading. Please pray for hearts to be softened and ears to be opened, and for both boldness and protection for the saints. We will try to get the next update letter out before we leave for the states in August.
For now, let's close this with a photo of a missionary family from Monterrey. Mariano and his wife, Ari, are students at the Bible and missionary training school in Boca del Rio. Their term ends in March and they are praying about where God will lead them. Their desire is to serve the Lord wherever he leads. Please pray with them for His direction. Also, pray for their daughter, Hepsiba. She has a throat infection which the doctor says was caused by sucking on dirty fingers. (Looking at the photo, you will understand why!)
Praises
:
The mission team of Andrew, Tyler and David has arrived safely from Oregon
God has provided a piece of property where we can begin to build our new home
We've begun to solidify relationships with the local churches and have started helping with music in Alamito and English classes in Boca del Rio
My (Rebecca's) stomach seems to be settling down (YEAH!!!)
Prayer requests:
For continued health for all our family and the young men who are visiting
For spiritual awakening in the town of Alamito and in the mountain village
For eyes to see, ears to hear and hearts to understand what God's desires are for our family and our ministry
For quick healing of my hand. Last week we had a big wind storm and my fingers were slammed in a metal door. One is broken and one is badly bruised. I figure I won't be playing piano much for the next couple of weeks and typing is slow going, but God is good and it will heal eventually.
For the funds necessary for us to build a home here in Las Glorias